How much time you usually spend on searching for a video stream or download link? I had to spend more than a few minutes, even hours, to get the video content. You may already know, various sites host video streams. At times, even the Google results won't show you all the hosts. This situation was the story for a few years, and it all changed at a point — when I came across Alluc.ee.
Alluc.ee simplified the way I search for video content in every possible manner. Today, we have a brief review of this dedicated search engine for video streams, downloads and more.
What is Alluc.ee — an Introduction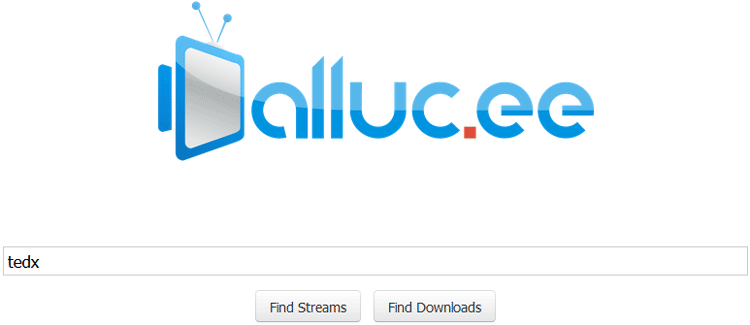 Technically speaking, Alluc.ee is a video indexing service. It explores different parts of Internet to find video streams and download links, from different hosts. In the database of Alluc.ee, there will be links to hosts like YouTube, Vimeo.com, and many others. It does not host any video streams or downloadable content. It just helps you find the right streams, according to the given search keyword. So, the next time you need to find a stream, download link or any video or movie content, you can simply rush to Alluc.ee. This service is completely free to use.
Getting Started with Alluc.ee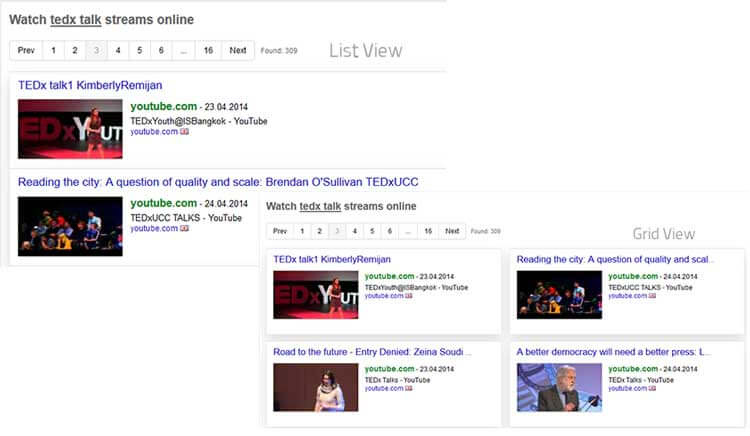 Starting your journey with Alluc.ee is an easy task! You can use this video search engine as though you're in Google. It is just that you receive curated results from video-sharing and file-sharing websites. First, we have to visit the homepage of Alluc. This concept is pretty much like Google, and you can enter the keyword there. Depending on what you'd like to find — downloadable links or video streams — you can perform the search.
In seconds, you can receive the search results from Alluc.ee. As you can see, video stream links follow a grid-based display. Clicking on the links will lead you to the fully-fledged streaming page. From that page, you can watch or download the video content. Alluc.ee is all about ease of use and time saving. You give a query to Alluc.ee, and it provides almost all the available links to the mentioned video, let that be an episode of FRIENDS or a TED talk. By the way, in addition to video streams and download links, you can find Subtitle files and Live Streaming links too.
As mentioned, the user interface of Alluc.ee is incredibly simple, and you don't have to worry much. You can use it just as you are in Google interface. The results can be seen in grid-based structure or as a list. Either way, you will be lead to the video streaming page for sure.
The Performance Aspect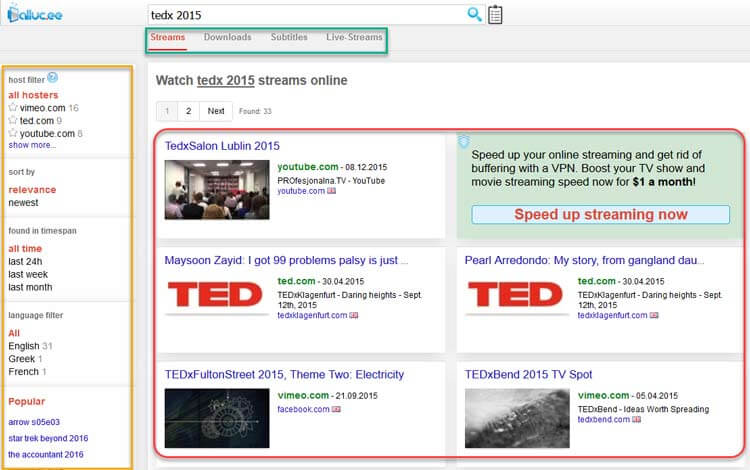 When compared to other video link search engines, Alluc.ee is pretty much fast. In seconds, you get to know almost every available link. Personally speaking, I was able to find the right videos I wanted. And, what's more, it recommended me a few episodes that I'd be interested in watching. Altogether, the searching experience is fresh and simple.
Easier Filtering is an impressive feature of this Video Link Search. You can filter the results based on video host, time and language. These are useful when you have thousands of results and have to pick the right one. All the filters are accessible from the sidebar.
One problem I found about the website is the advertisement. You'll see advertisements in-between search results apart from the annoying pop-up windows. But, thankfully enough, Alluc.ee provides an easy way to get rid of this. As you can see on the homepage, you can just share it on social media to get rid of the advertisements. Once the website verifies your social media shares, you won't see ads anymore.
Apart from this aspect of ads, it's cool. From the primary point of view, it lets me find all the links at once so that I can select the one I need. With Alluc.ee, I've been able to save a lot of time when it comes to finding a bunch of videos or files.
Is Alluc Better than Others?

It's a good question. As you know, there are some other video-indexing services on the Internet, such as MegaSearch. However, Alluc.ee is different and better than all these, on many points. The reason is the bigger collection you get. While the alternatives focus on file-sharing websites for videos, Alluc.ee has an index of video-sharing sites as well. I mean, isn't it great to find the results from YouTube, Vimeo, and some file-storage sites altogether? This collaborative feature is what makes it unique.
The Bottom Line on Alluc.ee
Now, you should have an idea about the service. Please note that Alluc.ee is not hosting any video content on its servers. On the other hand, you will be lead to the corresponding servers. So, if you download a video or file from the sources, the whole legality of copyright is upon you. It's simply like Google for videos. You just get links to what you're looking for and nothing else.
Conclusively, Alluc.ee is a great website for every video freak. Let that be a movie or TV Series or a talk; you can find everything using the Alluc.ee search engine.
The three attributes that define me- Tech lover, Blogger, and Dog lover. I primarily cover Cyber Security, online privacy, and also have keen interest in exploring new software that make daily computing easier for home users. I do love to spend quality time away from the internet, so when I am not online, I either cook or bike.