Every single day, we expose our PC to hundreds, if not thousands of questionable files and Websites. It is also worth noting that threats to our devices from malware, spyware, and ad-bots are increasing. Hackers who do not have noble intentions create these threats for a variety of purposes. In this Malwarebytes review, we will discuss all the risks and how you can keep all your devices safe.
Malwarebytes Review: Summary
Pros
Simple Interface
Very Easy to use
Best threat detection
Best at removing threats
Web Protection
Cons
Pricey compared to similar services
Has some False positive detections
Scan is bit slow
Lacks real-time tech support



Supported Platforms: Windows, OSX, Android, iOS, Chromebook
---
From serious data breaches of a financial nature to life-threatening expose, the world of cybercrime is evolving at a faster rate than AI! While traditional antivirus continues to be effective against known dangers, very few of them are efficient in detecting zero-day threats.

So, is there a way to identify and neutralize threats even before they attack? Yes, thankfully, one brand is focusing on the future of cybersecurity- Malwarebytes. With the launch of the latest Malwarebytes 4.0, the brand is taking fighting threats to a different level altogether.
In this Malwarebytes review, we will look at the main features and performance figures for the new anti-malware. We will also look at whether or not it is an excellent alternative to some of the more established brands in the market.
However, before I begin with the Malwarebytes review, I want to discuss 'Malware.' What does it mean, and how important it is to protect our systems against it.
(P.S. The section below is strictly for first-time readers; the rest can skip and move to the Malwarebytes review section)
What is the basic definition of Malware?
The term malware has originated from the English word- 'malicious,' which means an intent to cause harm. Very simply, malware is any harmful software, which aims to destroy your system's software and hardware. Some of the most common malware that creates havoc in the market are viruses, Trojans, ransomware, and spyware.
Why should you worry about Malware?
Malware steals passwords, place systems under lockdowns, or create other mischiefs. Hackers create malware as a means to earn easy money by blackmailing companies, individuals, or government institutions.
Malware is dangerous as it can cause significant losses and destruction to your system's software and hardware. From infecting and corrupting existing files in your system to locking them down completely, malware is a dangerous infestation.
Most of the malware attacks happen through emails. Hence, it is essential not to open suspicious emails or from people who are outside your mailing list. You should carefully examine emails going to the spam folder. If you are someone who downloads media and document files from the internet, you must do so from trusted websites only. Websites, which do not have an SSL Certificate, are more likely to leak your sensitive data and spread malware. No Operating System is safe from Malware attacks Windows, Mac OS, and even Android. Hence, it makes a potent and versatile threat that keeps evolving and growing stronger.
Malwarebytes Review: Brief Overview

Antivirus software brand, Malwarebytes, released its latest product- Malwarebytes 4.0 in early November 2019. Malwarebytes 3.0 was one of the most highly regarded Windows Anti-Malware solutions for 2017 and 2018. Hence, we received a lot of requests for a Malwarebytes 4 review for some time. So I thought that it would be great to test the new software rigorously.
Malwarebytes claims that the new Detection Engine is one of the fastest and lightest scanners in the world right now. That is an impressive claim to make. Also, the company states that protecting cybercrimes and personal information amounts to a fundamental right for every individual.
Key Features of Malwarebytes 4
The following are some of the crucial features that make Malwarebytes 4.0 a strong contender for the best Windows standalone antimalware in the market today. You can check AVTest.org for latest Malwarebytes test scores.
Best Zero Hour Protection
Malwarebytes 4 identifies and eliminates malware threat perceptions as soon as they are about to arise. It means that it can identify suspicious behavior of applications and stop them even before that can come into action. Hence, reducing the reaction time to threats.
Less CPU Usage
The new detection engine Katana is not only fast, but it is also highly efficient. It impacts on scan timings and reduces it significantly when compared to the previous version. Your system is not going to experience any slowdown or lags once you start using the new version.
Diverse threat assessment
We keep hearing how online threats are evolving and becoming complex every single day. In addition to traditional malware and virus threats, Malwarebytes 4.0 identifies polymorphic threats. This mechanism is a big step forward, especially for Windows users.
Real-Time Protection in Premium Versions
One of the cool features of the real-time threat assessment is identifying the threat and notifying it to the user. Hence, it helps users to be alert about malware or other threats. It will also educate them about nature, seriousness, and the action taken by the software. The notifications are also directly linked to Malwarebytes Threat Centers.
Technical Support
If you are looking for phone support, in that case, Malwarebytes will disappoint you.
Any standard Anti-Malware solution company should have 24x7 live chat or phone support. Unfortunately, Malwarebytes has none. However, what they do have is extended documentation on how to use the application. There are many video tutorials, as well. For active communication, you have to create a ticket using their support system.
Hence, you will not face any issues with the application installation, but do not expect an instant solution in case anything goes wrong at your end.

Antivirus Replacement
Once you install the premium version, Malwarebytes 4 will automatically register the software with Windows Security Settings as your antivirus. This process is a new inclusion with Malwarebytes version 4. This feature makes the Windows notification management very convenient.
Malwarebytes 4 Review: The Interface
One of the common complaints about Malwarebytes 3 was the outdated UI. Thankfully, the company has taken note of the criticism and launched Malwarebytes 4 with fresh looks and feel. There is no clutter; the design is crisp, simple, and user-friendly.
Home Screen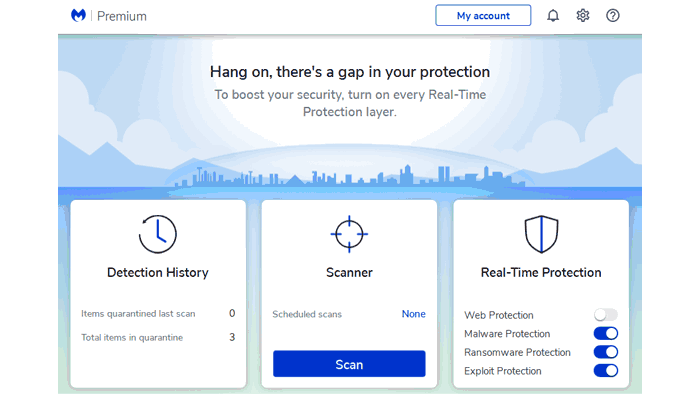 There is nothing much on the home screen. It acts as an information center, and you can run a quick scan as well. The other security modules that you can control on the Real-Time protection module are:
Web Protection
Malware protection
Ransomware Protection
Exploit Protection
You can turn on / off any protection you want. However, I do not recommend turning off any protection unless you are using another antivirus application.
Also, you can click on any of the three modules and expand the view for more details. If you are a basic user, there is nothing more you need to know to use this antimalware.
Malwarebytes 4 Settings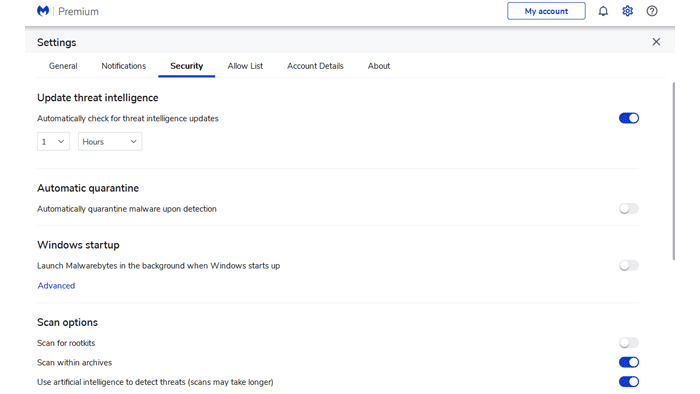 There are a lot of settings in this section. You can tweak every aspect of the application. While advanced users can tweak the core behavior of how Malwarebytes works, home users can customize simple things like notifications and basic settings.
In case you do not understand any settings, my advice is not to change anything. The default settings are good enough for every user.
Is Malwarebytes 4 an Effective Antivirus?
If you scour the internet for Malwarebytes 4 reviews, you will find one common thread among them. Almost everyone in the industry applauds Malwarebytes for being the best to detect new and emerging threats.
The Scanning Engine is fast and effective. In addition to new threats, it also works effectively with traditional ransomware and anti-exploit protection. Whether you are an advanced user or a nontech guy, the effortless installation process, along with a simple interface in the antivirus market right now is going to make it a pleasurable experience.
Compatibility with Other Antivirus Solutions
Malwarebytes is also compatible with other popular Antivirus solutions. Users over various forums have reported that they are using Malwarebytes as a second layer of protection in combination with Bitdefender, Kaspersky, Norton, etc.
However, if you decide to use two security applications, you should first check if your PC meets the minimum requirements. Always take a trial run first before making your purchase decision.
Malwarebytes Review: Overall Performance
One of the crucial things to note about Malwarebytes 4 is that it works on Windows 7 and above. It will not work on Windows Vista or Windows XP. These operating systems will continue to be supported by Malwarebytes 3.
While some experts have already lauded it, others are still in the process of subjecting it to tests. In the following months, it will be evident whether we have a clear winner or not.
Impact on System

Any antivirus slows down your system by at least 10 % - 15% (a fact); Malwarebytes 3 slowed down the system (a fact). However, when you try the new and improved 4.0 version, you will experience the difference for yourself.

I am doing this Malwarebytes review on a Windows 10, 64 Bit system with core i7 and 16 GB RAM.
Malwarebytes Idle State Resource Consumption

With realtime protection enabled, the application does not take up much of the CPU resources. However, the idle RAM consumption was at a constant 412 MB.
Quick Scan Resource Consumption

While performing a quick scan, Malwarebytes service was consuming up to 35% CPU and spiked up to 62% usage. The RAM consumption spikes up to 1 GB and remains the same for the entire scan duration.
Full Scan Resource Consumption

While performing a manual full system scan, the usage pattern remains similar to the quick scan scenario above. The CPU usage spiked up to 51%. However, the RAM consumption was at a constant 1.2 GB.

One important point to note here is that by default Malwarebyte scans implement AI to detect latest threats. Hence, as a side effect, manual scans can take a long time. My suggestion is to run manual scan at night or when you are not goint to use the system.
Drawbacks and Improvements
One early criticism of Malwarebytes 4.0 is that there is a minor reduction in CPU speed during the scans. Users who have been using versions 2.0 and 3.0 might remember that this was also the case back then. However, the company claims that the new updates are going to take care of it in the future. My tests also confirm that Malwarebytes 4 is much better in handling system resources.
If you are in the market for the most updated antivirus software currently, you can try out the Malwarebytes 4.0. It is a powerful, efficient, and affordable anti-malware software with an advanced threat detection engine.
Conclusion
In my observations, I have found that many people do not want to spend heavily on top Antivirus solutions. Rather they stick to less reliable solutions while making numerous security compromises. It can, in reality, turn out to be a costlier decision.

Consider your devices as a vault where all your personal and sensitive data remains. Since that vault is in an unsafe environment, you have to appoint the right security solution to guard the same. However, you can always check the internet for available promotional discounts. You can still save up to 50% using Malwarebytes coupon codes.
Therefore, what then is the final word on this Malwarebytes review?
Is Malwarebytes 4.0 perfect?
No. However, Malwarebytes 4 has made a niche for itself. It is useful in identifying and neutralizing zero-day infections. This anti-malware assures that your system will be safe in the face of new and undiscovered malware threats.
Do you think it is capable enough of taking on the likes of the far more reputed and established brands in the market? Drop your Malwarebytes review in the comments section below.
Sourojit is Executive Editor at Dealarious. Rumor says He is Computer Science Engineer; He neither accepts it nor denies it. Tech Explorer, Philosopher and a Storyteller.