Undoubtedly, Movavi Video Converter and Wondershare Video Converter Ultimate are the first two names that come up when you want to have a premium, professional and feature-rich media converter. Both the developers have a nice reputation in providing the best utility software, which is good-enough a reason to go for it. Because of such a competing behavior, you as a user may be confused to choose the right one.
Some of you would be dubious about the features included and other factors that matter. In this article, we have compared the different aspects of both Movavi Video Converter and Wondershare Video Converter Ultimate. We have organized the article in a manner that it's possible to choose the best one in the long run, with respect to the requirements and preferences you have. We will start with an introduction to both.
Movavi Vs Wondershare Video Converter: Getting Started

At first look, Movavi Video Converter is more or less the typical video converter solution you'd have come across before. That being said, there is something that makes it different from the status quo! Movavi claims to offer better conversion speed along with extra capabilities like basic editing. The best thing about Movavi Video Converter is that you can use it to convert almost all kinds of media files — video, audio and images; that too in wide varieties of formats.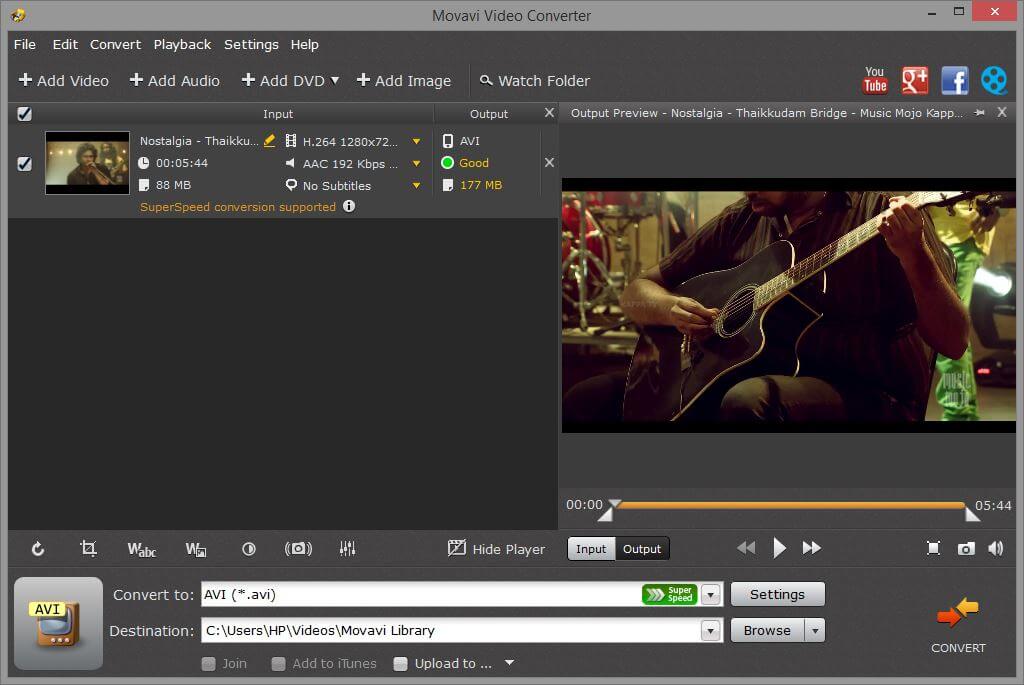 On the other hand, Wondershare Video Converter Ultimate is never in the 'typical' box of converters you've seen. It is meant to be a unified solution, where you can convert, organize and stream your favorite media file — both audio and video. It is also accompanied by in-built options for video editing and DVD authoring options, making it the best from the professional point of view. Along with these, better conversion speeds and acceleration are offered by this converter solution.
Converting Videos: Speed, Formats & More..
We have already mentioned that these tools come with some additional capabilities. However, there is no doubt on the fact that their primary function is to convert videos seamlessly. If that is the case, you would be concerned about a few aspects discussed below.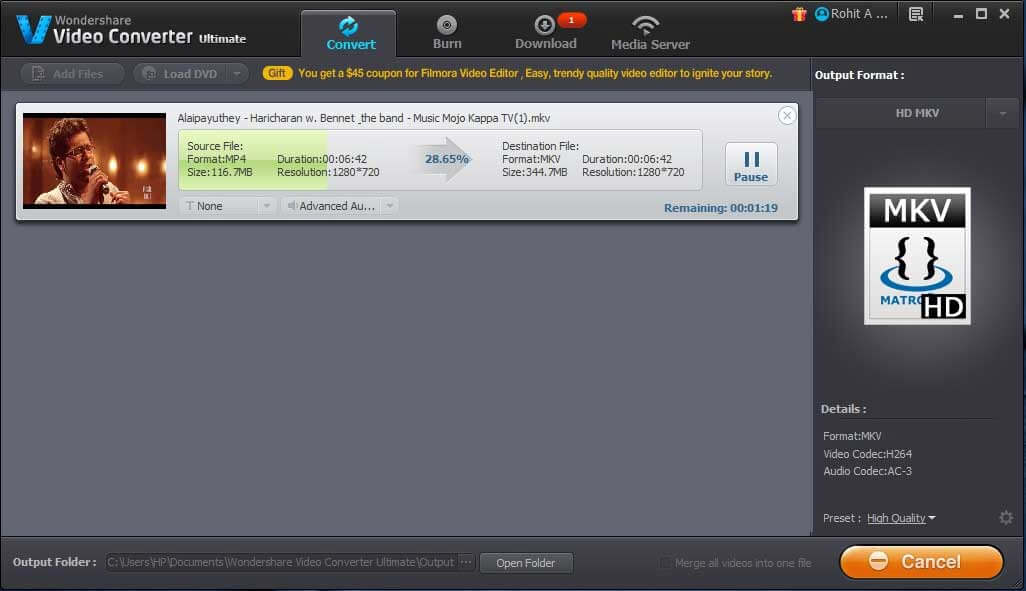 To check the standard conversion speed of both the solutions, we had tried converting a MP4 file of 87MB into AVI. As opposed to what is said on the website of Movavi, the conversion speed of Wondershare Video Converter is way too better than that of Movavi. Not only that, size of output file is lower, there is no question about loss of quality. Using the new HEVC / H.265 encoder ensures best-level compression for the output video. This encoder is yet to be available in Movavi Video Converter.
Read Wondershare Video Converter Ultimate review for more details on each aspect.

Here, we come across a kind of tie between Wondershare Video Converter Ultimate and Movavi. Both converters offer support for a wide range of audio and video formats. You have options to choose the appropriate format as per your need or depending on the device you own.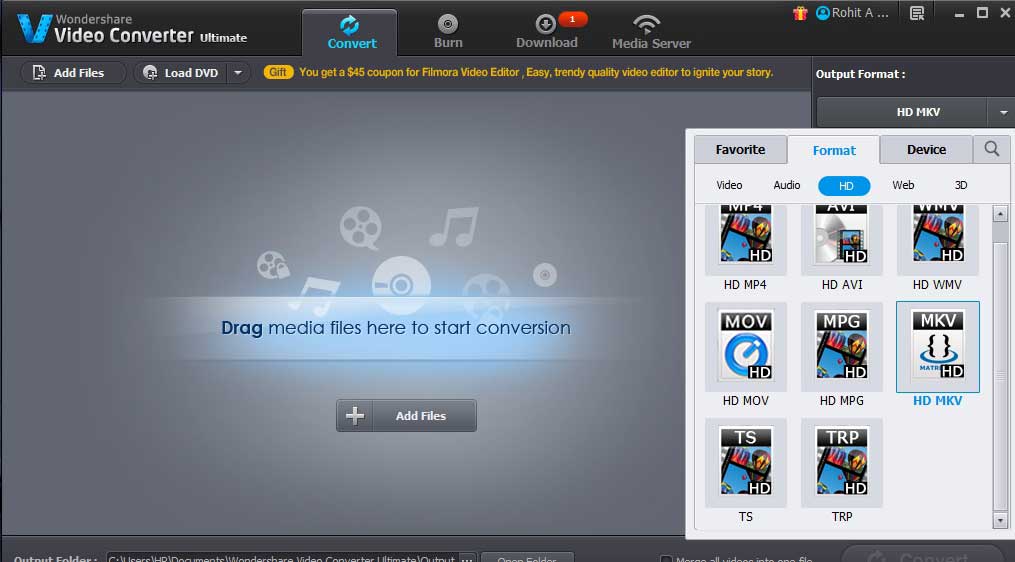 In addition, it needs to be noted that support for web-based format is better in Movavi; for instance, you can convert a file into HTML5-compatible format or online video formats that are suitable for platforms like YouTube and Vimeo. In the same manner, Movavi offers advanced support for different image formats as well.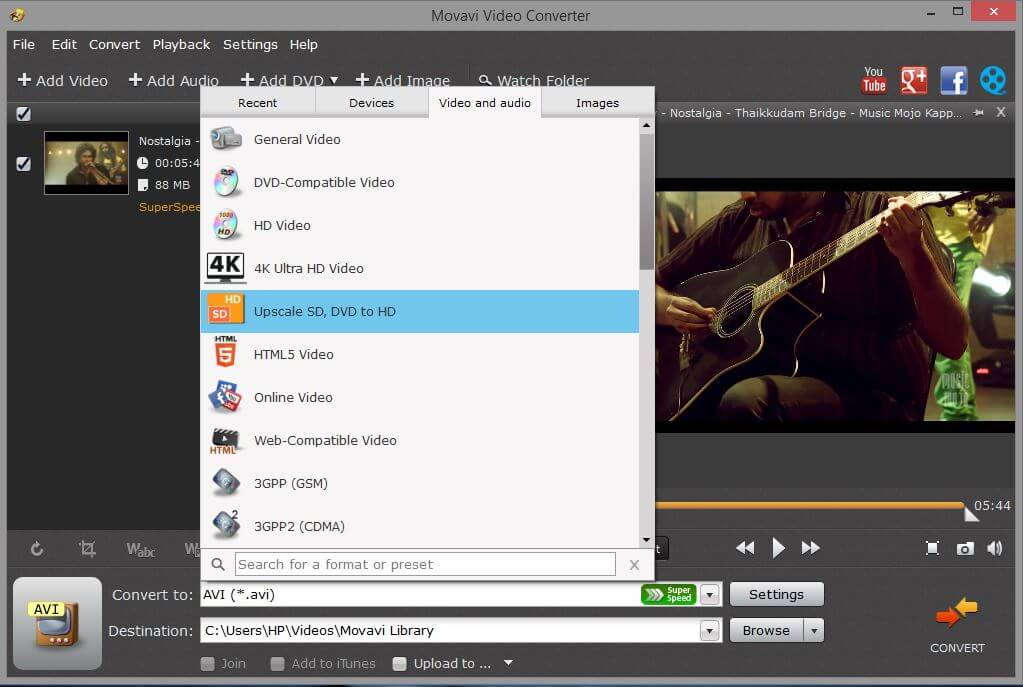 These being said, one of the stunning capabilities of Wondershare Video Converter Ultimate is an option to convert 2D video into 3D. There is even a specified section for 3D Conversion. Depending on your needs you have to select either of the two. If exclusive HTML 5 videos are not required, there will be no issue at all with Wondershare. For Social Sharing on Youtube or Vimeo many other formats are accepted as well. Hence 2D to 3D conversion remains unbeatable and probably the best feature for people with 3D supported display.

Output Quality Optimization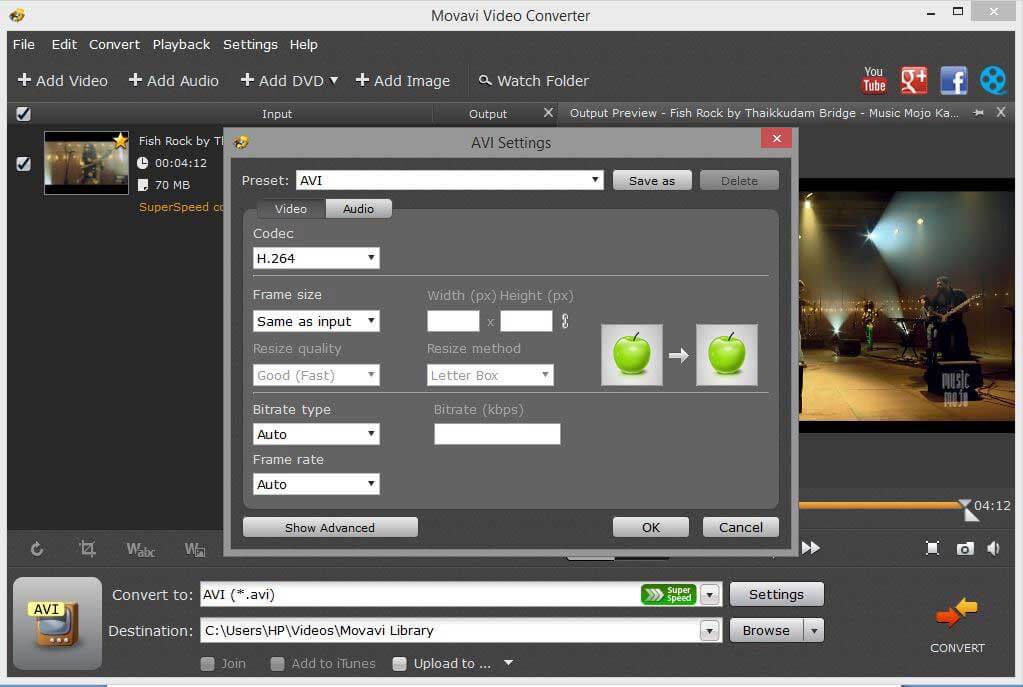 Once again, we have a tie between both the tools. It's so because you get an impressive amount of quality adjusting options for the output file. Once you have chosen the desired output format, you have options to adjust the various aspects of the output file, such as codec in use, resolution, audio bit rate, audio encoder selection etc. Availability of options is somewhat same in both cases. However, Movavi Video Converter has an extra option for resizing output video manually, in case if you need that. So, here we have to settle with a Tie.

Editing Videos
Before you finalize the output, you may have to edit it a bit. For instance, you may have to add a subtitle file or put a watermark. From that point of view, it's nice to have editing options in a video converter.
In Movavi Video Converter, there are not much advanced options for editing videos; nor there is a professional-kind-of interface. From the main conversion page, you can perform basic functions such as flipping, cropping, watermark adding, white balance adjustment, video stabilizing etc. Obviously, these features are useful when you are in a hurry.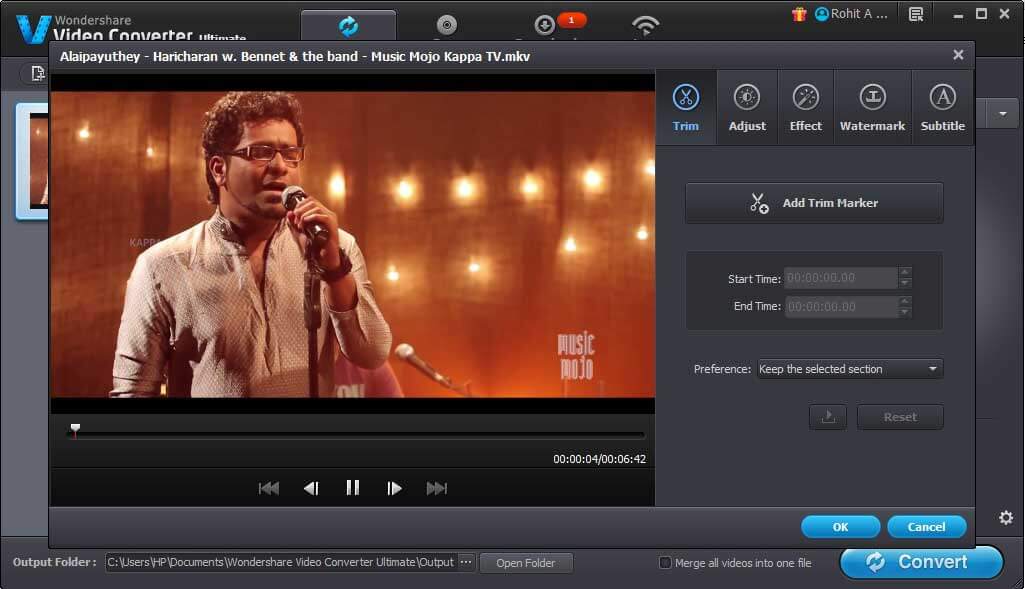 Things are a bit more professional as we come to the Editing aspect of Wondershare Video Converter Ultimate. You have the option to launch a fully-fledged editing interface for each video you're going to convert. In the interface, it's possible to perform various actions such as trimming, visual-based adjustments, filters & effects, watermark and an option to add a new subtitle. All these options are arranged in quite a neat manner, which is easy to use as well.
In the end, we would say that Wondershare has impressive options for editing the videos.

Usability of Interface
Movavi Video Converter has a sort of minimalistic design for the whole interface. The design is quite traditional and you have top menus as well. One thing that we loved about Movavi interface is that all tasks can be done in a single window, without opening anything else. In short, we'd say that the interface of Movavi Video Converter is eminently based on the notion of minimalism, which is good too.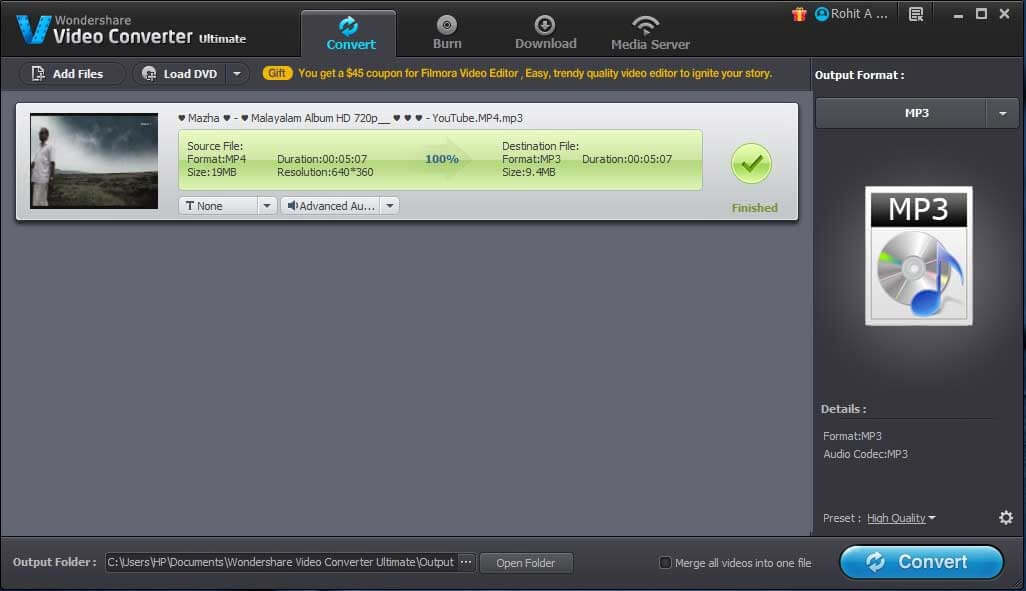 As opposed to this, Wondershare Video Converter Ultimate has a professional-looking interface to offer. It's having a sidebar with details about the output file, different tabs for different sections and a pop-up interface when you want to edit the videos. So, from the professional working point of view, chances are high that you would love to get this Wondershare Video Converter.
Technically, there isn't a winner — it's more about your choice.

Wondershare Extra Features: The Competition Killer
Below are the features that makes Wondershare win the "complete Package" title.
YouTube Downloader: The integrated downloader allows you to download even Ultra HD YouTube Videos. Best part is that you can convert the videos to any format on the go. If you wish, you can download the YouTube video as a MP3 file too.
Wireless File Transfer: Once videos are downloaded in desired format from YouTube, you can directly transfer it to your Android & iOS devices.
DLNA: If you wish you can also watch downloaded/converted videos directly on any device. Wondershare Creates a DLNA server and you can watch it on any device connected to network without any hassles.
Burn to Disk: Videos can be converted and burnt to DVDs with DVD5 and DVD9 compatibility.

The Bottom Line
Recalling what we have said earlier, it's clear that both Movavi Video Converter and Wondershare Video Converter Ultimate are in two extremes, in terms of UI and capabilities. The major distinctions are as follows.
Movavi Video Editor has a neat and clean interface, which is good for personal usage. You haven't much messing-up factors; nor there are advanced options to check out. In other words, a user would be able to deal with the conversion at a descent speed. Movavi hasn't compromised compatibility of file formats or compression standards. It has, on the contrary, brought all the required functions in a truly intuitive manner.
If you want a video converter suite for multiple purposes, it's highly recommended that you go for Wondershare Video Converter Ultimate, which may be a bit expensive. However, the pricing becomes way too reasonable because of the additional tools.
So, we think you now have a clearer idea about both the tools and that you can choose the one according to features you really need. What do you think? Do let us know through your comments.

I love biking, baking, and blogging. I am also an ardent lover of privacy.