0% OFF
iolo System Mechanic Ultimate Defense
$79.95
Get an all-in-one system optimizer and Malware Cleaner. iolo System Mechanic Ultimate Defense keeps your system fast, secure, and responsive.
It is easy to use and can operate automatically once set. Protect Unlimited Windows PCs at your home with the latest version.
Limited Time! Dealarious Exclusive Offer
Global License | 30 Days Refund | Digital Delivery
Customer reviews of iolo System Mechanic Ultimate Defense
Description
Aging is a common phenomenon in Windows PCs. Poor responsiveness happens due to the accumulation of junk files, cluttered registry & more. Also, apart from a slow PC, you run many other risks. Malware infections or compromised online privacy are some of them.
A PC Maintainance tool helps to get rid of these issues. Hence, a faster & safer computing experience. iolo is known in the industry for its System Maintainance tools. They offer 3 variants:
Base version: Mechanic

Premium version: 

Mechanic Pro

Allround Protection: Mechanic Ultimate Defense
Among them, the System Mechanic Ultimate Defense is their top-tier package. It features fine-tuning your PC and also protects you against malware. Additionally, it also helps keep your online privacy intact. You can get the best prices on this coupon page using our iolo System Mechanic Ultimate Defense discounts.
iolo System Mechanic Ultimate Defense: 

Key Features
Privacy Guardian:
This module helps protect your privacy. It does so by preventing digital fingerprint tracking attempts from websites, apps & even Windows OS.
ByePass:
ByePass protects your online passwords and credit card details. Also, It can generate and recommend new and secure passwords with a single click.
System Shield:
Protects your system against any latest malware attacks. It does so by using an AI-based antivirus engine.
Malware Killer:
It performs on-demand scans for the latest malware-infected files on your system. In addition, it works with advanced AI technology and gathers information from a global 'reputation database.'
System Mechanic:
You can find all the tools required for fine-tuning your PC for optimum performance here. These include tools for cleaning junk files from your PC, registry cleaning, on-demand boost, de-fragmentation & router security tools.
Search and Recover:
From here, you can easily recover deleted data like documents, music, photos, emails, and videos. Moreover, Search & Recover works on all kinds of drives, specific folders, or even removable media.
Drive Scrubber:
It lets you permanently erase any data like private files, pictures, and documents from any of your drives or removable media beyond recovery. Drive Scrubber follows U.S. Defense disk-sanitizing standard protocols.
iolo System Mechanic Ultimate Defense: User Interface
System Mechanic Ultimate Defense has a host of functions. It helps you with PC tuning tools, Privacy Protection & an Antivirus Engine. However, iolo has made sure that it isn't complicated to use. It ensures that the functions are available at the click of a button.
The user interface is neatly laid out & all the functions are located at an eyesight level. All the tools sit on the left tool panel and host all the relevant sub-tools under them. Also, the good point is that every feature is self-descriptive.
The interface ensures that all users can start using System Mechanic Ultimate Defense effectively in the shortest possible time.
System Mechanic Ultimate Defense: Functionality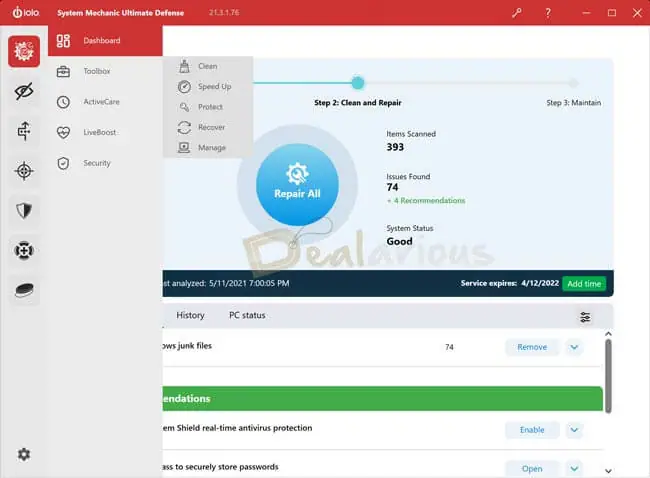 Privacy Guardian
It protects you against Digital Fingerprinting from browsers. These threats include the latest invasive forms of online tracking, profiling, and data mining. Automatic Cookie Clearance deletes all tracking cookies and browsing data from all your browsers. You also can add your favorite non-invasive sites to Whitelists. Hence, preventing data clearance on these sites. 
The Phishing Detector protects you from suspicious incoming emails.
Privacy Shield completely disables Windows 10 telemetry and other kinds of invasive data-collection services. Some of them include Microsoft Diagnostics, Data Collection, Telemetry Services, Location Services, SmartScreen Service, Activity history collection & more.
A Private Search option lets you search the web without leaving a trace. You can also automate it through the 'ActiveCare' function.
ByePass
ByePass helps securely save your passwords and credit card information with military-grade encryption. It can also auto-generate complex passwords for your applications. Apart from that, it also assesses the security level of your current passwords.
Whenever you want to enter your passwords on any online form, ByePass can enter them for you, preventing any keylogger from attempting to steal your passwords. Moreover, ByePass can instantly & remotely log you out of all the websites from wherever you are with a single click.
System Shield
System Shield is a full feature antivirus. It scans for threats on your system in real-time. Also, it can auto-update its database & warn you if it detects any threats. System Shield protects your PC against viruses, spyware, trojans, rootkits, and other malicious software.
Malware Killer
Malware Killer is a special cloud-based tool. It performs on-demand scans for any malware infections on your system. It uploads the information of files to the cloud for a fast scan. Hence, it then shares the data with all the systems globally if it detects an infection.
System Mechanic
The exhaustive list of tools under this function helps your system boost performance. Hence, it improves speed, repairs problems, cleans out clutter & junk files, improves system stability, removes bloatware & helps you gain better internet speed.
The 'Clean' tool helps clean redundant files from the registry, removing temp files, internet junk files & even unwanted programs. Similarly, other tools like 'Speed Up' analyze networks to look for any devices or apps that slow down your system. Also, you can defragment RAM & HDD, Re-align apps on your disk for better performance. In addition, you can also optimize start-up apps for faster booting times. 
The 'LiveBoost' helps you choose the best combination of Power Modes for optimum PC performance.
Search and Recover
It allows you to scan a specific folder on your system and recover deleted data. Also, You can scan removable media or your entire hard drive for accidentally deleted data and recover it to a new location.
The 'SmartScan' feature eliminates irrelevant junk files from getting searched. Hence, making the search process faster and smoother.
Similarly, by enabling 'StrongScan,' it will perform an in-depth sector-level search. Using this option, you can recover some hard-to-recover files.
Drive Scrubber
Drive Scrubber can permanently erase data beyond recovery. It uses Military-grade wiping technology from any drive on which Windows isn't installed.
You can also erase the entire hard drive, including the installed operating system, by creating a bootable USB drive.
iolo System Mechanic Ultimate Defense: Pricing
A single license can install the software on all Windows PCs at your home. As per the official website, it costs USD 79.95 a year. At Dealarious, we always have the best System Mechanic Ultimate Defense coupon codes. Here you can purchase a subscription with up to 70% off. Hence, you get System Mechanic Ultimate defense at the best price.
iolo System Mechanic Ultimate Defense: Conclusion
Given its capabilities, we recommend System, Mechanic Ultimate Defense. This app takes on a holistic approach for its users by working on all the aspects. An added advantage is installing System Mechanic Ultimate Defense on an unlimited number of devices with a single subscription.
You can also find other alternatives on the market like IObit Advanced SystemCare or CCleaner. However, System Mechanic Ultimate Defense stands out as an all-rounder PC tuning app with price and features.