0% OFF
Kaspersky Small Office Security
$150.00
Do you want to protect all the devices at your office? Kaspersky Small Office Security provides total protection against all modern threats. You can secure your Desktops, File Servers, and Android devices in your office with a single subscription.
Also, you get Ransomware protection with encrypted data vaults. If you are not using it Yet, have a Free Trial in order to test the compatibility of the devices. Check all product features on Kaspersky official product page.
Digital Delivery | No Automatic Renewal | Global License
Customer reviews of Kaspersky Small Office Security
Description
In the US alone, 90% of the businesses registered are Small and medium enterprises. SMEs account for up to 70% of global employment and are responsible for approximately half of the developed countries' GDP.
Most of the small businesses are run by multi-taskers responsible for everything from HR to Marketing and Sales to IT, all by themselves. 
With a rise in cyber-attacks, IT scams, and ransomware targeting, protecting your business can become difficult for small business owners. You require a better-equipped solution than a home computer protection but not as expensive and complicated as a big enterprise solution.
Kaspersky has come up with a solution to keeping small businesses in mind. Kaspersky Small Office Security is a combination of high-end protection for your business & IT needs with the simplicity of use equivalent to home PCs. Also, you can buy Small Office Security at a discounted price using Kaspersky Small Office Security coupons.
Kaspersky is a popular name in the antivirus space with some of the most reputable antivirus programs for Windows, Macs, and Android operating systems.
Key Features of Kaspersky Small Office Security
Data Protection for various types & number of devices, including Windows, macOS & Android devices.

Advanced ransomware protection and rollback to prevent computer lockdown in case of attacks.

Automatic data encryption to prevent unauthorized access to sensitive data.

The safe money feature adds an additional security layer on the browser while accessing online payment sites to prevent transactional frauds.

A convenient web management portal allows access to key features on a single easy to use dashboard for all the installed devices.
Supported platforms
As we discussed, Kaspersky Small Office Security helps protect Windows, macOS, and Android devices. Along with this, the license also supports windows file server protection as a part of the package. 
You can choose a minimum of 5 devices (5 Desktops & 5 Mobile devices) & 1 file server to 50 devices (50 Desktops & 50 Mobile devices) and 5 file servers while purchasing the license. You can choose between 1,2 & 3 years license upfront at the time of purchase.
 

Kaspersky Small Office Security Installation

The Software package is easy to download through the Kaspersky official website. Kaspersky also offers a free 30 days trial, in-case you wanted to check out all the features. To install the trial version, all you need is an email ID.

The installation is relatively simple, with a guided step by step instructions. Once installed, it immediately gets to work. 
Kaspersky Small Office Security User Interface
Although Kaspersky Small office security has a complex set of functions to protect your system, it doesn't let that run down to the user. The user interface is a very minimal and easy to use dashboard. The dashboard gets you instant access to the most commonly required features. 
Additional Features of Kaspersky Small Office Security
Scan & Database update
The Scan feature is a primary scanning tool. It helps create scanning schedules or enables you to do an on-demand deep scan of your system.
Besides, a database update option helps you keep up with the latest virus database updates for maximum protection from the latest malware and threats.
The scanner also guards against attempts to hijack business data and network by blocking malicious sites. It even blocks suspicious downloads, filters out phishing emails and malicious attachments. 
It goes a step further to remove unwanted and unsafe browser extensions. A "do not track" function helps protect your privacy.
Password Manager
The password manager is a safe house for all your passwords. It stores all of your essential passwords in an encrypted format right on your device. If you create a password on any site, the password manager can prompt it to find that the new password is weak. It can even go a step ahead and create a new password for you. You can then save the new password in the password manager.
You can save passwords for various applications, including websites, servers, applications, bank card data, documents, and personal notes.
Safe Money
With the Safe Money feature, whenever any of the protected devices try to make a payment or purchase a product online, 'Safe Money' automatically launches a Secure Browser Tab. After entering this browser, any transactions are secure against cyber-attacks and data theft attempts.
Data Encryption
If your business needs to store some confidential documents with sensitive data, you can save them in the data encrypted vault. The vault can be accessed through the home screen and is password protected. It prevents unauthorized access to your valuable assets.
Back-up & Restore
The auto backup and restore feature helps to create a backup schedule for your data. This function enables the system to take an automatic data backup on the physical drive and any online drive accounts like one-drive. You can schedule the backups to occur on-demand daily for specific days, every weekend, or monthly. 
This feature is handy for data recovery in case of a Ransomware attack.
Management Console
If you are a small business owner, this function would be beneficial for you. You can log in to your management console through your dashboard or the browser by logging in to ksos.kaspersky.com.
 The Management console lets you know the vital stats for all your protected devices at a glance. Here you can check all your devices' current status and even manage basic settings for all of them through it. 
It provides options to update databases on the devices individually. Also, you can perform group tasks that run at a time on all your devices with a single click. These include database updates or on-demand scans, and more. Furthermore, whenever you want to install the antivirus on other devices, you can send out an email from the console with the installation link attached.
You even have options to lock or locate your mobile devices if they are lost or stolen. It also gives you features to erase all data remotely or display custom messages on screen. You can even take mugshots from the front camera.
Secured Windows File Server
Kaspersky Small Office Security also extends protection for Windows file servers from ransomware and crypto locker attacks. A feature called System Watcher detects and blocks malicious activity and allows rollback of any malicious actions. If you or your users mistakenly install any malicious file on the server, the software instantly neutralizes it for maximum protection.
Protection
All said and done! However, the question is, how is Kaspersky Small Office Security against malware and cyber-attacks.?
Well, it scored a 6.0/6.0 on all the three parameters tested by AV-Test, conducted in November/December 2019, including:
Protection

 against malware infections such as viruses, worms, or trojan horses

The performance

 which indicates strain on the system resources which influences the computer speed in daily usage

Usability

 which indicates the impact of the software in the usability experience of the whole computer
Based on these test results, we can firmly believe that Kaspersky Small Office Security does what is supposed to do the best. 
Kaspersky Small Office Security Coupon Codes & Pricing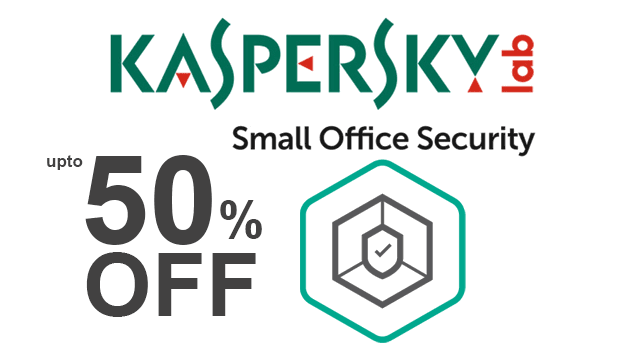 You can choose licenses for a minimum of 5 devices to a maximum of 50 devices. The entry price point starts at USD 87.50 and goes upwards to USD 700 for a year's subscription. Besides, you can use our Kaspersky Small Office Security coupon codes and avail up to 50% discount.
Are you willing to have a subscription for 2 or 3 years? In that case, you can also enjoy huge discounts on the base price. We recommend Kaspersky Small Office Security for your small business.
On the other hand, for home users, Bitdefender provides a range of antivirus solutions for protecting you and your family online. Among them, Bitdefender Total Security is the perfect solution for home users protecting your Windows, Mac OS, Android, and iOS devices.
Our Verdict on Kaspersky Small Office Security
With the rise in cyber-attacks and risks associated with doing business online, investing in good antivirus protection for your business devices and the network is a must. 
At a very competitive price point, Kaspersky Small Office Security offers strong antivirus protection. Also, a smart firewall and the ability to manage all protected devices remotely. These factors are useful to ensure that your business and data is safe on all the devices.