34.78% OFF
Microsoft Office Home & Business 2016 for Mac
Out of stock
There are times when your Mac needs a professional-friendly, well-built and impressive Office Suite. Given that you follow the common business standards ahead, Microsoft Office 2016 for Mac Home and Business is an excellent choice. This suite is for Home and Business needs in your Macintosh device.
Package Includes:
Word, Excel
PowerPoint
Outlook
OneNote
When Word, Excel and PowerPoint helps you craft documents and presentations. In short, Microsoft Office 2016 for Mac Home and Business is an essential suite for professionals and organizations and it's cool with Mac.
1 Mac Lifetime | Download Only | License cover for Technical issues
Customer reviews of Microsoft Office Home & Business 2016 for Mac
Description
Microsoft Office 2016 for Mac Home and Business is a complete Office package. Microsoft has packed with all the essential software in this suite. Letting users create documents, presentations and manage Mails. You don't have to worry about document compatibility in any aspect. Also, thanks to the greater integration level. Microsoft Office 2016 for Mac Home and Business will work fine with your Mac devices. Especially the best with the Retina Display. Office 2016 for Mac comes with Word, Excel, PowerPoint, Outlook and OneNote.
You can also know more about Microsoft Office 2016 Pro for Windows.
Microsoft Office 2016 for Mac: Overview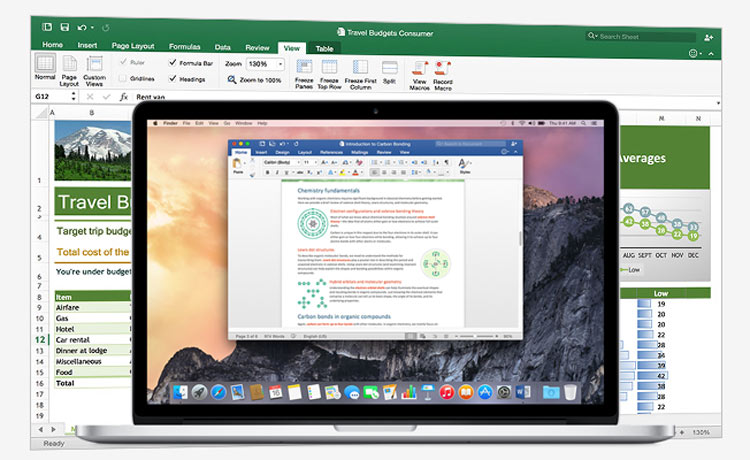 Microsoft Word, Excel, and PowerPoint are the best tools to create Documents, Spreadsheets, and Presentations. In 2016 version, they have improved capabilities. For instance, in Word, you have a Design tab to take care of visuals of the document. At the same time, Smart Lookup can be useful for finessing better documents. Office Excel 2016 for Mac has rich features. Helpful for interactive data representation, Analysis Toolpack, Formula Builder and different types of Charts.
Last but not least, PowerPoint 2016 is all about presenting your ideas in a better manner. It comes with a bunch of cool new animations, Presenter View, and other options. In short, with these three tools, you can create better documents that make sense.
Outlook and OneNote for Mac make your digital life better. Microsoft Outlook lets you manage your emails right from your Mac. Email addition is done with features such as Push Email support and Conversation Support. Integration with Calendar is very helpful. At the same time, OneNote 2016 is one of the coolest solutions to store your notes digitally. Access all those notes from any other place you like. The best part is that you can collaborate these digital notes with others in your team or home. OneNote has good integration with your Mac. So you can create notes from any place you like. Accessing data from anyplace is a great feature to have. You can also open files from any device.
Conclusion
All the office products in Microsoft Office 2016 for Mac comes with Sharing and Collaboration. You can share your documents with other users, and they can edit those documents in real-time, giving you less headache. In case you did not know, you get the same minimal yet effective interface. Thanks to the Retina Display Mac has. Documents are in display with best visual features.
Altogether, the need to create top-notch documents with no quality loss is fulfilled. Microsoft Office 2016 for Mac Home and Business is an awesome choice.