ABBY Finereader is advertised and even praised by critics but does it really read fine?
Range of Optical Character Recignition (OCR) software products isn't crowded like any other field. Probably because it is difficult or a skilled job to develop OCR technology on our own which would be accurate in order to capture market.
ABBYY has their own optical character recognition (OCR) technology which is being developed [su_highlight background="#fffa99″]since 1989[/su_highlight]. In the latest version 12, it [su_highlight background="#fffa99″]supports 160 languages[/su_highlight]!
The use of OCR software is to convert Paper documents, Digital images and PDFs into searchable and editable format. Basically, we are avoiding the time and efforts spent on retyping. So, the main point of focus for ABBYY Finereader Pro review would be: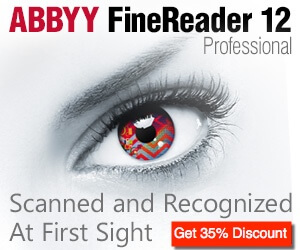 Accuracy of character recognition.
Page formatting in output document.
Speed of conversion.
The interface of software is divided into three views:
Input document view which is scanned (Left)
Output view. Editing or Verifying window (Right)
Zoomed in view of Input. (Bottom)
ABBYY Finereader Character Recognition Tests
[su_heading size="18″ margin="0″]Test #1: Scanning a Cover Page | Level: Easy[/su_heading]
My tests started with the easy to read cover page of a book which has bold text and not so complex images.
Though, output document had some "low confidence text", that's what ABBYY calls to unrecognizable text. To my surprise, even those marked were correct and it was just that software didn't have courage to say that. ;-)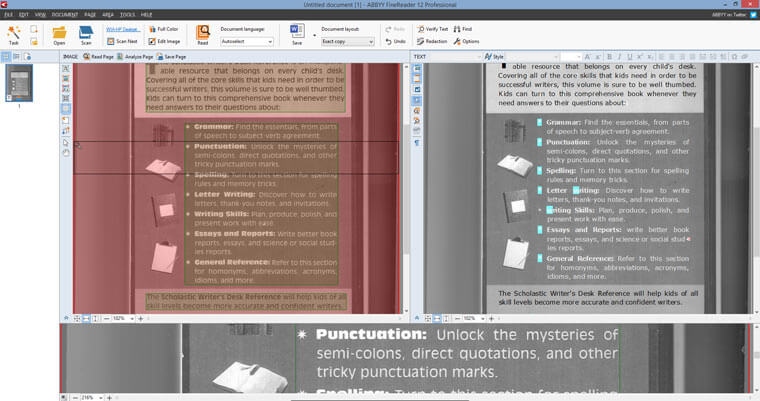 [su_heading size="18″ margin="0″]Test #2: Scanning Magazine Page | Level: Difficult[/su_heading]
Then, I scanned an old travel magazine page which had images as well as text in separate boxes.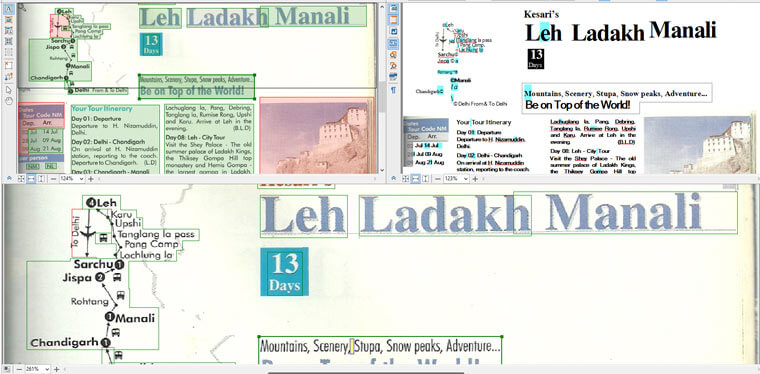 As you can see, text has been recognized and formatted into separate boxes and even the headings have been background color.
ABBYY Finereader Formatting Review:
When converted to Word or Searchable PDF, formatting was kept intact along with the images in place. It could accurately detect:
Unordered list with parent-child combination.
Text boxes.
Heading Text. (Though they were not given H1 style but font text was increased to the scale.)
Underlines. (Hyperlinks from images were removed though but that's actually not possible so can't complain.)
Images and Backgrounds.
Tables.
Fonts (If not exactly available, it tries to assign a similar to suit the appearance.)
[su_label type="warning"]Note[/su_label]Scanning quality through ABBYY software wasn't really good as compared to native HP application. This maybe because ABBYY engine is programmed for OCR and forcing the image to be in grey-scale. I tried changing driver but couldn't get it right so, scanned image through HP solution center and then gave it as input to ABBYY.
[su_heading size="18″ margin="0″]Test #3: Scanning Greeting Card | Level: Complex[/su_heading]
To take test to extreme, I tried a greeting card which had a message in stylish font which is not so easily readable.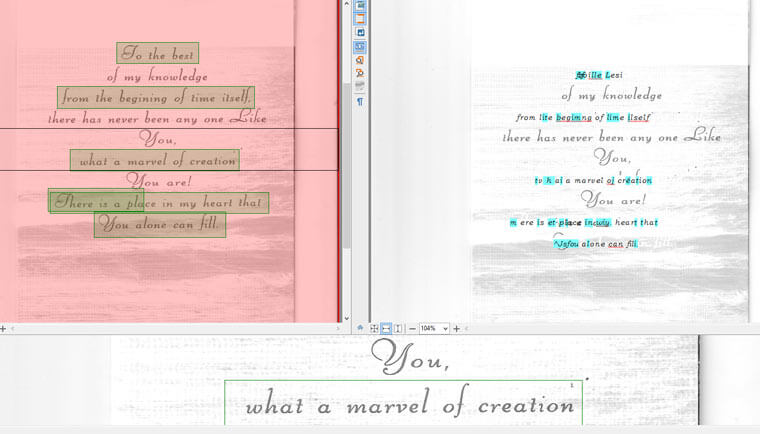 Here, ABBYY failed miserably. It automatically considered every part as image and refused to read anything automatically. However, I marked text areas manually and commanded it to read. Results are in front of you: totally not acceptable.
Anyways, ABBYY Finereader is designed considering Legal documents or anything required in corporate world. There would be hardly a case which would involve casual/stylish font document. So, I think we can ignore it.
[su_box title="Conversion Speed of ABBYY Finereader" style="glass"]It was almost instantaneous! ABBYY automatically detects areas whether text, image, table, etc and tries to convert which is shown in preview. One good thing about the software is that when you give input of a large document (say 50 pages), it converts initial pages and lets you verify/edit and in the meantime converts remaining document.[/su_box]
Conclusion
ABBYY's dominant place in OCR software products is justified and without a single doubt, it is perfect companion at office. Owing to its accurate optical recognition feature and versatile output format options, it is unbeatable in the category. For the record, I have tried Adobe Acrobat XI but their homegrown OCR technology stands nowhere.
The word Finereader is justified in the name ABBYY Finereader Pro. I have never come across any other Optical recognition software so accurate. Just like I started my article, I would like to conclude it: ABBYY Finereader is every cent you spent.
[su_box title="Is it Worth the Price?" style="glass"]Do you still doubt? If you are still not convinced, go grab a trial version and experience the unmatchable yourself. For a limited time, you can get [su_highlight background="#f8f67e"]flat $60 USD discount[/su_highlight] using ABBYY Finereader Coupon.
[su_button url="http://www.dealarious.com/coupon/abbyy-finereader-professional/" target="blank" style="3d" background="#ef2d4a" center="yes" icon="icon: shopping-cart"]Redeem Coupon Now[/su_button]
[/su_box]
Sourojit is Executive Editor at Dealarious. Rumor says He is Computer Science Engineer; He neither accepts it nor denies it. Tech Explorer, Philosopher and a Storyteller.