There is no scarcity of video converter solutions in our world! It doesn't matter whether you want a MP4 to 3GP, or a MKV to MP3 conversion, you can find the appropriate video converters for that purpose. Having said that, it seems a bit tough to find a comprehensive video converter that can work seamlessly with most popular media formats, and is accompanied by a superb User Interface. We include AVS Video Converter and Wondershare Video Converter Ultimate as members of the best video converters league. It's also obvious, a common user, would be confused when it comes to selecting one from the duo.
If you are short on time, Skip to the end, Verdict Section.
AVS Video Converter Vs Wondershare Video Converter Ultimate
AVS Video Converter is a media conversion solution that comes from Online Media Technologies Ltd. It is available only for Windows including the latest version of Windows 10. As per the minimum resources requirements of AVS Video Converter, you can installed on any of the computers you have, though they recommend going for a mediocre-level PC.

Wondershare Video Converter Ultimate is developed by Wondershare, which is a trusted name when it comes to the case of utility software. It is available for Microsoft Windows and Mac OS X, offering the same experience on different devices. It has to be noted that Wondershare Video Converter has some other tools included in the package, such as a DVD Burner, Media Server and an online video Downloader.
Here, we can have an in-detail comparison of both AVS Video Converter and Wondershare Video Converter Ultimate so that you can choose well. We might not be able to find a this one is the best decision, but you can make the choice much easily after knowing all the facts.
Video Conversion
It's a fact that both AVS and Wondershare have packed additional capabilities inside the utilities, such as an editor to perform minor edits to the converted videos and DVD Burner etc. Despite all these, video conversion is the factor to be noted first, we know. And, there are several factors to be taken into consideration.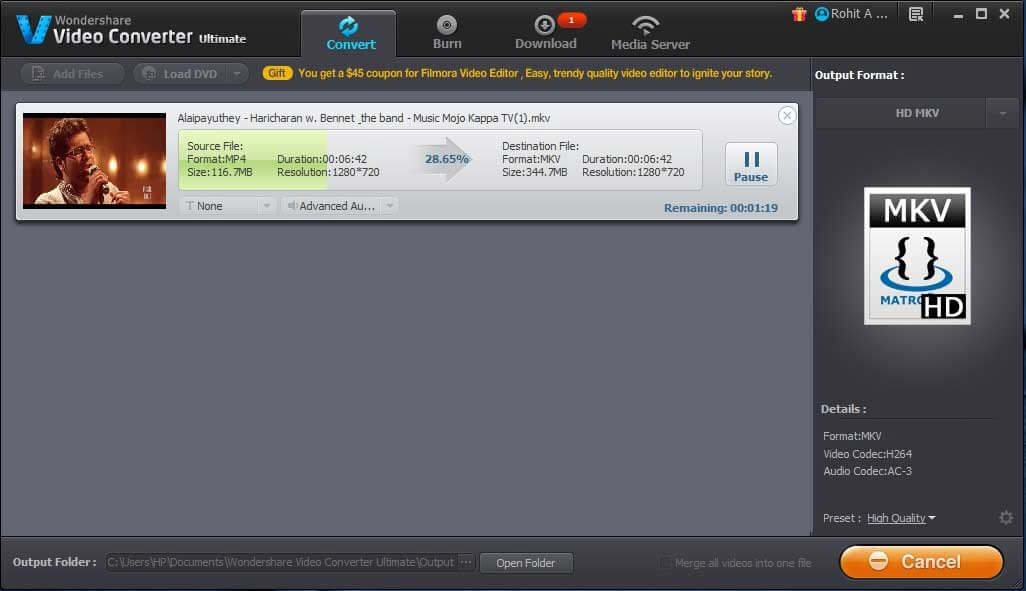 We know you'd be concerned about the conversion speed here. We tried converting the same source file into the same format, using both the application. In the comparison, Wondershare Video Converter Ultimate had a better speed, and thus an upper hand in the long run. Of course, the speed of AVS Video Converter is impressive, especially when compared to the other video converters out there. However, if we take the duo of AVS and Wondershare, Wondershare has best conversion speed to offer.


There is a tie between Wondershare Video Converter Ultimate and AVS Video Converter as we come to compatibility with media file formats. Both the software support a wide range of media formats, and the number is more than 150 if we take the case of Wondershare. In the other, however, there is no particular number, but all the key formats are supported for both recognizing and converting Media. For instance, you would find the input support for DVD and MP4 in both of the tools.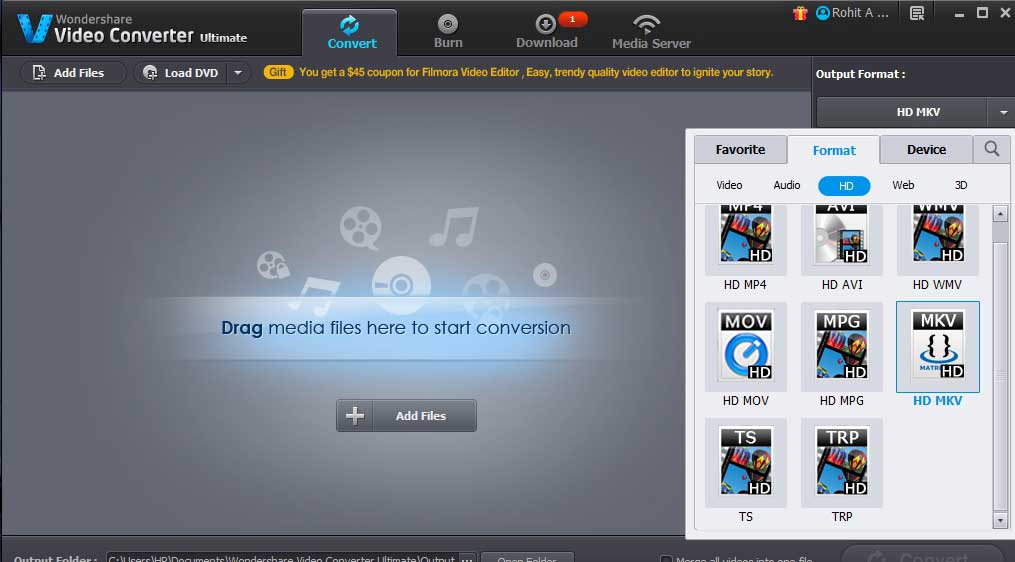 In addition, AVS Video Converter has made three sections for the format selection — Formats, Devices and Web. At first, you can select the format manually. You can then select the device you have and the tool finds the most appropriate media format. Final option is useful when you are creating a video for uploading to web-based video sharing services like YouTube.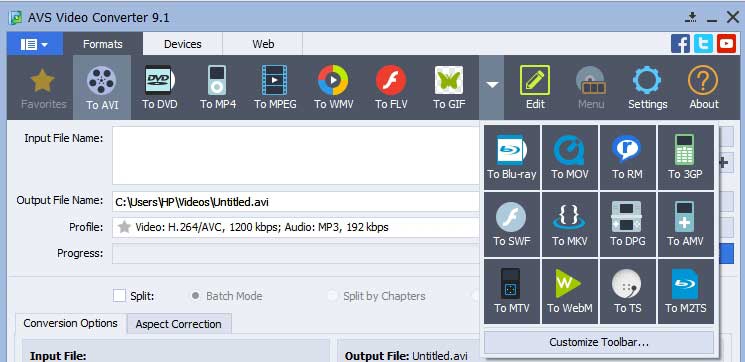 By the way, the problem we found with AVS Video Converter is that it doesn't allow you to convert video files to audio formats only; at the same time, Wondershare has plenty of options for video to audio conversion. So, the choice can be based on your experience.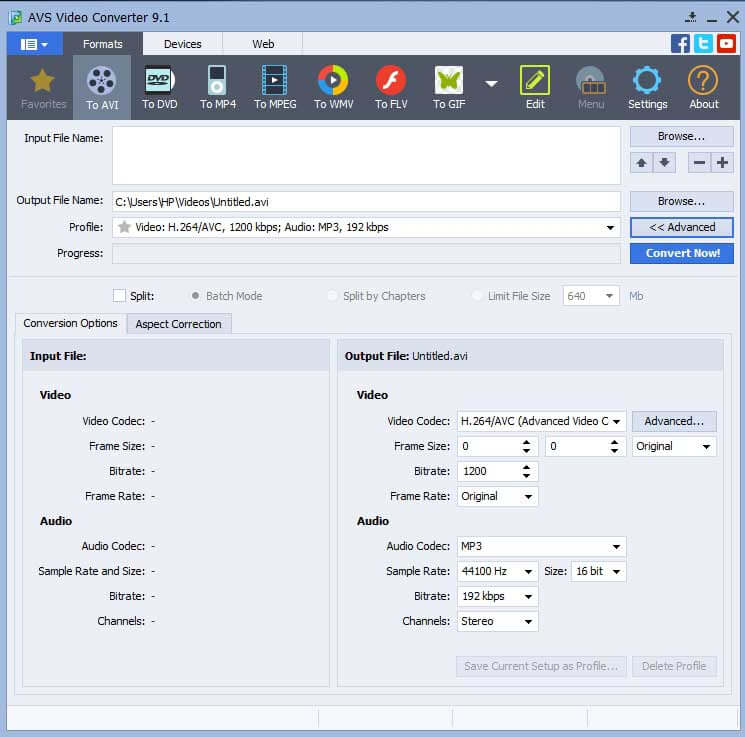 AVS Video Converter offers an advanced set of options for output customization. It means you can change various aspects of the converted file, such as video and audio codecs in use, quality etc. Depending on the format you have chosen, availability of customization options varies. Wondershare Video Converter Ultimate is quite limited in this, in spite of the fact that the developers have included newer technologies for quicker rendering and conversion.


Editing Before Conversion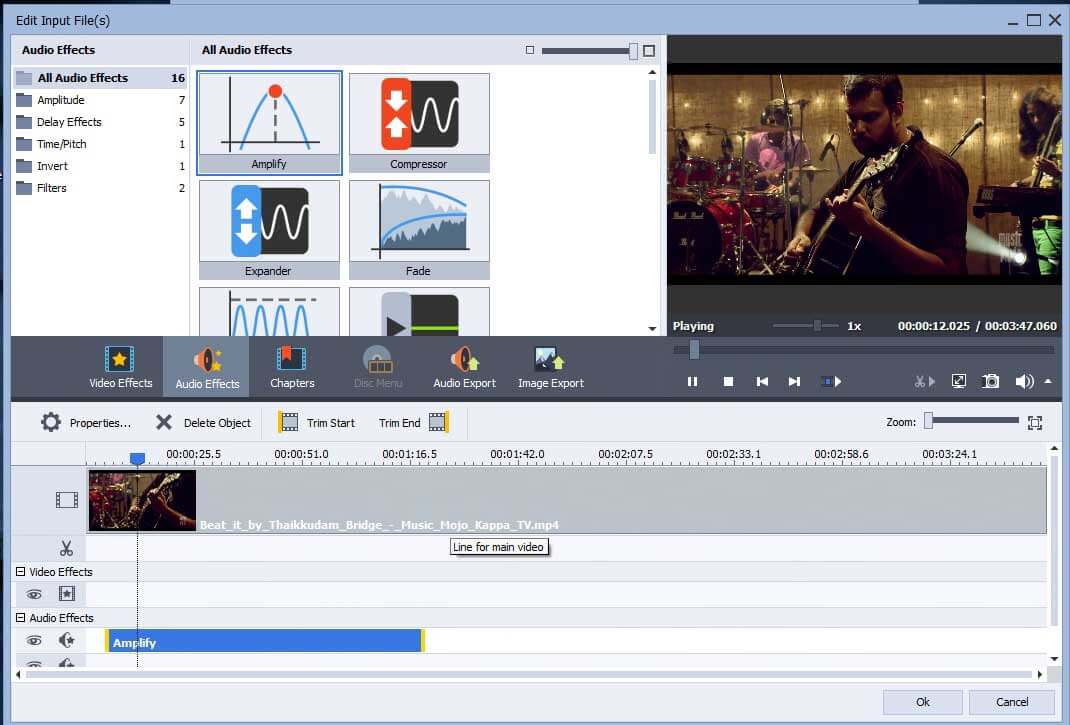 Before you convert the videos, you might want to edit the videos. Both solutions have in-built editors available.
In AVS Video Converter, there is a built-in editor that offers a lot of options. You would be able to perform actions such as trimming, shrinking etc, along with plenty of audio and video effects to be applied. The editor interface is simple but professional, allowing you to various sorts of editing tasks.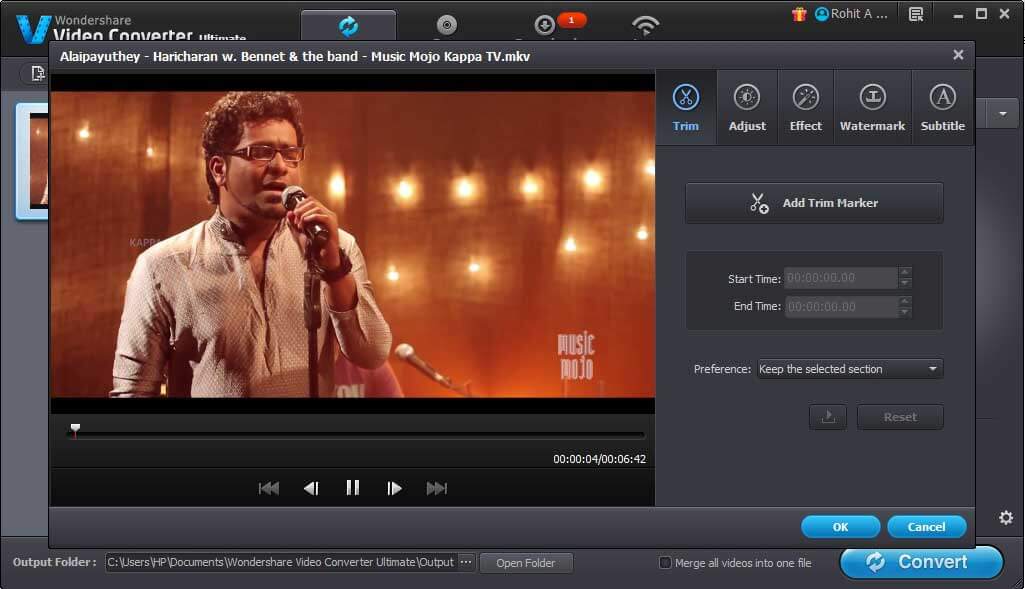 In Wondershare Video Converter Ultimate, the editor is offering limited amount of capabilities. You would be able to get things done with trimming, watermark adding etc, but the interface is isn't that professional. Also, there are only a few set of effects available in Wondershare Editor. Hence AVS Video Converter leaves Wondershare far behind.


Final Verdict
After testing both the conversion software, we can only say that we love both of them. So, if we need to place a final word on selection of one, we have to strictly depend on your needs and experience with multimedia Editing and Conversion software.
AVS Video Converter: Package Benefits
AVS Video Converter does not come as a single application. It is included as AVS4YOU Unlimited subscription. This package includes 12 applications as mentioned below:

 AVS4You package gives you complete control over any task related to Multimedia files.
Recommended For: Users with prior experience of editing and need for sophisticated Editing before conversion. Additional applications can be considered according to requirements.
Wondershare Video Converter: Feature Benefits
Below mentioned are the unique features of Wondershare over AVS Video Converter:
TouTube Video Download and Conversion on the Fly.
Transfer converted videos to Android & iOS devices directly over WiFi.
Video to Audio only conversion.
Inbuilt DLNA Server for watching videos directly on network devices.
Simple Interface with easy to select options.
Latest Encoder HEVC H.265 for smaller output files.
Recommended For: Home users who want point to point conversion without extensive video editing requirement should opt for Wondershare. If you just want converted video to play on your PlayStation and other portable devices, then definitely this is it. These additional feature makes Wondershare Video Converter Ultimate the best for home users.

I love biking, baking, and blogging. I am also an ardent lover of privacy.