Bitdefender is a trustworthy name in Digital Security. However, it is very hard to buy a particular product. In Bitdefender Comparison with its various Editions, there are several aspects that you should check.
Now, Bitdefender has a Free Edition and Paid Editions. We have already seen the difference between Bitdefender Free Edition and Paid Edition. I will try to give a better vision on which paid version you should select. An important decision because it will be with you for the entire validity period. So, let's start.
Bitdefender Comparison: Paid Edition Subscriptions
In general, All antivirus providers have these security suites. They differ in feature range and prices. Bitdefender has the following paid versions:
Above products are in order from basic to advanced protection levels. Have a look at the key feature difference in this Bitdefender Comparison of Editions.
Bitdefender Comparison: Version Feature Table
In the above table, you can see the quick comparison in the feature list. We will discuss each Edition in detail below. Also, we will elaborate if missing a feature will hurt your protection. Pricing differences will be at that point a bit later.
For a better understanding, I will go through the features that are present or absent in various Bitdefender Editions. Understanding these features in simple terms is critical to judging if you need them or not.
Functions that vary across Bitdefender Editions
Antispam: It stops spam and harmful emails in your Email Client. A helpful feature if you are using an Email client on your PC/Mac rather than the web version. In my opinion, if you are not using an email Client to read emails, you are fine without this feature.
Firewall: This is a must have module for protection. Windows does provide a basic firewall. However, time and again it fails to give a better security. If you are using a computer connected to a network, then you must have Firewall Protection.
File Shredder: A useful feature. It is the most noteworthy thing when you are concerned about secure deletion of files. Again, this is optional and depends on your concerns using a shared computer.
File Encryption: You can lock and encrypt files to prevent unauthorized access. If you deal with sensitive data, it's better to keep them in the vault.
Parental Advisor & Anti-Theft: A Good option to use in Family where child's protection is in question. The anti-theft option can help to locate, lock, and wipe lost devices. However, these features work well when the device has internet access and is in network coverage area.
Speed Up Your Devices: A cleanup module. It cleans junk files, browser cache files, and redundant registry entries. You can use this feature. There are better and Free apps like CCleaner. Hence, if you need this feature, you have other options to try.
So, now you know what the extra features are. Hence, You can decide on opting or dropping the features according to your needs. In the section below we will go through a brief Bitdefender comparison. It will help in case you are struggling to make a choice.
Bitdefender Comparison: Antivirus Plus 2017 vs. Internet Security 2017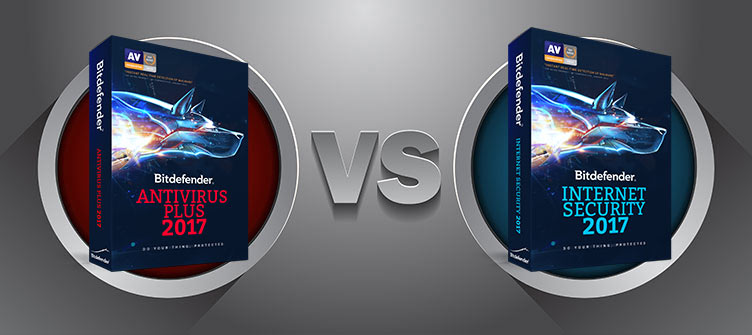 Bitdefender Antivirus Plus just gives you necessary protection. It can range from small viruses to potentially dangerous spyware. Some protection-oriented features are standard in both Bitdefender Antivirus Plus 2017 and Internet Security 2017. The notable ones are:
Password Manager, Profiles, AI Learning, Cloud protection, Wi-Fi Security, Anti-Ransomware & Online Safety. That's good enough.
Now, in my opinion, the major lacking factor in Antivirus Plus 2017 are Firewall & Antispam. There are many others; you can refer the table above. Both these modules are critical in preventing threats. It is always a safe choice to avoid infection chances at the first place. As it goes, Prevention is better than cure. Here the question arises:
Should I buy Antivirus Plus or Internet Security?
It depends on your usage habits. If you are working on a Public/Open network, the protection is weak. However, the situation changes with a Home Desktop not on an open network. Not to forget, Bitdefender Antivirus Plus also covers internet browsing and anti-fraud. So, in any case, you are safe with online browsing with Antivirus plus blocking harmful sites.
On the other hand, Antispam is a must have protection. Especially, if you are using a Desktop email Client and tend to open unknown Emails. A lot of spam emails in web clients like Gmail, Outlook, etc. already goes through filtering. Also, some custom domains do the same. However, I receive a lot of such emails which have an attachment. They are convincing and makes you believe that you are downloading a genuine document. Majorly used file format is Microsoft Word file. Opening these files will infect your system. It is better to block the data at the source and not depend on Antivirus application's real-time scan. Either do not open such emails or keep the security up.
Bottomline
Therefore, are you are in such a situation where you need Firewall & Antispam? Then go for Internet Security 2017. Parental control is a starring feature in Internet Security. You can also avail File Encryption and File Shredder. Situational but useful features.
You can use Antivirus Plus in an unsafe environment only if you are using a third party Firewall. There are benefits of using Antivirus Plus too:
Since it is the very base protection, it is super fast and light-weight. Best for systems with low hardware resources like RAM, Processor, etc.
Core features and technology is same as the Top Bitdefender Edition
Bitdefender Comparison: Internet Security 2017 Vs  Total Security Multi-Device 2017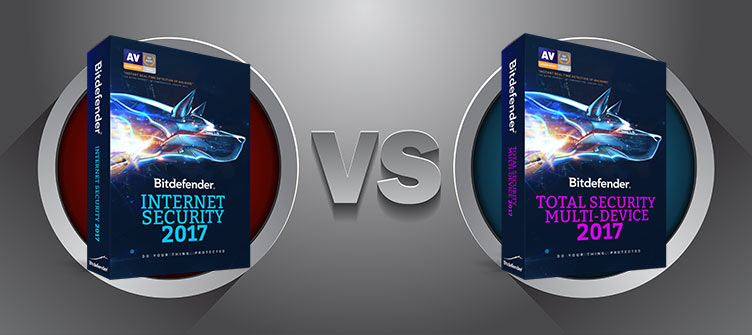 We already know the difference between Bitdefender Antivirus Plus vs. Internet Security. It is evident that Internet Security package is more than basic protection. There are only two differences in function when compared to Bitdefender Total Security Multi-Device 2017. Anti-Theft and Device Speedup module.
Major Bitdefender Comparison in Multi-Device 2017 Edition is the protection for Android & Mac Devices.
Should I buy Bitdefender Total Security Multi-Device?
The difference is clear and hence the requirement. If you have different devices to protect then you have no choice other than Multi-Device Protection. As a benefit, you get Anti-Theft & Device Cleanup Features. However, please note that device cleanup feature should not be a unique feature to buy an Antivirus. As mentioned before, a Free dedicated application will do a better job. If you want it desperately, you can save by using our Bitdefender Total Security Multi-Device Coupon codes.
Bitdefender Comparison: Is Family Pack 2017 the Boss?
Well, Bitdefender Family Pack 2017 is yet another Edition. So, is it very different? No, it isn't. It is same as a Multi-Device Edition. Yes, Exactly same. Family Pack just gives you the ability to protect UNLIMITED devices. Multi-Device Edition allows you to buy a maximum of 5 or 10 device subscription. Now say, you have purchased a 10 device subscription and buy one more device later on. In this case, you will be in a tough situation.
The new device will require a new subscription as you already used up the 10 slots. With Bitdefender Family Pack that is not a problem anymore. Unlimited protection for unpredicted addition. Yes, that's the right way to address it.
To make it more simple, you can also call Family Pack as a Multi-Device Edition with Unlimited Device subscription. Multi-Device is the Top Edition and Family Pack exceeds it on device protection count. Hence, Yes Bitdefender Family Pack is the Boss.
It is not only the top product in the line but also the most pocket savvy on pricing. You can check for the Family pack coupons available and decide to buy it according to your needs.
Bitdefender Comparison: The Solved Mystery
I hope I was able to clear up the confusion on Bitdefender Paid Editions. Buy it according to your needs and price comparison. Do not go behind marketing hypes. Also, do a search for Bitdefender Coupon Codes. It will ensure that you are always buying your intended version at the best price available. That's all. Have a safe digital day ahead 🙂
Did I miss something in this Bitdefender Comparison? Have Questions or something to add? Please share your valuable thoughts in the comments section below.