Bitdefender has now converted its top of line Product to benefit users. Bitdefender Total Security 2017 is the new face. Total Security 2017 is a multi-device license. Hence, it allows you to select the platform of your choice. Now you can get Bitdefender protection on Windows, Android, and Mac. Also, not to forget, the convenience of managing one subscription. Also not to forget, Bitdefender Central Account is the one place to manage all devices.
At this point, Bitdefender Total Security 2017 is available on Official Website. So what are we waiting for? Let's go through what the new version has to offer.
Bitdefender Total Security Multi-Device 2017 Protection Includes:
Total Security 2017: Compatible with Windows 7 – Windows 10.
Antivirus for Mac: Compatible with OS X Mountain Lion (10.8.5) and above.
Bitdefender Mobile Security: Compatible with Android 3.0 and up.
Review Summery
Bitdefender Total Security 2017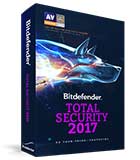 Antivirus Protection
10/10
Resource Consumption
8/10
Support Response Time
4/10
Pros
Modern & Clean Interface
Minimal Performance Impact
Fail Proof Malware Module
Central Account Provides Good Control
Zero Intrusive
Cons
No Official Offline Installer
Firewall lacks advanced options
Parental Advisor needs more detailing
Support is slow to respond
Not Available for iOS
Bitdefender Total Security Multi-Device 2017: New Features
In this article, we will focus on the Windows version that is Bitdefender Total Security 2017. There are few notable improvements. It seems like, Bitdefender is keeping Windows 10 as the center of development focus. We will discuss them a bit later. First of all, below are the new features.
Entirely new Modern Interface.
Added Wi-Fi Security in Vulnerability Scan.
Startup Optimizer integrated with Bitdefender Central.
Bitdefender Integration with Windows 10 Notifications.
Application Installation presents more details than previous versions.
Disk Cleanup module for dedicated disk scan.
We will update this Bitdefender Total Security 2017 review if Bitdefender adds any new feature in future updates.
Bitdefender Total Security 2017: Installation
Installation procedure for Bitdefender Total Security 2017 is the same as it was in 2016 version. Bitdefender Central Account is the one place you add a license, download application and also manage all devices. We will discuss features of Central Account a bit later.
As mentioned in above section Bitdefender Installation has a revamped interface too. Comparing to the previous version, we have a detailed installer. It displays the size of file download left and speed with which the download is happening. This inclusion is helpful. With the detailed information, we have more clarity on issues faced. Most of all, Installation was smoother than any versions we tested before.
Bitdefender Total Security 2017: Video Overview
Bitdefender Total Security 2017: Homescreen
As discussed earlier, Bitdefender 2017 has a new Homescreen interface. As a result, on the first launch, it did strangle us a bit. We were happy with the clean interface in 2016 version. We feel that spending some time on the interface is necessary to get comfortable. This is a generic case with every change, isn't it?
In addition to the redesign, we have a lot of data that is on the Home screen. The design resembles mobile apps. At the left side of the application, we have the Menu to navigate to other options. In Bitdefender 2016 version we had a Home screen with Security Modules. We had to click on them to visit various modules, perform related tasks and settings. Now that the left side has the menu options, scan results and reports are at the Center. For quick access, you have Account Information, Protection, Privacy, Tools, Reports, Notifications and Settings on the side menu.
Unlike the previous versions now the number of days left display in not at the bottom of home screen. It will be accessible in "Account Info" section.
Bitdefender 2017 Security Modules
Practically there are no changes. Rather than adding new inclusions seems like Bitdefender is trying to add perfection to present features. A much welcome approach. Given below are the modules:
Antivirus
Web Protection
Vulnerability
Firewall
Antispam
Ransom Protection
Bitdefender Total Security 2017: Antivirus Module
Antivirus module allows you to configure the way Bitdefender scans your system. You can also define its post infection detection behavior. Therefore, you can set custom Scan action. File exclusion and Quarantine item control are also available in options.
Furthermore, you can perform Full System Scan and Create custom scan schedules in this module. Since the Full System Scan option is not available on Protection Dashboard, this module proves to be of vital use.
Bitdefender Total Security 2017: Web Protection Module
It allows you to configure browsing protection. It blocks known unsafe websites. So, you can configure it's behavior too. You can guide Bitdefender what to scan. Search Advisor, Scan SSL, Protection against Fraud and Phishing are some options you can control. Here, you also have the choice to Whitelist Websites.
Whitelist option is useful to unblock a blocked website manually. Practice extreme caution while making these changes.
Bitdefender Total Security 2017: Vulnerability Module
This scan checks for old applications, Weak passwords, and Critical Windows. The only option to tweak here is the criteria you do not want to scan. Not only it scans for Vulnerability issues but also updates them. Third party applications have the link to their respective download pages. Also, Bitdefender Total Security Multi-Device 2017 Installs Windows Updates automatically.
Unique feature addition is the Wi-Fi network scanner. It is indeed an important characteristic to have. In previous versions, Bitdefender lacked the same. While Other antivirus Applications like Kaspersky and Vipre already had this feature.
Bitdefender Total Security 2017: Firewall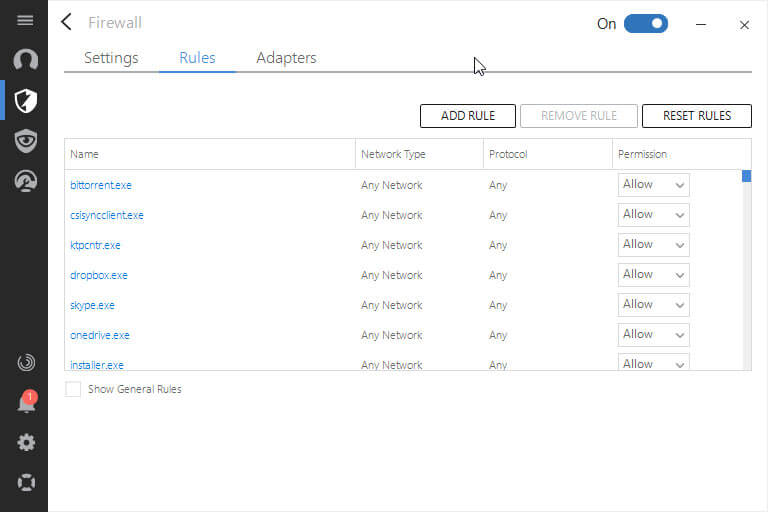 Firewall module protects you from Network port scans. Besides you can create rules to allow and block Internet access to Windows applications. You can also set Adapter Settings. Adapter rules are mostly helpful at situations when Bitdefender is blocking Your Network devices. These devices include Printer, Scanner, etc.
We wished Bitdefender Firewall to have more improvements. A Firewall with network traffic monitor would have been extremely helpful. Advanced home users prefer having more control over the network. Hence, giving this module a significant scope of improvement.
Bitdefender Total Security 2017: Antispam
Enabling antispam filters helps you to protect your Email Client. Also, it uses cloud protection to detect email behavior. Hence, your Email Client is safe. Auto Scan before emails and attachment access keeps you safe.
Bitdefender Total Security 2017: Ransomware Protection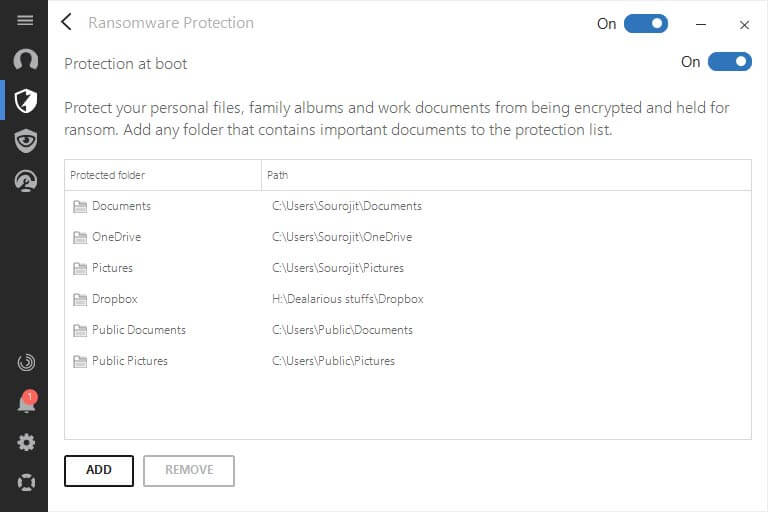 We have seen this as a new inclusion in 2016 product line. Since then, it has been of great help. Ransomware protection adds an extra layer of protection. With this active, you can stay relaxed. All you have to do here is add all important file locations. Once done, it keeps them safe from locking. So even if a modern ransomware can infect your system, it won't be able to lock your files. Bitdefender Total Security Multi-Device 2017 keeps you safe.
We appreciate Bitdefender's decision to include and improve this module.
Bitdefender Safepay
Bitdefender Safepay provides hacker free browsing. You can use this feature to make secure transactions. It eliminates the fear of Keyloggers, Phishing attempts, etc. Safepay gives you an isolated browser environment. Bitdefender Total Security 2017 has enhanced Safepay experience. Hence, you get the same features with better security.
Bitdefender Wallet
This module is a password manager application in Bitdefender Total Security Multi-Device 2017. It allows you to save website logins so that you can remember them. It motivates the use of new and complicated passwords for each website site. While you do not have to remember any of those passwords, just one master. Bitdefender Wallet assists logins in browsers with the help of the plugin.
You need to keep one master password to keep Wallet safe. Create the same with extreme caution. Post unlocking wallet, you can access all your saved passwords. Also, you can also select the applications that can use Bitdefender Wallet. Having a worry free transaction with auto form filling is a great option to have.
Bitdefender Total Security 2017: Windows Optimization
OneClick Optimizer cleans Garbage Windows files. It includes Disk scan, Registry scan, and Privacy scan. These are temporary and leftover files, and that takes up space. Regular cleaning of these files keeps your Windows running smooth. To emphasize, be careful with Privacy cleanup. If you do not want to lose browser bookmarks and saved passwords, check options properly before performing cleanup.
Startup Optimizer allows you to manage Windows Startup applications. A significantly long list of entries can slow down the boot. Hence you can use this module to disable such applications at boot. Another handy option is to delay applications at start up. As a result, you will see visible boot speed improvements. Startup Optimizer also includes community ratings. An additional guide for you to see what other people are Allowing / Disabling.
Disk Optimizer is another new feature in Bitdefender Total Security Multi-Device 2017. This module allows you to scan drives for large files. You can then delete them depending on their requirements. A handy utility to find useless files.
Bitdefender Central Account 2017: On-the-Fly Controls
Bitdefender Central Account serves at the center point of all actions in Bitdefender Total Security 2017 Multi-Device. To add a subscription, get installer files, manage number of devices, etc. This account is needed. Remote management, allows you to have a regular check on devices. Moreover, it is not necessary for the device to be with you. You can perform all the required actions from the Central account. Of course, the devices needs to be online. Security and Optimization steps from Central account include Quick Scan, System Scan, Vulnerability Scan.
In optimization, we have System Optimizer and Startup Manager. The latter is a new addition to the Central account. It indeed proves to be helpful. From design and visual aspect, they are just a treat. These were features also present on the desktop application.
There are two features you can exclusively access only from the Central account only.
Parental Advisor
This module is of extreme importance to parents. We have seen a lot of queries about how good this module is. The device placed under supervision needs no physical configuration. Backend configuration means, no one can alter the rules set by you. View detailed online activities with system application usage. You can block websites, applications, schedule restrictions and take many more actions.
Bitdefender also sends you Email reports of accessed blocked services.
Anti-Theft

With Anti-Theft you can locate devices. Most of the time this is accurately calculated. Anti-thief uses Network data along with GPS to calculate position. If device GPS is not accessible, positioning may not be correct. In the event of a mishap, there are certain aspects that you can control.
You can sound an alert, lock device and Wipe sensitive data. Also to keep in mind that these features will only work when the device has internet access.
Bitdefender Total Security Multi-Device 2017 worth the Money?
Bitdefender Total Security Multi-Device has been on Top on top of AV Tests for a long time now. Moreover, protection against latest viruses has never been an issue. Bitdefender also has the lowest rate of false positive detection. Hence, one thing you can be sure of is the rock solid protection.
Installation & Support
Installing Bitdefender Total Security Multi-Device 2017 can get tricky at times. If it installs properly then there is nothing to worry about. On the other hand, if there are problems, it can be a tad painful. After-sales support is slow. In our experience, we had to wait for nearly 3 days to get a simple response from the team. Not only us but also a lot of Bitdefender customers have faced the same issue over and over the time. A simple google search will reveal all the stories. Therefore, a perfect installation and you are in luck.
Lack of Updated Offline Installers makes it difficult to install. Especially if internet connection is slow or unstable installing Bitdefender can be a challenging task. Since Offline installers are not provided officially hence not kept up to the date. In 2016 version Installing from Offline setup was not specifically helpful. After installation, it took a long time to Update to latest version.
Windows Testing
In our tests, we made a clean removal of the previous antivirus. This step is a must. Do the same before installation attempt. Once done, Bitdefender Total security 2017 Installation went smooth. We faced no issues on Windows 10. There were no signs of system slowdown except for the first time system scan. We experienced some lags with video playback during the first Manual full system scan. Once that finished, we never noticed a thing.
With some patience and 30 Days, Money Back guarantee you can go ahead and purchase Bitdefender Total Security 2017. Use the trial version before you decide to purchase. By this way, you can test your system compatibility with Bitdefender Total Security Multi-Device 2017.
Did we miss out any point in this Bitdefender Total Security Multi-Device 2017? Let us know in the comment section.