We all use antivirus solutions for what? Enhanced security and privacy. Definitely the protection offered by them is way better than the Operating System's default. In a world that more often uses pirated OS and software for daily use, it is an extremely natural thing that free antivirus software are way too popular than the paid ones. Well, that being said, it needs to be noted that most people fail to understand what these so-called free security suites are hiding behind their back. Giving enough for you to be tensed about, these free antivirus software aren't that good. In this post, we'll give you a clear idea about these free antivirus software and whether they're good-enough to go.
Free Antivirus Software: The Deception
Well, as you would have noticed, almost every free antivirus solution offers basic protection from viruses, spyware & other common threats one would have to face. Well, quite tactically, they don't provide full protection but force you to upgrade to the paid version, whenever they can.
While the compulsion is way too high in popular antivirus applications, some have a moderate attitude, such as in the case of Panda Free Antivirus: A popup and a discount at every start up. It's a fact that free antivirus software never do provide complete protection for your devices; it rather pretends to do so. Well, it is a matter of interest, how these antivirus companies are making revenue out of the free stuff.
FREE is Good: The Surprise Goodies


So, they say you get basic-level protection from viruses and threats when you go with the free antivirus solutions. It's to be noted, however, that some other things also come with the free antivirus software. In most cases, they will be a few free tools, which may seem harmless for starters but can do worse stuffs in the end. The common case is the installation of unwanted Browser Toolbars, Browser plugins, change of Search providers etc.
For instance, it can be seen that Comodo Free Antivirus installs a few other stuff when you finish the installation. You can see that there's Yahoo toolbar in your browsers, an extension named Chromodo that is capable of changing your DNS servers and Geekbuddy, which is a service for technical system support. Basic PC users don't sense the presence of these tools and they just move on.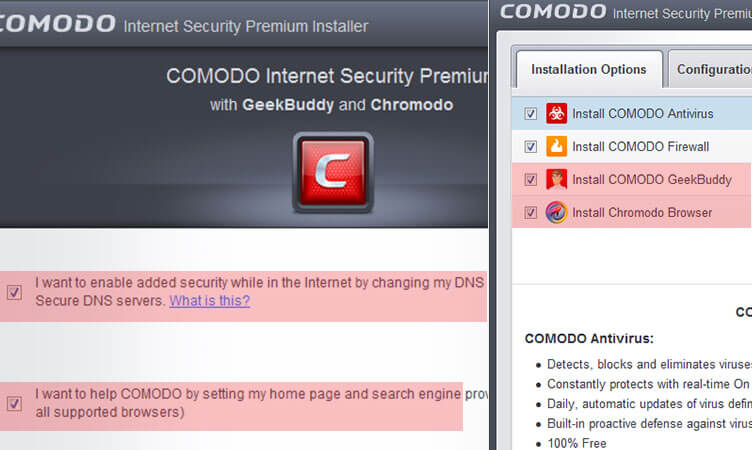 Similarly, there are some hidden things with almost all free antivirus software you install. When we come to the case of Avira antivirus, a toolbar gets installed and the default search engine in the toolbar is Ask.com. Well, literally, each user who installs Avira Free antivirus is supposed to use Ask.com as the search engine, at least for a while. In Avast antivirus solution, however, Google Toolbar is getting installed in browser.
The list isn't actually complete and we doubt it can ever be.
Note: It's not only the free Antivirus software. You should take a good look at the options during installation for any software under the FREE tag.
Free Antivirus Traps: Privacy is a Myth


There are a few common instances where we find these so-called free security suites as culprits.
Most of these free antivirus solutions analyze your usage and track information from you. For instance, using an extension that's installed in your browser, it's easy for the company to know the websites you visit or for tracking the browsing habits of yours. Although these companies promise confidentiality of the data under surveillance, they admit that it's being tracked.
Some security solutions come up with fake prompts about virus infection and all. It is also seen that a variety of fake viruses are created by the antivirus solution to threaten the user. By doing so, the company would be able to compel that person to upgrade, which is great for them.
It's hard to find a toolbar that is useful! Well, as in case of toolbars that have been installed by antivirus tools out there, the sole purpose would be to spy on you — quite clearly, on your web browser.
Free Antivirus is a great platform for the parent company to market products , especially products that have relation with security and privacy.
How Do They Sustain: Payback Time


Answer for this question would be evident from above mentioned sections. It's clear that free antivirus software can get enough revenue from the compulsion for upgrades. At the same time, they get some money through installing those non-sense toolbars and changing default search engines. So, they've many ways to get money from you, even when you're in the 'FREE' mode. By the way, gathering "browsing habit" is gold for marketers and they can make revenue out of it too by Ad Targeting.
The Conclusion
Considering all these, we think it's pretty dangerous to move on with free antivirus solutions, especially such threats to privacy and confidentiality is concerned. Thus, when you're strict about the data you manage, you should have an impressive, fully-fledged version of antivirus protection for your PC. You do get the features but at a different price. If you still want to stick to free solutions, be extremely cautious about what you are installing.
The three attributes that define me- Tech lover, Blogger, and Dog lover. I primarily cover Cyber Security, online privacy, and also have keen interest in exploring new software that make daily computing easier for home users. I do love to spend quality time away from the internet, so when I am not online, I either cook or bike.