Unlike the old days, screenshot capturing and screen recording have become incredibly popular, as to be useful in an extreme variety of purposes! When we consider the case of screenshot capturing, it's used quite widely — personal and professional. From explaining something techy through images to seeking technical help, screenshots are very useful. But, when you want to record an entire, dynamic process, you have to depend upon screen recording. Screen recording is used also for video blogging purposes and Skype recording etc. However, to do these, you need an efficient third-party screen recording solution. It has to be noted that the in-built screen capturing tool in Windows — Snipping Tool — is quite limited and does not offer screen recording either. And, you would definitely have heard about Icecream Screen Recorder. In this post, we have an in-detail review of Icecream Screen Recorder, exploring its various aspects.
Icecream Screen Recorder — a Briefer Introduction
As we said, Icecream Screen Recorder comes from Icecream Apps, which is a developer of utility software. The tool is meant to help you take screenshots and record screen from your Windows PC. Icecream Screen Recorder is offering support for Microsoft Windows XP and later versions, up to Windows 10, and the system requirements are so low that you can run it in literally any device out there.
Limitations in Free Version
It has to be noted that the tool offers two versions — Free version with some serious limitations and the Pro version with all the unleashed capabilities. For instance, as we take the case of screen recording, the time is limited to 10 Minutes in the free version and the only supported output file format is WEBM. However, if you are ready to upgrade by paying $29.95, you can have unlimited recording time and support for WEBM, MKV and MP4.

Installation and First Use
In order to install Icecream Screen Recorder in your PC, you have to download the setup file that weighs 30.7MB. We would say the installation procedure is way too simple and it takes less than a minute to finish installation. Once you have done with the installation, you can launch Icecream Screen Recorder, which starts with the main window.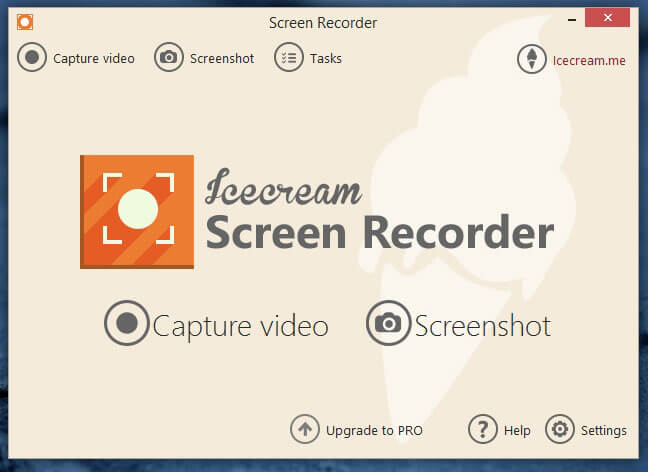 As you can see in the image given below, the UI is way too simple. There are two buttons and you can choose as per your requirement. When you click any of those buttons – let that be Video capturing or screenshot – you would be asked to select the recording area. You just have to select the area and it will be captured at the very instant. We will talk about ease of use and functionality in another section. Now, regarding the installation and first use, we have an impressive opinion about Icecream Screen Recorder.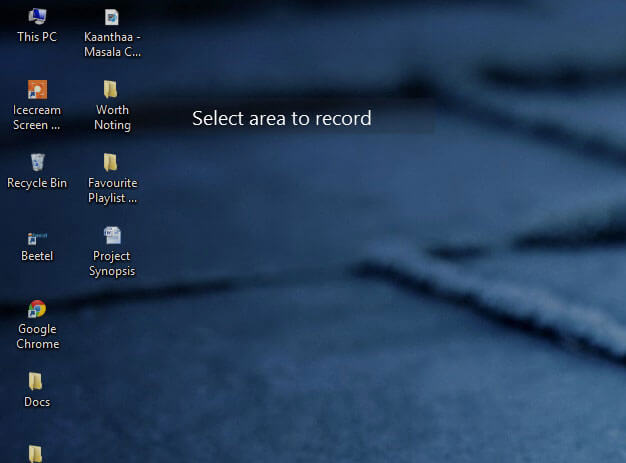 Ease of Use
We were really impressed by the simplicity, with which Icecream Screen Recorder has been developed. It's so simple that you can launch the tool, click the corresponding capture button and start recording. If we come to screenshots, you can click the button, select the area and there will be a dialogue box asking you to confirm the size of area that is selected. Once you have done that, you can click the Screenshot button.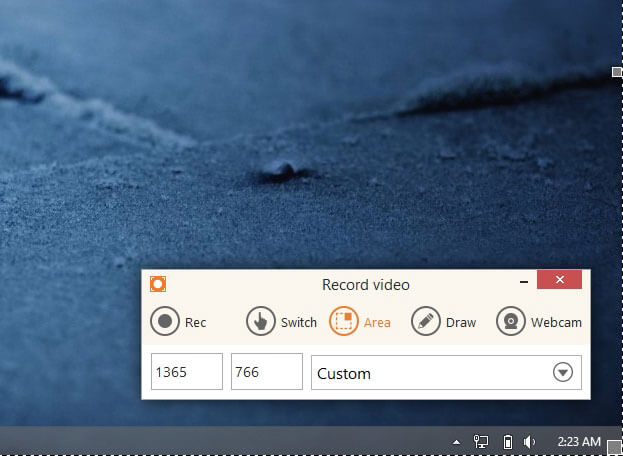 Similarly, you can select the area size when you want to record videos from the screen. One of the impressive things that we found in Icecream Screen Recorder is the preset resolution options. For instance, you can choose 720p mode and area will be resized to fit the resolution. In addition, it is to be noted that Icecream Screen Recorder is extremely quick in most of the scenarios.
So, we would give a five-star rating for ease of use.

Functionality
Icecream Screen Recorder is said to be a feature-rich screen recording solution, but the free version of the tool is an extremely limited one. For instance, the only file format you can export the video recording to is WEBM, which does not sound so professional. Similarly, you will have to purchase the Pro version if you want to add a watermark to the output video. Similarly, it's not possible to disable the countdown if you are using free version of the tool. Despite all these, there are some features we loved in Icecream Screen Recorder.
The first one is the options for instant editing. Let that be video recording or screenshot capturing, the tool is offering you drawing options. For instance, if you want to add a circle or arrow in the screenshot, to explain something, you can do it right away.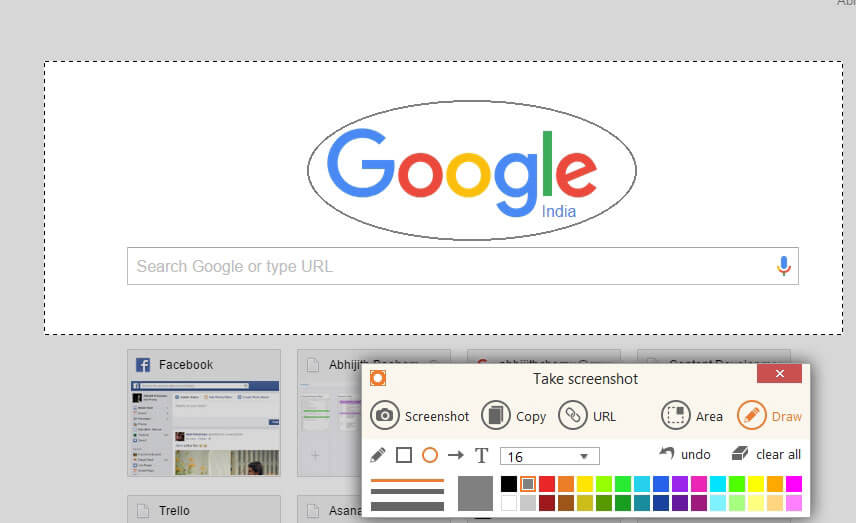 Icecream Screen Recorder has integration with its online screenshot sharing platform. So, once you've taken the screenshot, you can click the 'URL' button and the screenshot will be recorded to the platform instantly.
In addition, when recording video, you can place the webcam input in a convenient place, with a convenient size. This seems to be a good option when you are recording something from PC and want to explain it too.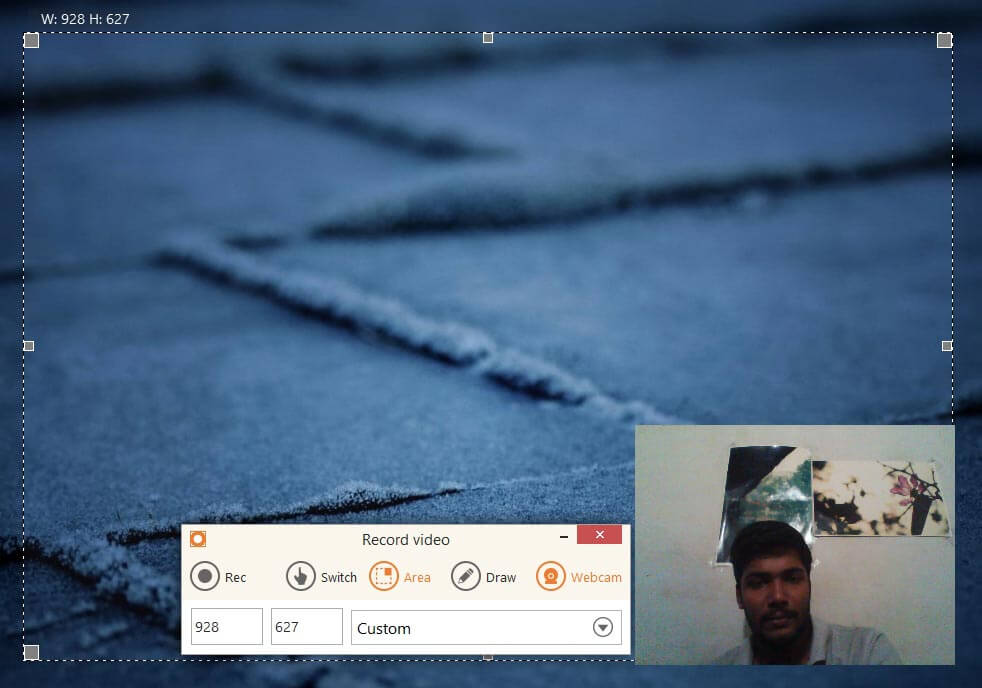 Icecream Screen Recorder has relatively advanced audio mixing capabilities as well. You can decide source of video you would like to include in the output.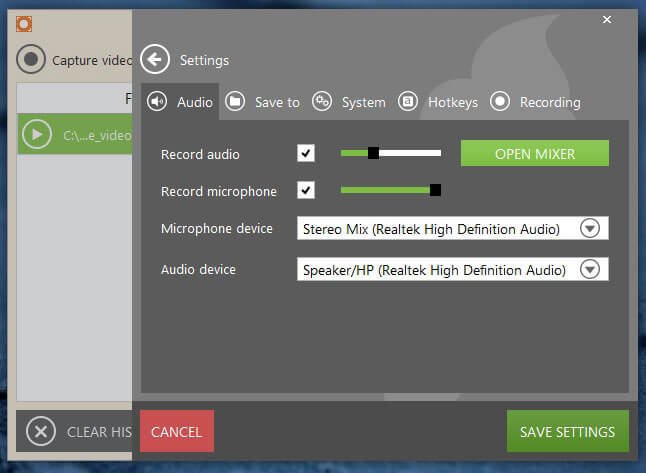 Thus, we can say these features of Icecream Screen Recorder make a good contribution to the functionality aspect of the tool. However, we were disappointed by the tight limitations.
Quality
Despite the limitations when it comes to exporting the recorded video, we find the quality of the output to be okay! It's the same case when we consider the case of screenshots as well. Altogether, there are no major complains in the quality aspect of Icecream Screen Recorder.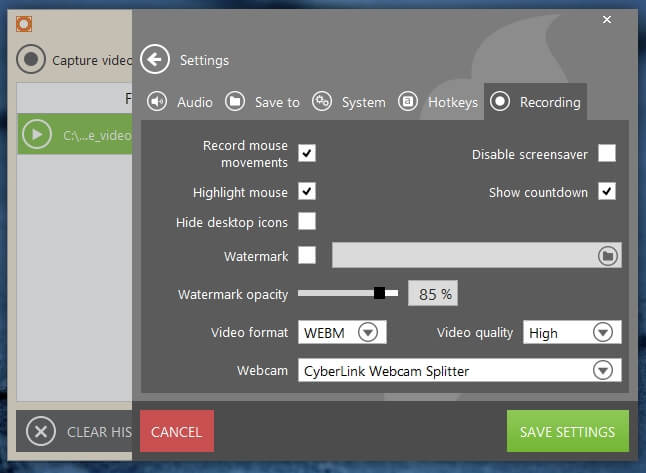 Pricing
Pro version of Icecream Screen Recorder is available for $39.95 and you get access to all the features of the tool, like ability to add watermark, scheduled screen recording, support for multiple-format video output etc. Considering the features, we would say pricing plan of Icecream Screen Recorder is quite affordable.

The Bottom Line
In most of the aspects, Icecream Screen Recorder impressed us, although the presence of limitations is a bad thing. It has to be noted that the features are not so professional either. Similarly, when we come to the case of editing of an output video, Icecream Screen Recorder cannot do anything impressive. Thus, from the professional's point of view, we don't think Icecream Screen Recorder is not a good recording solution. On the other hand, if you need recording solution for sole personal purposes, it seems okay to go with it.
[yasr_overall_rating]
The three attributes that define me- Tech lover, Blogger, and Dog lover. I primarily cover Cyber Security, online privacy, and also have keen interest in exploring new software that make daily computing easier for home users. I do love to spend quality time away from the internet, so when I am not online, I either cook or bike.