There is no end to the number of Mac system cleaners that overpromise and underdeliver. Today, we are going to take a look at MacBooster 8. Is it just another Mac tuneup tool? Is MacBooster safe to use, and does it match up to other Mac optimizing apps in 2020? Let's cover these areas in detail in this IObit MacBooster 8 review.
Pros
Good malware scanner
Easy to use Interface
Application Reset Feature
Cheaper than alternatives
Cons
No Real-time Protection
Incomplete Antivirus Protection
Extra Scary Alerts
False positive detections by other Antivirus apps
---
What is MacBooster?
MacBooster is a Mac maintenance tool developed by IObit. It was released first in October 2013, when IObit renamed their existing Advanced MacCare product to MacBooster 1.0. It has been seven years since then, and their current release is MacBooster 8.
MacBooster is available as a fully functional free 14-day trial, and thereafter, you need to buy it to use it. If you do not want to use it after 14 days of trial, you can always uninstall MacBooster with ease and without any issues.
First Impression of MacBooster 8
First impressions, they say, can make or break a deal. Would you trust poorly designed software with a task as critical as the maintenance of your Mac? Probably yes, for a few of you who know exactly what changes you are doing, but a big NO for a lot of you.
MacBooster 8 makes a good first impression. The options are all put into relevant sections. The tools are named clearly to say exactly what they do. The Scan/Fix button is pretty well-placed and is accessible all the time, and there are no scary meters with danger signs like in MacBooster earlier versions. A neat UI if you ask me. The system status is blended in with the UI this time and does not look like cheap scare tactics like in earlier versions. It makes MacBooster 8 look quite legit.
When you start MacBooster 8 for the first time, not all options are checked by default. So, you run a lower risk of ruining your Mac even if you hit the big Fix button on the System Status screen.
MacBooster 8 Review: Best Features and Options
Like any other system maintenance utility, MacBooster bundles together a variety of nifty tools that you can use to keep your Mac running fast and smooth as if you just brought it home yesterday. Besides standard utilities like an Uninstaller, System Junk Cleaner, Privacy Cleaner, and Large File scanner, MacBooster also bundles a Virus and Malware Scanner and a Startup Optimization.
In this review, we will take a deeper dive into some of these utilities and find out if MacBooster is of any use or is it simply better to do these optimizations manually? Let's start by looking at the features that MacBooster 8 has to offer.
MacBooster 8 Turbo Boost
Turbo Boost is a new feature added to MacBooster 6. It does three things:
Disk optimization
Disk permission optimization
Storage optimization
Now, none of those options are explained further, so we went ahead and took a look at what these options would potentially do.
Cache and temporary files generated by applications do take up space on a Mac. Removing them can give us a valuable amount of space, close to a few GBs at times, depending on what the application is dumping to fill your hard drive. I have nearly 4 GB of GarageBand files that I cleaned up with MacBooster.
Disk permission issues are automatically taken care of in Mac El Capitan. This option is not needed for the latest Mac systems. It is only applicable to Yosemite and earlier. Use this option when a recent software install changes permissions for some of your folders, and you are not able to read/write with those folders.
The Storage optimization works the same as Disk optimization, but only for Mac default apps.
MacBooster 8 Virus and Malware Scan
Although MacBooster is not an antivirus, it comes with a Virus and Malware Scanner. The Virus scanner is based on the Bitdefender Antivirus engine, and the malware scanner is perhaps based on IObit's own Malware Fighter engine. Is MacBooster's Malware Scanner any good? It actually is, as seen above. The Malware Fighter does a good job of detecting malicious cookies from various ad networks and fingerprinting and tracking services.
It's best not to rely on MacBooster's Bitdefender based virus scanner and instead, get a complete antivirus with all protection features. We recommend Bitdefender antivirus for Mac, which is the best selling antivirus for Mac in our store.
Buy Bitdefender for Mac at a 51% discount, Only $29.95.
Privacy Cleaner
MacBooster 8 comes with an excellent Privacy Cleaner that does a pretty good job cleaning up your browsing history, app history, and the recent files list on your Mac. The recent items list lets you clean both your recently opened documents and applications history. In short, this is a good privacy cleaner.
MacBooster Uninstaller
An Uninstaller is an uninstaller. What more can it do? Well, it can be a little more intelligent, and that is what MacBooster 8 has done in this area.
MacBooster's Uninstaller comes with a few UI quirks that will make life easier for you. To begin with, the applications are arranged intelligently by name, size, and last used. Applications lying around unused for months appear at the top. Your most recently installed apps appear last in the list.
Another useful Uninstaller option is the ability to choose between:
Complete Remove, which removes an entire application and all its library files. A complete cleanup.

Application Reset

removes only the settings and customizations. It

resets the application to its initial state

.
The Application Reset option can be handy when you want to reset an application to how it was on day one, without really removing it from your Mac. This is a rare and useful option.
MacBooster Startup Optimization
If there is one option that I see myself coming back to every few days, it is the Startup Optimizer on MacBooster.
If left unchecked, startup items can slow down your Mac's boot time considerably. With this feature, you have fine-grained control over which apps and services you want to allow at startup. This feature saves those few extra anxious seconds of waiting while your Mac is starting up.
MacBooster 8 also includes the recommendation section, like in previous version 7, which can guide you if you are not sure whether to allow an application in the startup applications list.
MacBooster lets you make informed decisions by listing the company name for all Applications and Services. With this knowledge, you don't have to guess blindly when it comes to deciding whether to remove that unknown application from startup.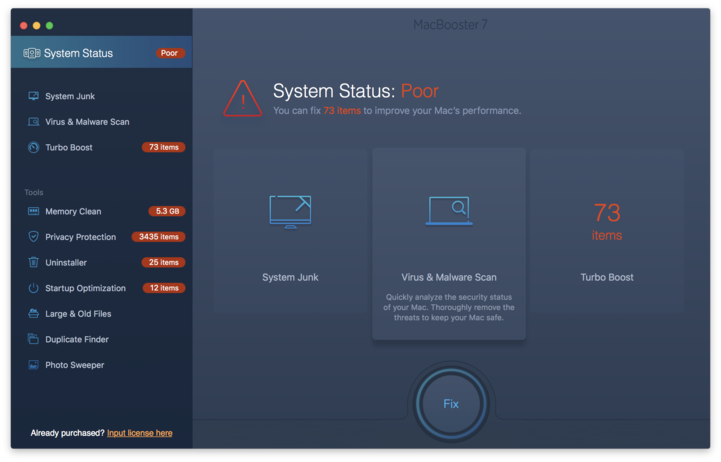 MacBooster had an overview screen that showed your system status in three metered categories in version 5. Honestly, it was a scary thing to look at. Although the system status shown on this screen said Poor in my case, my Mac runs as smoothly as it did two months ago. This dashboard screen has been replaced with a more elegant and less scary dashboard.
It's best not to get alarmed by this system status screen. Even if your Mac already runs fine, MacBooster might still find optimizations, but they may not be as critical as this screen says.
The point of MacBooster is not only to make your Mac run faster but also to prevent it from becoming slow in the future. Many of the warnings shown on the System Status screen are tailored for maintenance and not urgent fixing. These are the available System Status: Unknown, Dangerous, Poor, and Good.
MacBooster 8 comes with a system junk cleaner that scans your Trash, Application junk files, Installer junk files, language files, system logs, system cache, and many other areas that can accumulate worthless files over time.
The first run of the System junk cleaner dug up 7.7 GB of junk on my hard drive, but I am to blame for this. Most of it comes from the Trash area, which I have not cleaned up in a long time. Also, GarageBand takes up a massive 4.9 GB of space! These are disk spaces you absolutely want to reclaim when you run out of disk space.
MacBooster 8 was able to find nearly 12.6 GB of junk files that I would never have figured out by myself. That is pretty impressive!
Your hard drive is not always occupied by junk files generated from apps on your Mac. Sometimes, you put legitimate files on your Mac, which sit on the fence of junk. You walk past these files every day until one day; they are overflowing you start running out of disk space. The Large and Old File Cleaner lets you remove those files.
MacBooster comes with a Memory Cleaner, too, that does not tell us much about what it does, other than a "Rearrange memory usage for a smoother experience" message.
To be honest with you, I have not come across a memory cleaner that does anything useful at all. I believe our Mac knows best how it works itself, and it's best not to play with the memory arrangement using a third-party app.
MacBooster also comes with a duplicate file finder that finds duplicate files and a photo sweeper that promises to remove duplicate pictures. A word of caution here, do not use these two tools unless you know what you are doing.
However, if you are a trigger happy kind of person who takes 10 photos in a row, this is a real lifesaver, and I am not joking. Say you take 7 burst photos at once, every 7 days, and you have not cleaned up your drive in 7 months. With this option, you can potentially save, 6 (number of duplicate photos out of 7) x 28 (weeks in seven months) x 3 (average image size in MB), which is a good 500 MB of precious disk space. I know. I exaggerated a little there, but if you think about it, this is how junk accumulates over time.
MacBooster 8 Mini App
MacBooster Mini is a cute little mini-app that comes with MacBooster and sits on your status bar. MacBooster Mini displays some quick information like:
Your current memory usage
Your current network usage with uplink and downlink speed
The amount of free disk space
The size of your trash
MacBooster mini also displays a gear icon that lets you leave feedback and contact IObit support if you have any questions about MacBooster. In addition to these, you can also quit MacBooster with the settings gear icon.
MacBooster Mini comes with another useful option of a Lightning Booster. We can probably think of Lightning Booster as real-time protection, but it is unclear what this does internally. We have reached out to IObit with a query and will keep this post updated.
The toggle option sits above the Lightening booster option, lets you turn on/off the default application firewall on your Mac. What a nifty option to have, and just a click away!
It is important to note that MacBooster mini is a separate application, although part of the bundle. So if you ever uninstall MacBooster, you have to uninstall MacBooster Mini separately; otherwise, it will stay on your Mac and on your status bar. Here is some discussion on uninstalling MacBooster Mini.
MacBooster 8 Price Comparison
MacBooster comes in three sizes. MacBooster Lite, MacBooster Standard, and MacBooster Premium. Each package comes with some default features and some additional features unlocked as we buy bigger packages. If you are looking for all the features, we will recommend the Standard Package, and if you want a really good deal with basic functionality, the Lite package is recommended.
MacBooster Premium provides additional 24x7 support, which you will not need in most cases. It doesn't make sense to pay extra for MacBooster support, but if you absolutely need this feature, the Premium version is the right one for you.
What's New in MacBooster 8?
Now that we have talked at length about the features of MacBooster 8, we are probably ready to answer this question now. Let's address it then! It seems that MacBooster 8 does have a few improvements over MacBooster 7.
MacBooster 8 comes with these noticeable changes from MacBooster 7:
Updated System Status User Interface

A minor change seen in MacBooster 8 over its earlier version is that the firewall status is now turned to "Off" and "On." In MacBooster 7, it was "Closed" and "Opened."

In MacBooster 8, lifetime license is available only for the Lite plan (for up to 3 Macs)



The firewall that MacBooster Mini lets us control is Mac's default application firewall. MacBooster does not bundle a third-party firewall of any kind.
The Turbo boost feature, which was added in MacBooster version 6, is a nice addition. It claims to fix Mac disk permission issues and third-party application cache files. That is simply great. There are so many Apple forum posts asking for guides to remove application cache. Finally, a software that does exactly that so you have to spend a minimum amount of effort.
MacBooster 4 used to have an Extension Manager (for browsers), which is not available in MacBooster 6 anymore and not in MacBooster 7 either. Hence, it was clear that real-time protection and extension manager are not coming back in MacBooster 8.
Just like with MacBooster 7, MacBooster 8, too, is an attempt at creating software with more valuable tools overall and with a more pleasant UI from this latest version.
Is MacBooster 8 Worth Paying For?
It is finally time to answer the million-dollar question. Is MacBooster worth buying, and is it worth the price?
MacBooster makes our lives easier. It has a set of cool features and tools bundled into one application. Everything that we do with software today can be done offline, and it all boils down to one thing. How much of time do you want to spend cleaning your Mac manually every few days? If you have a critical task at hand, you would want your Mac to run smoothly. You definitely do not want to spend time learning how to do these cleanups manually and do a thousand trials and errors in the process. That is a frustrating path to go down.
MacBooster has utilities like Startup Optimizer and Uninstaller that I use quite often. Its Photo Sweeper can be surprisingly useful when the need arises. Enhanced features like Turbo Boost, Memory Clean, and Startup Optimization shows that they are working hard to bring new features with every release.
However, not all its tools will make your Mac fast, and not all of them are useful either (memory optimizer, for example).
MacBooster is worth the price only if you find a good use for its features. However, it is definitely worth buying simply for the magnitude by which it eases your Mac maintenance efforts.
Have you used MacBooster or are you using it currently? How has your experience been so far? Do let us know in the comments below. If you have any questions, simply drop a comment, and we will research out the answer for you.
Sourojit is Executive Editor at Dealarious. Rumor says He is Computer Science Engineer; He neither accepts it nor denies it. Tech Explorer, Philosopher and a Storyteller.