Do you think all password managers are same? That all they do is generate and store passwords, and sync them on the cloud? That's exactly what I used to think till I sat down to write this review. The more I researched Sticky Password for this article, I realized more that I was wrong in thinking that way. Today, I am going to share my Sticky Password experience with you.
Why Use a Password Manager?
The human mind has a weakness for patterns and associations. Passwords on the other hand, should be random and abstract. The number of incidents of hackers stealing data has increased dramatically in the last few years. Once hackers notice that you have tried finding meaningful words to put into your passwords, guessing the rest of your passwords is child's play for them. A password manager is one of the ways to stay safe from these dangers.
But there are so many other password managers that promise to do the same thing! How is Sticky Password different? Why should you give Sticky Password a try? Let's take a closer look.
What's New In Sticky Password?
Sticky Password is a strong contender and a really popular one when it comes to password managers. It offers a cross platform application with extensive support for browsers, and is developed by trusted folks who were former executives at AVG. That gives me some much needed trust in recommending their great service.
Industry Standard Encryption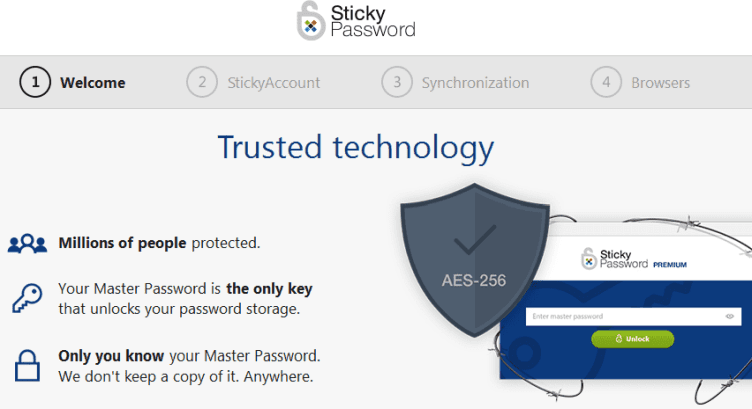 Sticky Password uses strong AES 256 encryption to encrypt your passwords when storing them. Simply put, your passwords are secured with industry standard encryption used by tech giants. Even if hackers get their hands on your encrypted password data, the machines that can decrypt AES 256 bit encryption do not exist on our planet presently and your passwords will still be safe. A closer look at Sticky Password's blog also reveals that they are constantly keeping up with the latest in security and customer data protection standards.
Multiple Syncing Options
However, The best thing about Sticky Password is its local sync feature in which, your data never goes out to the cloud. Devices sync with each other on local network/WiFi. For paranoids who may think that their data won't be in safe hands if stored in cloud servers, this is really awesome.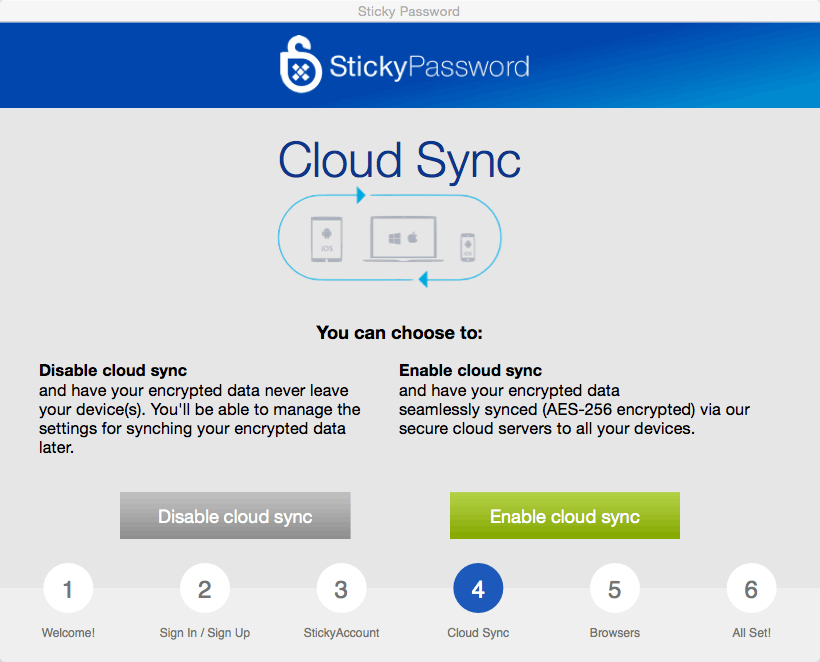 You can switch from local to cloud sync and vice versa anytime. Data on the cloud can be erased from My Sticky account.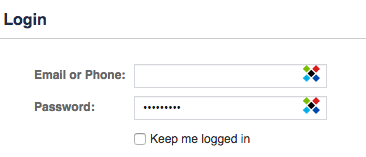 Form fields in browser show sticky password icon using which password can be filled with one click. However, for new sign ups, the scenario is difficult.
Sticky Password's browser extensions aren't full-fledged or in better words, I would say, standalone. I have been using LastPass since last two years and never felt the need of getting their application for Operating system (Windows or Mac OS). Just an add-on for Firefox or extension for Chrome would suffice. However, in the case of Sticky Password, browser extensions can be installed only after installing the program on OS. Extensions aren't available in Chrome extension gallery of Firefox add-on marketplace.
These extensions are more like fillers of data obtained and notify application whenever new username/password is entered. One thing lacking here is automatic filling or Password generation while signing up for a new account. Application pops only after entering the password and there it provides the option of password generation but it'd be useless because you have already chosen one.
The only option which remains is a manual entry.
Automatic Form Filling
It is easy to setup and use. On application window, there is a separate module called "identities" in which you can have as many fields as you want. Apart from Name, Credit Card and Bank fields, there are options of check-boxes even for "Receive Newsletter option" which is not so common.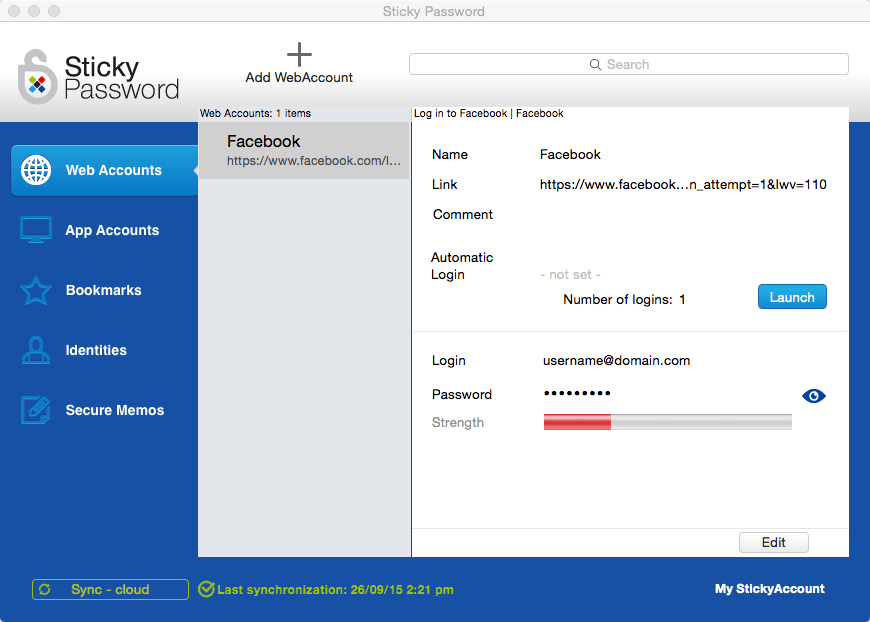 Secure Memos and Bookmarks
Another notable feature which is not generally seen in Password managers is "Secure Notes". This is certainly useful for noting down something confidential or important quickly and want to have it later on for reference on other devices. Bookmarks are also given for the same purpose to have synced across devices but I'd prefer Firefox sync over external application which involves manual entering.
Sharing
This is not possible with Sticky Passwords. It is more of a personal application instead of targeted for enterprises which involves closed sharing.
Sticky Password For Android
The user interface is quite appealing and hence makes a good first impression.
One thing I liked about their app is that it doesn't force you to use an inbuilt browser (like LastPass). You can launch URL in the browser of your choice while the transparent floating window with login/password details stays on screen. You can copy the password and login details from there to proceed.
Did I mention about the cool bio-metric authentication using Finger print scanning technology? It is available for those devices supporting the technology.  Sticky Password is the first to implement it in their application.
Random tidbit: A portion of your money spent on Sticky Password goes toward saving endangered manatees.
Bottomline
Single window management of passwords with additional features and great user interface makes it my first choice.
Pros
Sync across all devices.
Local syncing
Extensive browser support
Biometric authentication
Cons
New password generation and filling support problem on signup.
Sourojit is Executive Editor at Dealarious. Rumor says He is Computer Science Engineer; He neither accepts it nor denies it. Tech Explorer, Philosopher and a Storyteller.