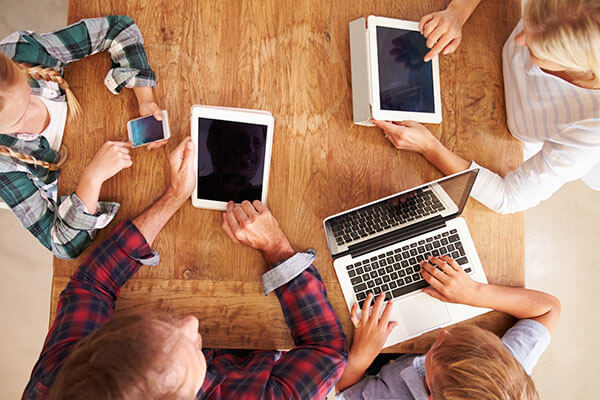 Bitdefender is undoubtedly one of the first names to strike your mind when you think of purchasing an effective and trustworthy antivirus solution for your PC. As you may know, it has different versions, such as Antivirus Plus, Internet Security, and Bitdefender Total Security.
Along with these, the one about which many customers get confused is Bitdefender Family Pack and we are reviewing it in this article.
What is Bitdefender Family Pack?
Bitdefender product line is classified according to various platforms like Microsoft Windows, Macintosh, Android, and iOS devices. In a tech-dominant world of ours, almost every family would have a set of different devices — at least, a computer and a Smartphone. We've already said that default Windows defender isn't enough and you should get a powerful and effective antivirus protection system for your devices, which can also provide additional protection like web scanning and anti-spam.
Bitdefender Family Pack is your answer when you want antivirus protection for multiple devices (upto 15 devices). Suppose there are a few Android Smartphones, Macintosh devices, and Windows PCs in your family and you need a centralized solution to fight against viruses and other threats. What makes this product different from other Bitdefender products is that you can bring Bitdefender protection into as many devices as you want.
What does Bitdefender Family Pack Include?
Since this is a 'pack' and not an individual product, it includes a variety of computer security products. The included products are as follows:
As you might know, Bitdefender Total Security is the most effective and expensive plan in the antivirus product range of Bitdefender antivirus. Being a compilation of both antivirus and internet security, Bitdefender Total Security can give you enhanced protection from viruses, malware, web-based threats, spam, spyware, etc. In addition, you get options for System Tune-Up, which helps you improve the performance of the devices. Bitdefender Total Security is available for Windows-based PCs, macOS, Android, and iOS devices.  For more details, please read our full Bitdefender Total Security Review.
To offer top-notch protection for Macintosh users, there's Bitdefender Antivirus for Mac. The product offers protection from viruses, adware, malware without a little effect on the performance or speed of your Mac. In addition, it's accompanied by Bitdefender Autopilot — thanks to Artificial Intelligence which makes wise decisions in case of threat detection. Also, Bitdefender Antivirus for Mac offers a secure online shopping experience and cloud-based scanning as well.
Bitdefender Mobile Security for Android
To ensure complete protection for your Android Smartphone, you should try using Bitdefender Mobile Security for Android. The product is feature-rich enough to provide all-the-round security. The security suite doesn't affect the speed of any of the Smartphones or Tablet PCs you install it in. Simply put, you get your mobile devices covered.
Bitdefender Mobile Security for iOS
With iOS protection, you can avail Web Protection, Account Privacy, and secure VPN on your iPhone.
Pricing
As we said earlier, a Family Pack subscription gives you a choice of up to 15 devices with a validity period of 1/2/3 Years. You can install the security suite on as many devices as you need. Despite all these, Bitdefender Family Pack is available for $44.99 (for a limited time, which is generally $119.99) per year. What has to be noted is that the pricing is way too affordable.
All the tools in the package — that are Total Security, Antivirus for Mac, Mobile Security for Android and iOS — cost a lot when you purchase them individually. However, when combined in this Family Pack, you get all the three at just $44.99. And, we would say the deal is just awesome for anyone who needs complete protection for the home.
What Users Say about Bitdefender Family Pack?
Of course, most of them are quite impressed with this package. It's an obvious fact that the performance will be just awesome. It's so because, as we said earlier, Bitdefender Antivirus solution is one of the best you can get in the field. Not only that, the entire User Interface of the solution is commendable, from various aspects you should take care of now.
Primarily, Bitdefender Family Pack is the same as Bitdefender Total Security. The only difference is in the number of devices they protect. Total Security is the most popular among the Bitdefender range of products that protect up to ten devices. If you need protection for more than ten devices, we suggest going for Bitdefender Family Pack. For more details and to know if Family Pack is the best, here is a Bitdefender products Comparison guide for your reference.
The Verdict
Considering all these, especially the additional features, you have lots of advantages when you purchase Bitdefender Family Pack. It's not only that you can save a lot of money while getting antivirus protection for your Windows, Mac, and Android devices at a time. It's also that you can have a unified security suite, effective enough to protect you. So, now, it's up to you to go with Bitdefender Family Pack or not.
The three attributes that define me- Tech lover, Blogger, and Dog lover. I primarily cover Cyber Security, online privacy, and also have keen interest in exploring new software that make daily computing easier for home users. I do love to spend quality time away from the internet, so when I am not online, I either cook or bike.