In any video editing profession, you will need to use screencasts and capture tools. The significance of having a sense-making screen capture or screen recording tool is immense. Even before we start a Camtasia vs. Snagit debate, most of you'd know, both Snagit and Camtasia are ideal solutions for screen recording.
However, there is often confusion when you have to choose the one between these two. The difficulty becomes way too worse when you consider the fact that both Snagit and Camtasia are from the same company, TechSmith. To add to the confusion even further, TechSmith also offers a Camtasia + Snagit Bundle.
In the upcoming section, we will have a brief Camtasia vs. Snagit comparison to let you choose well.
Camtasia Vs Snagit: Introduction
Camtasia includes the capability of a screen recorder and video editing in a convenient manner. Be it creating educational videos or blogging videos, the editor section of Camtasia can handle it. Camtasia is available for both Microsoft Windows and Mac. Camtasia provides a free trial version for 30 days. However, you have to pay USD 249 for the full version. With Camtasia, a single license can activate the product on Windows as well as Mac.

Get the best price on Camtasia with offers and Bonus templates.
Snagit, on the other hand, is a tool that prioritizes screenshot capturing and editing of those shots or video clips. The video editing features in Snagit has its strict limits. However, it provides an ultra-simple interface to create screenshots or screencasts and share them instantly from a customer point of view. A single-user license of Snagit is available for USD 49.95, and it works on Windows and Mac.
Camtasia Vs Snagit: Feature Differences
The difference between Camtasia and Snagit is vast as their primary functions are different. Hence in this section, we will make the comparison with respect to the similar features i.e. Recording and Editing capabilities.
The Intended Use of Camtasia
The difference between Camtasia and Snagit is vast as their primary functions are different. Hence in this section, we will make the comparison with respect to similar features, i.e., Recording and Editing capabilities.
As I said before, Camtasia can record your screen and give full-fledged editing of that screencast video. Suppose you are creating a tutorial video for your Youtube channel and compiling two videos — one from screen recording and the other from your camera. You can do that using Camtasia, and it has all the features you need for professional-quality editing. Not only that, but Camtasia can also be used to insert informational and interactive elements into the video, such as annotations and animated content.
In the past, we have covered a list of Camtasia alternatives; however, nothing comes near to it when we talk about features and professional editing.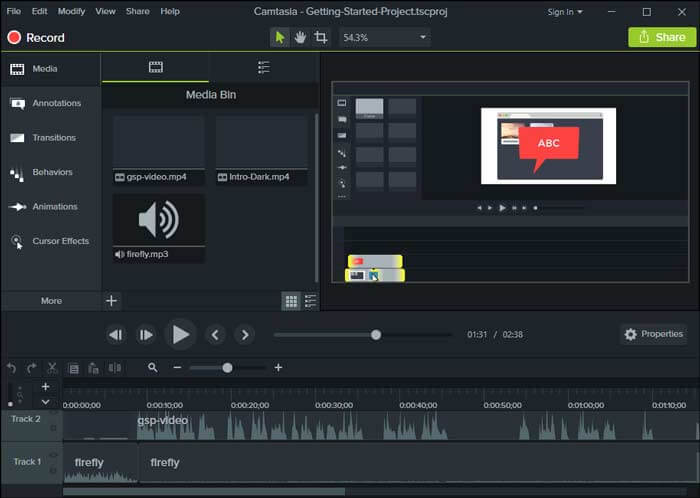 However, when it comes to Snagit, it is focused more on screen capture, despite its useful feature for video capture. Once you have captured the screenshot using Snagit, you can launch the full-fledged editor for adding interactive & informative elements into it. It also comprises some integrated sharing capabilities, letting you keep things at a good pace. So, Snagit would be useful for screen capture images and further editing of those pictures.
You can do all the editing in Snagit via simple drag and drop.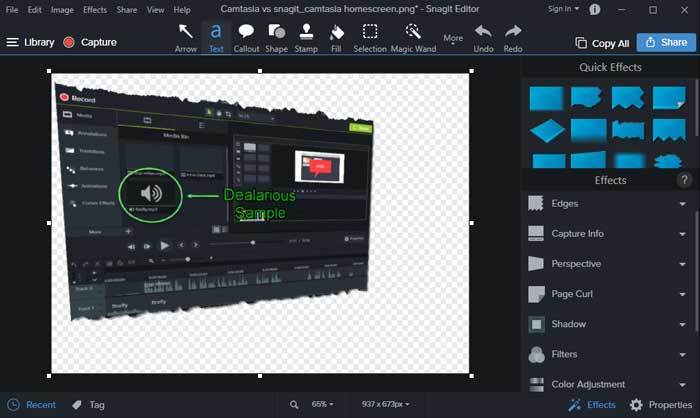 Comparing the Interface
You can see the User Interface of Camtasia and Snagit from a different perspective — professionalism and simplicity. We think Camtasia is better, for the professional-looking editing interface and other features.
On the other hand, if you're looking for a quick capture/record of the screen, you'd have to go with Snagit. Camtasia and Snagit both have a simple interface. Hence there is no confusion when you start using them. All the options and tools have simple names. So, you will not have a hard time figuring them out.
Camtasia Vs Snagit: Editing Features
Camtasia mainly serves professional editing of videos, including both screens captures and recorded videos from other sources. Thus, Camtasia comes with pro-level editing capabilities like multi-track editing, green-screen effect, music, etc.
Camtasia can output the production video in MP4, WMV, AVI, and GIF formats. You will have the option to control audio quality as well. Snagit, on the other hand, does not have so many output options compared to Camtasia. You can record your screen with System audio, Webcam, Microphone, and System Audio. Moreover, Snagit allows you to create GIF and take a screenshot of a particular frame directly in PNG. The video output format is MP4 only.

Conclusion
The choice between Snagit and Camtasia depends on your requirements. It's as simple as that. If you need a tool to capture photos and videos and share them with friends, Snagit will be satisfactory. If you intend to record Skype calls, Snagit can do it correctly. However, for that purpose, you have a cheaper and better HD Skype call recorder.
On the other hand, if your focus is on video editing and production with ultimate quality, enhanced through important editing features, you'd need to go for Camtasia.
However, if you use many screenshots in your video, you can use Snagit along with Camtasia. Snagit is easily the best photo editing tool when it comes to preset effects. Not even Camtasia can beat Snagit in photo editing. Hence, in general, our recommendation is to combine both the tools to create visually stunning projects.
The three attributes that define me- Tech lover, Blogger, and Dog lover. I primarily cover Cyber Security, online privacy, and also have keen interest in exploring new software that make daily computing easier for home users. I do love to spend quality time away from the internet, so when I am not online, I either cook or bike.