Editing Portable Document Files, or PDFs, is more difficult than editing text files or Word documents. The reason is that the initial intent was never to edit PDF files. They were meant to be the digital equivalent of printouts. However, with time, there is a rise in demand for PDF editing.
In this Wondershare PDFelement 10 review article, I will address the PDF editing issues and how this application can help.
Why do you need to Edit PDF Files?
There are many cases where we need to correct PDF typos, replace logos, change fonts and layouts. These requirements raise the need for new software - PDF editors. This editor should allow you to edit text, create annotations, add images, and even export to other formats like EPUB and HWP with ease.
You might also need to merge several PDFs or convert them to HTML. For editing purposes, you will need an all-in-one PDF editor that can fulfill your needs while staying within your budget.
One such software that ticks a lot of boxes in working with PDFs is Wondershare PDFelement 10.
This Wondershare PDFelement 10 Review aims to share my usage experience with this tool, and you can see if it fits your needs.
Wondershare PDFelement 10 Review: Quick Summary
Pros
Modern & Easy Interface
A lot of PDF editing options
Online Document Storing
Multilingual OCR Support
Cloud sharing of documents
AI Integration
Cons
OCR has a minor accuracy issue
Add text feature can be improved
The free trial is limited with watermark



Supported Platforms: Windows, OSX, Android, iOS
---
Wondershare PDFelement 10: Overview
The new Wondershare PDFelement 10 has an impressive list of features. My findings on the highly useful and quite prominent features are listed below:
1. Creating PDFs
PDFelement 10 allows the creation of PDFs from Microsoft Office files, image files, .txt files, and HTML.
It lets you create PDF documents from scratch like you write a Word document.
2. Editing
You can edit PDF files just like in a word processor but with more customization
Edit, move, cut, delete, and insert new text and images.
Add, update, and remove backgrounds. You can even add from the templates provided
Add, update, and remove watermarks.
Add, update, and remove the Header or Footer.
Automatic spellcheck
Add a hyperlink
Add, update, and remove Page Number and Bates number.
After the editing, you can switch to Read mode to check the final content with a clarified view.
3. Convert to other formats
You can convert PDF files to other editable formats (Word, Excel, PPT, Image, Text, PDF/A, HTML, RTF, HWF, etc.)
Convert scanned PDF into searchable and editable PDF with OCR technology.
Extract all images from a PDF file
Batch conversion
4. Review
You can easily strike through, underline, and highlight within the PDF, making for easy annotation and reviews.

Add stamps to PDF files by using predefined stamps or create new stamps.

Distance Measure tool measures the sizes of objects in the PDF. This tool is especially useful for CAD designers and architects, but in general, it can be used by anyone.
5. Form Recognition
Fill PDF Forms directly
Create and extract data from the form.
6. Secure PDF
7. OCR
Use OCR technology to convert scanned images to editable text. Also, keeping the layout and formatting of the source
Text recognition and conversion of documents in over 25 languages
8. Template
The handful Template collection of PDFelement allows you to create engaging resumes, cover letters, study planners, certificates, contracts, and many more.
You can download templates from the template collection and edit them as needed.
9. New Tools Included
PDFelement 10 incorporates innovative AI generation features: the detection of AI-written content, seamless translation of PDFs in multiple languages, and creation of a structured markdown format from PDF.
AI Read Mode provides easy document reading, highlighting, and explanations for specific lines, paragraphs, or entire content using AI.
AI Sidebar acts as a personal reading assistant, allowing you to chat with the AI about content, access chat history, and manually adjust Lumi's preferences.
PDFelement's Request eSign feature enables you to securely share PDF documents for signatures via email.
Auto Bookmark in PDFelement is a new addition that automatically creates bookmarks based on the heading style of your PDF.
Wondershare PDFelement 10: Pricing Plans
Wondershare PDFelement 10 has 1 year, 2 years, and Perpetual license (One-Time Fee) plans for Individuals. Below mentioned are the official discounted prices.
1-Year Plan: USD 79.99

2 Years Plan: USD 109.99

Perpetual License: USD 129.99
Users with a Perpetual license will get access to all the advanced features, including free updates. However, major version updates are not included under this licensing plan. The yearly plan includes all free updates as well as major upgrades.
Download Wondershare PDFelement 10
I was able to download the setup file and install it quite easily. There is also a trial version available for PDFelement. However, I suggest going for the Paid version. It offers many benefits, particularly with the OCR technology, which is the principal attraction here.
You can download the trial version for Windows and Mac OS. The trial gives you a good idea about the functions. However, the trial version is very limited, with a watermark on the output file. There is also a restriction on specific file conversion formats and saving files using OCR.
If you like the features, you can buy the full version of the editor later. Purchasing the paid version will give you a serial number or a registration key. You will need the same for activation. You can directly activate your trial copy to make it a full version.
Is Wondershare PDFelement 10 Safe?
Yes, it is entirely safe. To test the safety of the installer file, I got the full offline installer. Then I did a check with the Virus Total website. Out of 71 tests with different antivirus engines, one vendor detected the file as malicious.
I contacted the support regarding the issue detected, and here is what they have to say:
Our program is safe to use. This issue is because some antivirus software misjudged or did not recognize our software before and may consider it a suspicious program.
I have checked it with Bitdefender and Norton as well. Hence, if your antivirus detects the installer file as a threat, you can mark it as a false positive.
Wondershare PDFelement 10: Interface Review
Wondershare PDFelement 10 features a modern user interface similar to office suites, providing a familiar and user-friendly experience. I admire how its major features are cleverly laid out on the home page, allowing you to jump straight into action without delay.
The home page displays all your Recent Files below the Quick Tools tiles. You can quickly search for the PDFs you are working on and organize them in a listicle or thumbnail view.
On the left side of the window, basic options such as Recent Files, Starred Files, Recent Folders, Document Cloud, Cloud Drive limit, Open PDF, and Create PDF are available. Additionally, the latest version brings in a new "Agreement" section in the same panel. This section includes a complete list of electronic signatures.
The workspace interface resembles Microsoft Word, providing a familiar environment. Within this panel, users can easily edit, annotate, mark, merge, redact, convert, and perform other functions offered by Wondershare PDFelement. Additionally, essential icons are prominently displayed at the top of the interface, enabling users to save their work, export files, upload to the cloud, or print their documents with just a few clicks.
Overall, with the availability of all the features right on the homepage and editing window, I found the interface of Wondershare PDFelement 10 effortless.
Wondershare PDFelement 10 Review: Key Features
You'll find several attractive features with the all-new PDFelement 10.
1. Easily create, edit, and review your documents.
The software allows you to create PDFs as well as edit them easily. You can also move, cut, and delete portions from existing PDFs. You can change fonts and attributes, add and move text and images, apply or update backgrounds, etc. Also, it allows you to add and delete any text in existing PDFs.
You can split PDFs by the number of pages, extract specific pages, work with watermarks, spellcheck, and edit graphic-based objects. With all these features, creating and editing PDFs is as simple as typing in a Word document. PDFelement 10 is quite easy to use. Hence, I could work easily on scanned PDFs by extracting data from them.
Adding text, shapes, and images is made very simple. You can even hyperlink some text. You can also add page labeling and page boxes for additional readability. It can also help you reorganize documents by reordering and deleting unnecessary pages.
2. OCR Technology
The most attractive feature of PDFelement 10, OCR technology, can be entirely used in over 20 languages.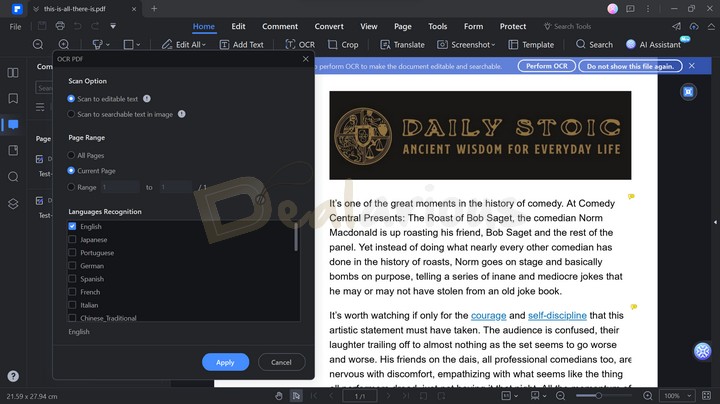 With OCR technology, you can convert a scanned document into a fully searchable and editable PDF document. Text recognition is available in many languages, and it preserves and reproduces the document with its layout and format intact, along with headers, footers, graphics, footnotes, page numbering, and captions.
You can even extract all the images in a PDF file at one location. PDF image extraction is a super handy feature, and I have been looking for it for a long time.
PDFelement identifies scanned documents and asks whether you would like to use OCR to convert them. The first-time conversion might require installing the OCR library, but subsequent conversions are a piece of cake. The OCR conversion is reasonably accurate and gives excellent results.
After the OCR conversion, the text identified on the page is intelligently organized into very discreet boxes where you can add, delete, and edit text, almost similar to how you would do in a Microsoft Word Document.
Note: While PDFelement's OCR feature is generally efficient, there are instances where it can produce unsatisfactory results, which can be a bit challenging to adjust. However, aside from this minor issue, the feature overall performs exceptionally well.
3. Security
You can create, apply, and validate digital and handwritten signatures for security purposes. It applies to any document you create, edit, or convert. You can also secure your files with strong and encrypted passwords.
In addition, you can redact sensitive information and images. Redaction is a significant feature, especially in cases where you have to share documents with personal info, like in legal and medical industries.
You can find this option under the Protect tab. Click on the text or image, and then click on the Apply Redaction. Social security, contact information, names, etc., can be used with the Search and Redact option.
Furthermore, PDFelement 10 includes a feature for requesting electronic signatures (eSign) via email. This addition streamlines the process by removing manual tasks. The recipient can provide their signature without installing PDFlement on their device. Once the document is signed, you can track the progress in the Agreement section.
4. PDF Forms
PDF Forms are a particularly useful way to carry out business, and PDFelement 10 makes this process quite simple. In addition to creating them on this software, you can create them using any office app, and PDFelement's Automatic Form Recognition technology takes over.
PDFelement 10 can also convert paper forms and scanned forms to PDF forms. The Form Field Recognition button does the rest of the job for you. PDF forms might end up being technical, challenging, and time-consuming. However, you do not have to worry with PDFelement 10.
5. Convert PDFs to Editable Documents, and vice versa.
You can easily convert PDF documents into fully editable formats. Also, documents in other formats can be converted to PDFs too. This flexibility allows you to convert files to a format you are comfortable editing.
You can also convert photos into PDFs and apply OCR to them; it gives you a kind of control that is not commonly available.
6. Translate PDFs into different languages.
Now, you can easily translate your PDFs into the language of your choice using the Translate feature found under the Home tab > AI Tools.
Please note that an Internet connection is required for this feature to work.
7. Wondershare Document Cloud
Wondershare PDFelement 10 offers a cloud-based platform to store and manage your PDF files in the cloud with the Wondershare Document Cloud feature. You get 20 GB of free cloud storage. Also included is the electronic signature feature. Using this feature requires an Internet connection.
8. Reorder and Delete Pages
PDFelement simplifies reorganizing documents by offering easy page reordering and deletion. You can effortlessly drag-drop and rearrange pages to your desired order. This feature also allows replacing a page/pages with pages from a different PDF file, proving particularly useful in time-sensitive situations.
9. Screenshot and Screen Recording
Wondershare PDFelement's Screenshot feature is convenient for capturing a full-length snapshot of your file, eliminating the need to install third-party applications only to take snaps for this program. It is situated under the Home tab > More Tools.
Additionally, the screen recording tool proves useful for recording on-screen activities directly within the program when required.
10. AI Tools
Wondershare PDFelement has integrated an AI feature powered by ChatGPT into its program to enhance its efficiency and usefulness. This AI feature provides various functionalities, such as identifying AI-generated content, creating document summarizations, and offering content rephrasing capabilities, among other features.
Additionally, the recent update carries additional AI capabilities, such as the AI Sidebar, PDF to Markdown, and AI Translate.
The AI Sidebar function introduces PDFelement's AI assistant named Lumi. It allows you to have conversations within the program and ask questions about the PDF document.
Based on my experience, I found the Ask PDF and PDF to Markdown features highly valuable. The Ask PDF feature provides clear explanations in response to questions and page references to the relevant content. On the other hand, PDF to Markdown organizes all the details from the PDF into markdown format, which includes the PDF document's summary, key points, and keywords.
Wondershare PDFelement 10 Paid Vs. Trial
The Paid version has a clear advantage over the trial version.
The paid version supports the attachments of files in PDF, using OCR technology. This feature is not present in the free trial of the software.
OCR technology, the key feature behind PDFelement 10, is only available in the Paid version. Also, during the trial, you cannot use batch process watermarks, Bates numbering, and formatting. You cannot create PDFs from the scanner; searchable PDFs and multilingual support are unavailable. You cannot even use OCR to retain the layout and formatting of a scanned document.
| | |
| --- | --- |
| Save PDF files without watermark | |
| | |
| | |
| Can capture Scrolling Screenshot | |
| Supports XFA Form filling | |
PDF conversion, Batch Processing, Combining PDFs, Translating PDFs, and Recognizing Tables are also minimal with the trial version. Trial users can use the free templates provided by Wondershare PDFelement. For premium templates, you will have to switch to the paid plan.
Wondershare PDFelement Review: Support
Wondershare is a reputable company, and its customer support is often praised for its quality. However, during my Wondershare PDFelement 10 review, I encountered some inconveniences with the live chat support assistant. There were delays in receiving prompt responses to my queries, resulting in unexpectedly long waiting times. It was unexpected, considering the reputation of their support team.
Nonetheless, the email support service proved helpful and ultimately resolved my queries, serving as a reliable alternative.
Wondershare PDFelement: Alternatives
Below are three of the best alternatives to Wondershare PDFelement.
Adobe Acrobat Pro:
Adobe Acrobat and Wondershare PDFelement are both popular PDF software options. Adobe Acrobat offers a comprehensive range of features and has a well-established reputation, but it comes at a higher cost. Wondershare PDFelement provides a more affordable option with a user-friendly interface. However, it may not have the same depth of features. Ultimately, the choice depends on specific needs and budget.
Foxit PDF Editor Pro:
Foxit PDF Editor and PDFelement have been competing for a long time, offering useful features for working with PDFs. Both are efficient PDF editors but have some differences regarding specialized needs.
Foxit PDF Editor is good at editing PDFs. Still, some people may find it a little difficult to use because of its interface. It offers useful features like a library of plugins, Shared Review, Review Tracker, Text Whiteout, etc.
On the other hand, PDFelement stands out by offering advanced AI features and many other tools like screen recording. It's easy to use and has accurate and fast performance, making it a great option at an affordable price.
Nitro PDF Pro:
Both Nitro PDF and Wondershare PDFelement are popular PDF editors with distinct strengths. Nitro sets itself apart by providing features like VoiceOver Accessibility, which caters to users with disabilities, and Text Whiteout, which allows seamless content redaction. However, some users may find Nitro's interface similar to MS Word but slightly outdated compared to Wondershare PDFelement.
On the other hand, Wondershare PDFelement boasts highly efficient AI features and advanced PDF editing capabilities, coupled with a visually appealing and interactive user interface.
ABBYY FineReader PDF:
Compared to PDFelement, ABBYY FineReader is a powerful PDF editor and a worthy contender. It offers essential PDF editing functions like adding images and watermarks, organizing pages, converting PDFs, editing forms, and adding e-signatures for security. It also use AI-based OCR technology.
It does not have some features like dedicated background removal or templates that PDFelement does. Still, it stands out with its user-friendly and attractive interface, making it different from PDFelement.
Wondershare PDFelement: Frequently Asked Questions
Does PDFelement have a free version?
Yes, but please note that our free version has limited features only. There is also a free trial. It's just that some features might require you to purchase a license.
Is PDFelement better than Adobe Acrobat?
Compared to Adobe Acrobat, PDFelement is reliable, and the learning curve is minimal. In addition, it is quite affordable compared to Adobe Acrobat.
Wondershare PDFelement 10 Review: Conclusion
The free version is enough to decide whether or not it is apt for your application.
In this Wondershare PDFelement 10 review, I tested the application to see how it fares in terms of the below factors. Here's to conclude with:
Using it is very simple, and I found the new UI easy to adapt to and navigate. Now, you can choose between three themes (Light, Classic, and Dark) with an option to select the tools you want to see on the start page.
PDFelement can be used by those who wish to perform simple functions like copy and paste out of a PDF for school or college papers, fill a large number of forms, and even collect the data and analyze it from a number of forms, especially in large offices dealing with customer information, feedback and the like.
Retaining Original document Formatting
It stays true to the original formatting, with tables and columns intact. It has several key benefits and is especially useful for teams wishing to collaborate and individuals and businesses dealing with large amounts of PDFs. While OCR performs exceptionally well for text, symbols might get mixed up occasionally. Hence, there is some scope for improvement in OCR.
With reasonably quick functioning, it can go through relatively large amounts of data. It is the best bet, especially for legal and medical departments, where you often have to process large volumes of files, convert existing paperwork to PDF files, and redact information for security or privacy purposes.
Overall, I consider it a one-stop solution, meeting the demands of several groups and bringing together a product that can address many varied needs. Also, you can optimize documents to reduce their file sizes, often up to 90%+, which is a handy feature.
With this tool, you can do almost everything PDF-related. In this Wondershare PDFelement 10 review, I went through the full range of tools and features it provides. You can avail these features for a reasonable price. I will recommend testing it out with the free version and making sure it meets your requirements. However, I am pretty sure that Wondershare PDFelement 10 can replace many of the software you use to work with PDFs. In my opinion, it does a much better job than all of them combined at this price point.
Sourojit is Executive Editor at Dealarious. Rumor says He is Computer Science Engineer; He neither accepts it nor denies it. Tech Explorer, Philosopher and a Storyteller.