When you find your desired content like movies, music videos, or any other sort of media online, it isn't always possible to get them in a convenient file format. Since there are different formats for different devices, you would need a solution to convert files into other formats. For instance, you may want to convert a full HD MKV movie to MP4 format to play on your Play Station, Xbox, or Phone. To do that, you certainly need a video converter.
Won't it be awesome if you can have additional capabilities along with the fast file conversion? Well, that is what Wondershare Uniconverter (Formerly known as Wondershare Video Converter Ultimate) brings to the stage, in the form of a multipurpose video converter suite. In this Wondershare Uniconverter Pro review, we will go through all the conversion features you will get.
For those in a hurry, below is the Wondershare Uniconverter Pro review highlights:
Wondershare Uniconverter Pro
$59.95
Pros
Any to Any video conversion
Menu customization for burning disk
2D to 3D & VR conversion
Screen Capture Tool
Uses advanced GPU acceleration
Cons
H.265 conversions are slow
Rare crash while tweaking format settings
Now let us proceed with the features section of this Wondershare Uniconverter Pro review.
Wondershare Uniconverter Pro: Features
As we mentioned, Wondershare Uniconverter Pro is an impressive product from Wondershare. Also, it is a multipurpose video conversion suite. The best part of this video converter is that you are not limited to just the conversion of video formats. This tool can help you with a variety of needs, such as:
Download the desired video content from the web.
Convert downloaded videos to a convenient file format.
Convert Videos to VR compatible devices.
Make minor edits to videos.
Burn the content into a DVD
Stream videos to a device, using the in-built Media Server feature (DLNA).
In the whole cycle of media management, these extra features will help.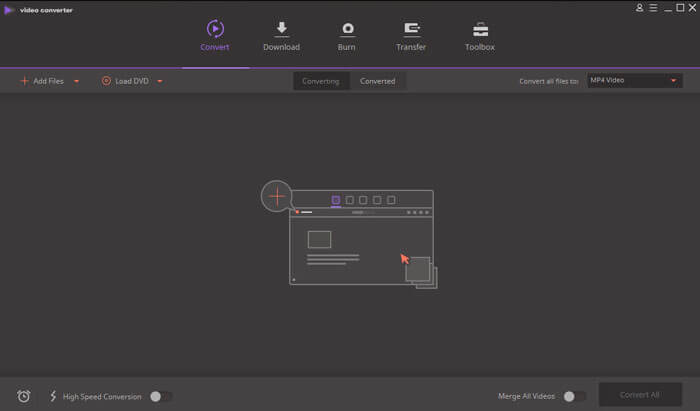 Getting Started with Uniconverter Pro
It does not matter whether you are purchasing the full version or just trying out the free trial; the installation process is the same. You have to download the setup file from the official site of Wondershare. However, it is essential to have an active internet connection, as the setup downloads files during the process.
You will have the fully-fledged interface of Wondershare Uniconverter Pro in a few seconds. The interface is simple to understand. Therefore you neither have to spend much time learning it nor have to go through hard manuals. The simplicity is more or less the same as we take the case of Burning, Streaming as well as Video Downloading.
Functional Modules
The functionality will be of first importance when you are choosing a video converter. In this respect, the solution is quite reliable one. In Wondershare Uniconverter Pro version, there are four main sections for specific tasks. These sections are:
Convert
Download
Burn
Transfer
Toolbox
Convert Videos
The first and foremost section in this review is for Conversion. Here, you have more than 150 media file formats under your control, and file conversion is done between these formats. There are two options available for source selection:
You can either select a particular video file.
Load a DVD.
Once the file (or the DVD) is added, you can click its Convert button to begin. Wondershare Uniconverter Pro practically supports any to any video conversion. Hence, you do not have to worry about old or new media formats that you might be having. You can easily change the target file format with a single click.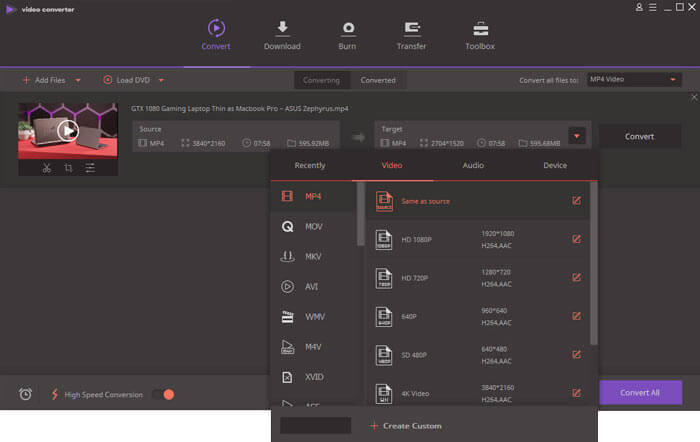 Added Benefits: Additional feature includes 2D to 3D Video Conversion. A 2D Video can be converted to Anaglyph 3D (Red & Blue) or  Side by Side 3D (Left-Right). You can also convert video files to Audio only. All these conversions can be done using preset values or custom settings for quality and size control.
If you have a lot of videos to convert, you can do it quickly. Just place all the videos in one folder and point Wondershare to it. The list of all videos will be automatically generated for batch conversion.
Conversion Settings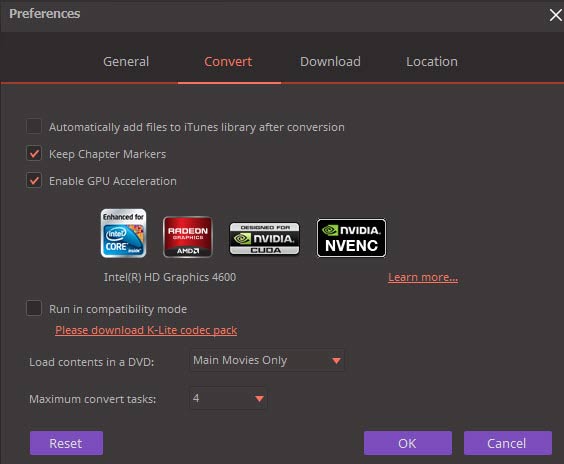 Video conversion uses advanced hardware acceleration to speed up the process. Hence, if you are using a dedicated Graphics Card, you should check and enable the GPU Acceleration option.
If you are bulk converting and you prefer conversion when you are not using your PC, increase maximum convert tasks. This option controls the number of simultaneous video conversions. Hence, the more massive the number, the higher the load on your system resources. Keeping the task number high while actively using your system will impact system performance.
Burn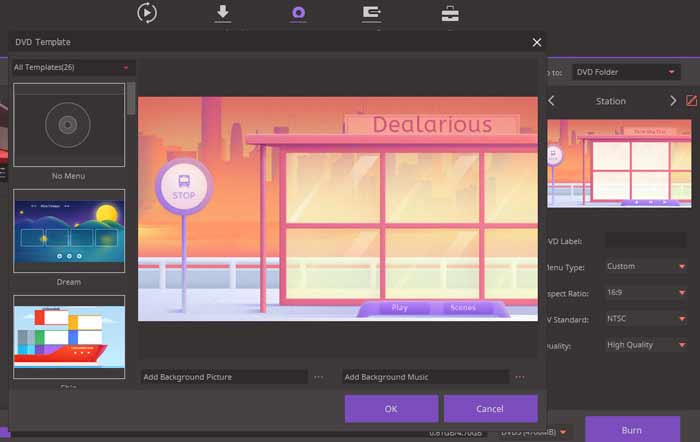 As the name says, this section is used to create DVDs more easily. You have options for adding as many files as you wish to the DVD. You also can choose some settings such as Quality, Aspect Ratio, and TV Standard. Wondershare Uniconverter Pro also lets you choose from 26 included DVD templates. You can customize the menu title and change button text. Altogether, it's enough for DVD Authoring. If you have multiple videos added to the burn list, you can combine them to make a single video.
A superb feature I found is the inbuilt editing options. This is possible in the 'Burn' tab of Wondershare Uniconverter Pro. Before you burn the files to DVD, it lets you edit the videos, such as trimming, adding subtitles, effects, audio layer, watermarking, etc.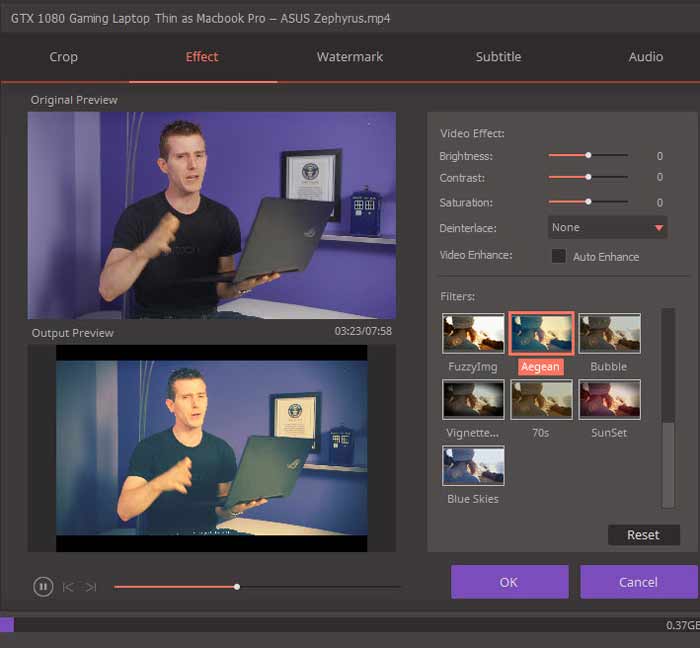 Download
This section of Video Converter Ultimate is perhaps the most useful one. By providing the URL of the online streaming media, you can download it. In the download section, you have a convenient schedule option. This option allows you to select an operation when the download task list finishes. The scheduler is helpful in the case where you are placing a massive list of links to be downloaded and leaving the download to happen at night. With this handy option, your system can Sleep or Shutdown once the task is complete.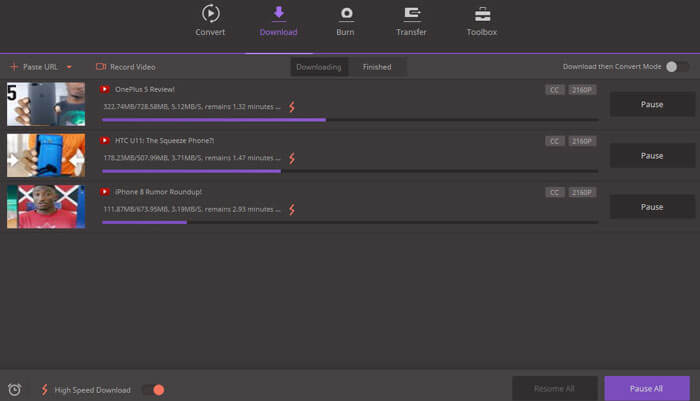 Another star feature, in my opinion, is the auto-convert option. You can either save the streaming video as it is or convert it before saving. Wondershare Uniconverter Pro also has options for converting videos to MP3 and recording screen video. In my experience, the downloading speed for streaming videos is good. Also, if you are downloading videos at system idle time, you should enable 'High-Speed Download' to provide powerful priority for the downloads.
Download Settings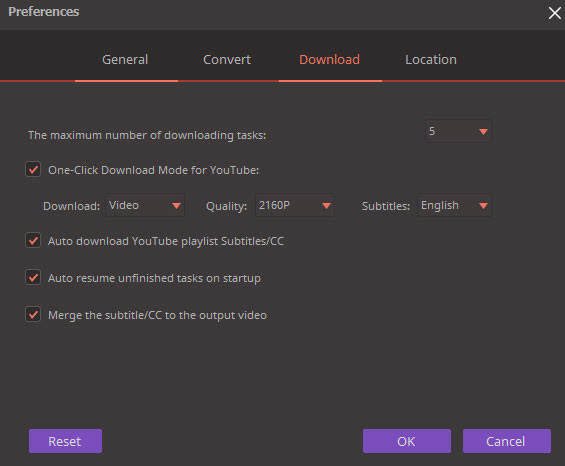 Depending on your connection speed, you can set the number of simultaneous downloads. Keep this number low if you usually browse along with the download. In this section, you will find some YouTube-specific settings. You can select whether to download the video or just the audio, the quality of the video and subtitles if available. Later on, you can also
You can choose whether to download the video or only the sound, the quality of the video, and subtitles if available. Later on, you can also auto-merge the subtitles to the video output. If you do not intend to merge the captions in the video, disable the option. You can get the file subtitle separately in the downloaded folder along with the video.
Transfer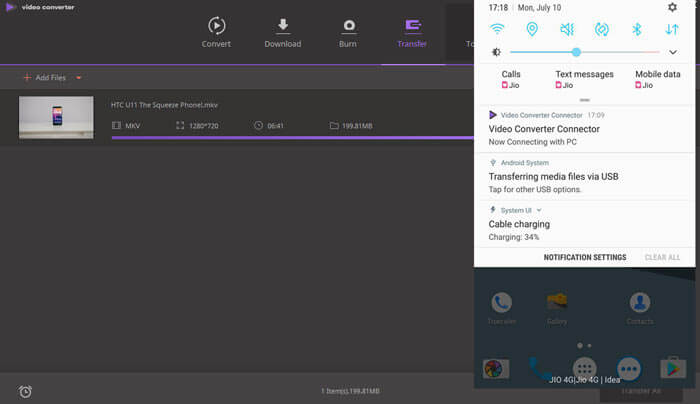 You can quickly transfer converted audio/video to your android devices. To be able to move media from Wondershare Uniconverter Pro, you must first enable developer options on your phone and then enable USB debugging. If you are not sure how to do it, there is no need to worry. Wondershare gives step-by-step instructions on the Transfer window. You can follow the same and perform the task.
Once that is done, connect your phone via USB cable to the system and select your phone model from the application window. As the connection is established, your phone will also display a confirmation of the connection.
You can connect any Android device with Wondershare Uniconverter. It supports models running Android version 2.0 till present version. For our review, we used a Samsung Galaxy S7 running Android 7.0 and faced no issues in connecting and transferring media.
Toolbox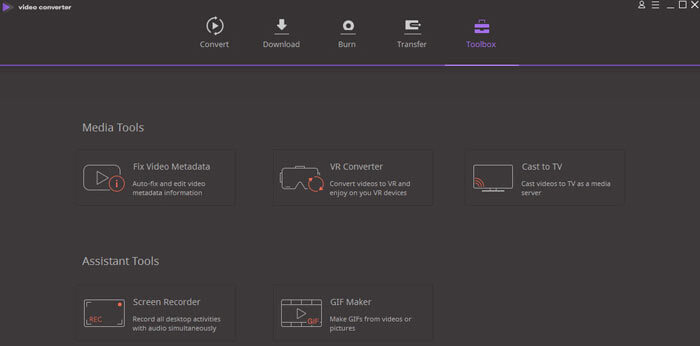 The Toolbox section is not meant for any single purpose. It presents a variety of options in two categories.
Media Tools
Fix Video Metadata

Add Metadata to your videos using this tool. Metadata is an excellent way to add in-depth information about your video. With the help of metadata, you can organize videos efficiently on your computer. In addition to that, metadata is very useful if you are planning to upload videos to online platforms.
VR Converter

With this tool, you can convert 2D and 3D videos to be compatible with your VR set. Wondershare offers 3 VR presets for conversion. You can convert videos for HTC Vive, Oculus Rift, and Samsung Gear VR.
Cast to TV

Last but not least, Wondershare Uniconverter Pro has a dedicated Media Server feature. Using this option, it is possible to stream your favorite video/audio content directly to your Smart TVs or other devices.  Thanks to the in-built support for DLNA, the supported devices can easily be used for watching your content, wirelessly.
Assistant Tools
Screen Recorder

Wondershare Screen Recorder is the ultimate fail-safe measure for failed streaming video downloads. You can pull up the screen recorder and record the stream in full HD with audio. Now, apart from recording streaming videos, there is a lot more you can do with the recorder. The screen recorder is capable of recording mouse cursor, system sound, microphone audio. Hence, you can also make demonstration videos for your presentation and carry them in any format you want.
Video to  GIF

If you like any section of the video you have downloaded, you can cut it and create a GIF. This tool is easy to use and provide handy options to control the GIF creation. You can also create GIFs from Photo sequences. This tool may not be handy all the time, but it is a useful utility to have at hand.
Considering all these, Wondershare Uniconverter Pro is more than just a typical video converter regarding functionality. So, there's a plus point in this aspect.
The Game Of Formats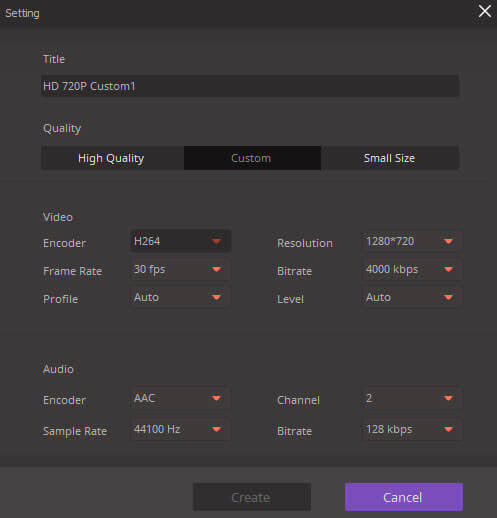 As we mentioned earlier, more than 150 media formats are compatible with Wondershare Uniconverter Pro and can be useful for almost any purpose. In addition to this, it also includes the new compression standard, i.e., High-Efficiency Video Codec (HEVC) H.265. HEVC ensures the same quality video while bringing down the size to a noticeable level. So, there is no question asked about the compatibility aspect.
When I was testing, I was able to cope with all the media formats I had in my mind. If you are confused with formats, you can select the device and the format will be set automatically.
Conversion Speed
Wondershare claims that Wondershare Uniconverter Pro can offer 30x faster conversion for the media files you want to get into another format. In the lights of my experience, I will say that the conversion speed is impressive when GPU acceleration is in use.
During my test, I converted a 4K, 728.85 MB MP4 with H264 Encoding into a Full HD MKV with H264 Encoding. It took 4.52 minutes for the conversion. Wondershare Uniconverter Pro made use of GPU and CPU load was consistent around 50%.
While testing the same conversion with H265 Encoding, the stats changed utterly. It took 12.30 minutes for the conversion. Also, I noticed that my CPU usage spiked to 100% and stayed at the peak throughout the conversion. This is a clear indication that Wondershare did not use GPU during the process.
Comparatively, Wondershare still has better speed than most of the competitor converters.
Is Wondershare Uniconverter Pro worth your Money?
Dealarious Verdict
Now its time to conclude all the points in this Wondershare Uniconverter Pro review. It is one of the most impressive video converters I have come across. If you are using it for the first time, the available options can be a bit overwhelming. However, as soon as you get used to it, you will be comfortable.
Wondershare Uniconverter Pro is a paid tool for video conversion. There are different kinds of licenses available for the product, with various range of pricing. However, if you convert videos regularly go with the Lifetime license. This license allows you to install the converter one PC. Generally priced at $59.95. All the available plans for Wondershare Uniconverter Pro is given below.
Given the set of features this converter has, the price is fair. However, looking at all the features, the best value for money as a paying customer would be $35 – $45 range.
To sum up, use Wondershare Uniconverter Pro as the multipurpose tool rather than just a video converter. By the way, have you already used it? If so, do let me know your views in the comments section below.

Sourojit is Executive Editor at Dealarious. Rumor says He is Computer Science Engineer; He neither accepts it nor denies it. Tech Explorer, Philosopher and a Storyteller.