0% OFF
Adguard Premium
$29.88
If you are trying to regulate or stop-viewing ads online, AdGuard is going to be your best friend. From intrusive YouTube ads to Parental Controls, AdGuard is the finest and most intuitive adblocker. Additionally, it protects you from Phishing attempts and Malware infected web resources.
AdGuard works on Windows, Android, Mac, iOS. Additionally, it also works as an Extension on most of the popular web browsers. If you are new to AdGuard use the Free Trial. To know about all the features in detail, visit the Official Website.
Global License | 60 Days Refund Policy | Download Only
Customer reviews of Adguard Premium
Description
Everyone hates online ads! Pop-Ups, YouTube pre-rolls, unwanted website redirects have changed our online browsing behavior forever. 
Ad-blocking software became popular with the new internet age. While 'AdBlocker' continues to be the gold standard, several new entrants into the industry are making quite a splash. In this Review Article, we look at 'AdGuard.' We look into some of the features and functionalities, which is helping it become a top competitor to Ad Blocker. If you like the features, do use our Adguard coupon codes and get the best price online.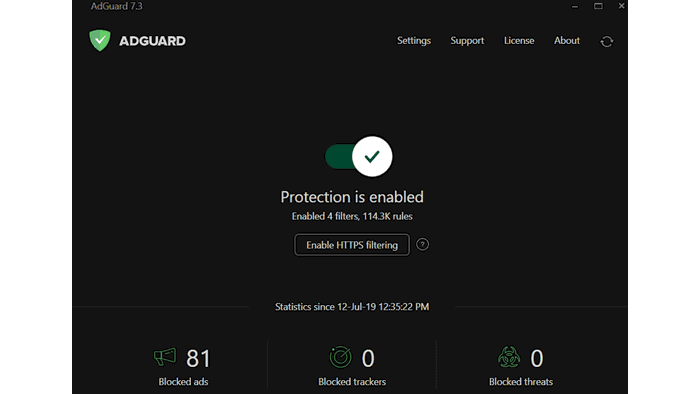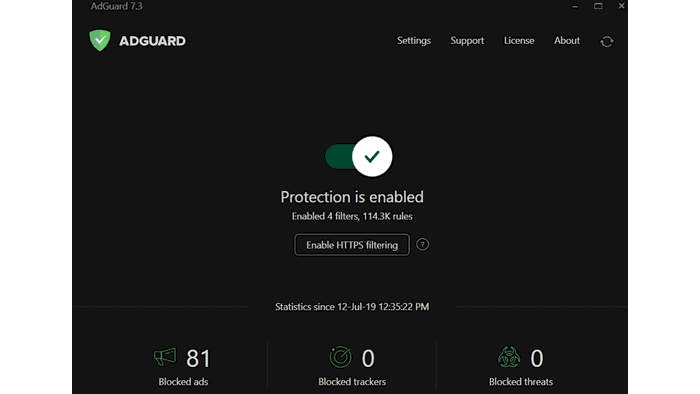 AdGuard: Ad Blocker Overview

Let us get the basics out of the way very quickly. 
AdGuard is an ad-blocking software, which works on MAC, Windows, Android, and iOS. Most critical software reviewers like Trustpilot, Capterra, and DigitalGuyde rate Adguard very highly.

AdGuard also works as a Chrome Extension. However, the vital thing to note is that the software works as a standalone application as well. Hence, helping it tower over all the free extensions that help in adblocking. According to statistics, AdGuard claims to have made 14.7 Million Installations until date! A key USP, which many people, including the good folk over at AdGuard, are suffering from, is their name!
For the unaware, the name 'AdGuard' undermines the capabilities of the software. AdGuard is not only an ad-blocking application but also ensures complete protection from dangerous malware.
Key Features of AdGuard
There is n number of reasons why you are going to love AdGuard. The Key features of AdGuard are listed below:
Ad Blocking Capabilities

Privacy Protection

Browsing Security

Parental Controls

Browser API blocking

Removes Youtube Ads

Complete online anonymity
What makes AdGuard Different?

If you have been paying careful attention to this article, you might have noticed a small section on ad blocking extensions. Many people have asked us why to pay for applications when the browser extension does the job. 
Our response to this is, please go over the following robust feature-set and decide yourself.
AdGuard Blocks Ad Tracking Tools
As ad-blocking software and apps get more advanced, adware is stepping up its game as well. It means more and more technologically sophisticated tracking tools that work through cookies. However, if you have AdGuard installed, it is so smart that it even filters out websites and HTML codes. It prevents the ad data by blocking them before they load into your browser.
The highly evolved nature of AdGuard's algorithm gets all the credit here.
AdGuard handles Phishing and Malware attacks with ease
Ad-blocking extensions are relatively useless when it comes to protecting you from phishing and malware. AdGuard detects problematic areas that might trick or infect your system.
Malware has severe consequences for your system. According to AdGuard, they have helped protect their users from over 1,500,000 malicious websites. You might be confused about thinking that it is a job for an Anti-Virus, and you would be right. 
Stops Ads from Free Applications
Ever wondered why is your Torrent desktop app throwing up ads all the time? Alternatively, your Skype showing pop-ups without any notice. You see, what happens is that some ad tracking software accesses your free applications and start displaying ads there.
There are a vast number of freeware apps, spam ads, and others, which are very intrusive and dangerous. AdGuard works potently to target them and stop them from infecting your system.
24×7 Tech Support for an Ad Blocking Software
Yes, you read that right. AdGuard is probably the only ad-blocking application in the world that helps you with this kind of tech support. The support is prompt, almost immediate, and guides you in a non-confusing and straightforward manner. 
You might have the stupidest of questions at hand. However, the representative or the executives at AdGuard are going to be patient with you at all times. Additionally, you can also contact them via phone or chat with them on platforms like Telegram.

AdGuard User Interface
For this review, we will consider the Windows application. However, all the platforms have a similar app interface. The Windows interface is simple and easy to use.
The Home Screen
When you open the app, the home screen comes up with a minimalistic interface. You can have a quick report of the detections and blocks that AdGuard blocks during its real-time monitoring.
Also, you can quickly enable or disable the entire protection. However, please note that disabling the protection is not safe. In case AdGuard is blocking something that you need, just add that element/web resource to whitelist.
Settings
In the settings section, you can customize every capability of AdGuard. If you are a basic user and do not understand the options in this section, then it is better to leave it as it is. The default settings are good enough to protect you.
The sections that you can customize are:
General Settings: You can change basic settings in this section. Also, you can reset all the settings in case the app is not performing as intended.
Ad Blocker: In this section, you can configure the Adblocker module and how it blocks ads on the pages you visit.
Stealth Mode: Here you can configure how Adguard can hide your online identity and other aspects.
Browsing Security: This module prevents any Phishing and Malware attacks on your browser.
Parental Control: You can configure how other users on the same device access the internet.
Extensions: Configure the AdGuard browser extensions for added protection.
Network: Add applications to the Adguard monitor list.
Does Adguard help in increasing System Performance?
AdGuard never states that they help in improving your browsing or system performance.
However, we wanted to test the same by breaking this question up into minor subdomains. What happens when an application helps in preventing an ad from loading in the first place? You save some Data, some RAM, some optimizations. But, is it enough to improve performance in a real way?
Saves Bandwidth
In non-technical vocab, AdGuard helps you tread over the entire ad-junk and go straight to your content. It means that all the codes of the ads, including the scripts, are all removed. That translates into improving the bandwidth.
Memory Optimization
Many ads can quickly eat up large amounts of memory via your browser. They can also occupy unwanted spaces in the CPU Cycles. However, you will only experience the difference in performance if you are a heavy user.
Saves Stacking of Resources
One application usage is hardly going to make any difference. People who work by surfing pages across multiple sites might be able to see a marked improvement in their performance.
The combined effect of all the above sections will give a significant boost for systems with lower resources.
Adguard Coupons & Premium License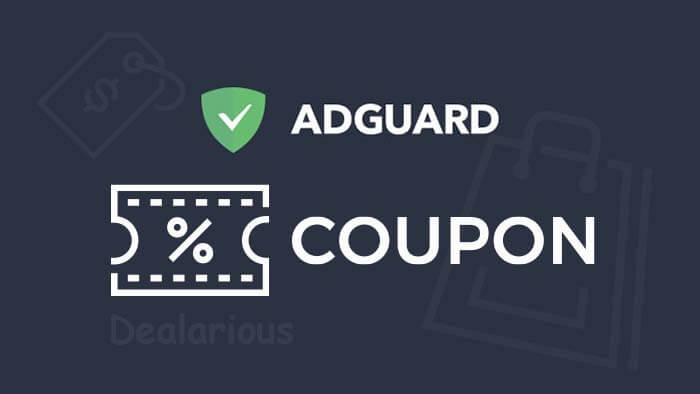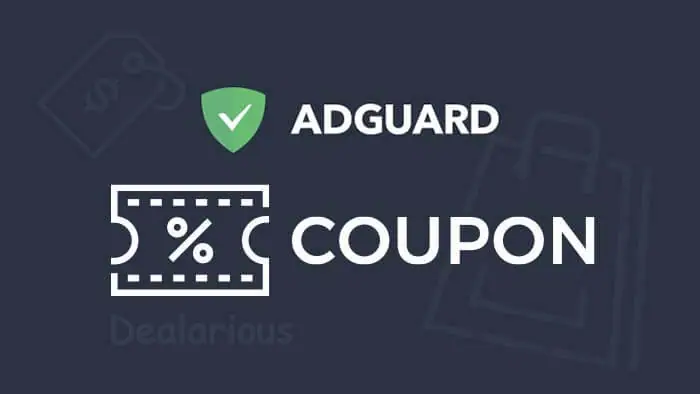 Adguard is available in two variants:
Personal License
Family License
The personal license supports up to 3 devices. You can buy an annual or lifetime license. The only difference between Personal and Family license is that the Family license supports up to 9 devices. Apart from the device count, there are no differences. You can always get the best discounts and offers by using the AdGuard coupon codes by Dealarious.
Is AdGuard Worth Your Money?
AdGuard is an ad-blocking application that also helps in blocking malicious malware and phishing attacks. However, Adguard is not a complete antivirus application. Also, it does not claim to be one. It is still powerful enough to help defend your systems against malicious ads, which might infect your system. Additionally, it combines the capabilities of parental controls, preventing ad tracking software from infiltrating. As a bonus, AdGuard works perfectly with primary antivirus solutions. Check our Bitdefender Total Security coupons section for discounts on the best antivirus.

Can you put a price on irritation and annoyance of an ad? Adguard ultimately gives you the best value for your money. Therefore, it is sure to alter your browsing experience once and for all.