0% OFF
Cyberlink PowerDVD 20
$59.99
PowerDVD is an all-in-one, premium multimedia app that allows you to get the most out of your viewing experience. In addition to the highest quality media playback available, PowerDVD will enable you to organize all of your content in one place.
You can select Standard, Ultra & 356 subscriptions by selecting from the dropdown link below. The purchase links already include Cyberlink PowerDVD Coupon Codes! Choose the versions in the selection box below.
Global License | Official Purchase | 30 Days Refund
Customer reviews of Cyberlink PowerDVD 20
Description
Cyberlink PowerDVD 20 has always been ahead of any other media player since it's past few versions. So, what makes it different? Well, it is the complete media entertainment hub. Yes, we admit it costs more than any other media player. Hence, suiting those who need serious multimedia experience with all the necessary hardware present. You can always check the cost and make some savings using our Cyberlink PowerDVD coupon codes.
Now, let us start with the features Cyberlink PowerDVD 20 has to offer.
Key Features of Cyberlink PowerDVD 20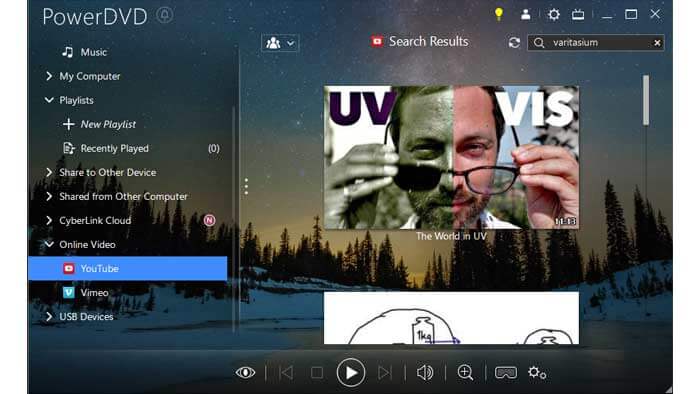 Among PowerDVD's new features are:
Seamless Playback
Continue watching seamlessly on any device from the exact point where you left off in any room.
Watch On-The-Go
With CyberLink Cloud, watch your movies and TV shows anywhere. Also, you can download them to your mobile device to watch offline if there is no internet.
View Movie and TV Media Info
Use PowerDVD's new, extensive content database to access detailed information about movies and TV shows.
Video & Audio Quality Performance
PowerDVD's TrueTheater video and audio enhancements include extended GPU support for HDR 10.
TrueTheater for Video
TrueTheater for Audio
Surround & Lossless Sound
PowerDVD 20 Interface
The interface is not much different if you have already used the previous versions. Comparatively the initial presentation and arrangement of things are the same. The left side menus and bottom controls present easy access to various tasks you might want to perform, whereas the middle portion of the screen displays the results in terms of media, devices, etc.
The overall interface appears neat, and we felt it to be better in visual appearance than the previous versions with lighter color shade and semi-transparency.
PC and TV Modes
You can choose between the two modes, i.e., "PC Mode" and "TV Mode." CyberLink PowerDVD 20 supports the casting of media to a streaming device, such as Chromecast, Apple TV, Fire TV, and Roku. You can also get it on Apple and Google Play Store.
PowerDVD 20 Functionality
Besides basic functionality like adding a media library, playing Blu-ray disks, and all, you can do a lot more. You can directly synchronize your media files from your phone as well. In our test, it only required us to plug in our device, and PowerDVD automatically detected and organized the media content.
Media Streaming feature, i.e., DLNA, is of great help when we want to stream media across your devices. PowerDVD provides this feature with excellent efficiency. As a result, we experienced no lags during our test. However, please note that this experience will change depending on your hardware configurations.
Another feature that we liked much was YouTube playback. Once you login to your YouTube Chanel, it will display your favorite subscriptions and latest videos.  Also, the best thing is that you can pin the videos if you want offline viewing. Moreover, there are no ads in the videos. Other options include Facebook, Flickr, Vimeo. View Facebook friend photos in the same way, or you can choose to watch a slideshow. Oh wait, it does not end there. You can comment on the images as well.
Also, features like Cloud Service and Store allows you to conveniently store videos and photos to cloud storage and also buy music online.
PowerDVD 20 Playback
Ultra HD Blu-ray software, Blu-ray 3D, and DVD player

Movies and videos files, including MKV, MP4, AVCREC, AVCHD, XAVC-S

UltraHD 8K, 4K and HEVC (H.265) videos

Music files in MP3, FLAC, ALAC, and available formats
Practically you can play any video available around. Now let us take a look at video playback options for better viewing and convenience.
TrueTheater HD

 – Upscale video to HD quality and beyond

Motion

 – Up-convert frame-rate for smoother video playback

3D

 – Turn 2D movies and photos to 3D

Lighting

– Enhanced image colors and detail

Stretch

– Intelligently expand 4:3 video to 16:9

Stabilizer

 – Minimize video shakiness

Video Denoise

 – Reduce video artifacts

Surround

Sound– Expand stereo output for home theater-style surround sound
Use these features according to your needs for the best experience. We found significant improvement in video quality concerning sharpness, clarity, and color depth. YouTube video experience will never be the same with PowerDVD. It's amazing!

PowerDVD 20: Standard vs. Ultra vs. 365 Editions
There are many significant differences between the standard edition and Ultra vs. 365 Editions.
The Ultra and 365 versions are both feature-packed products, including support for all Video and Audio formats. It provides support for the latest technologies like 3D, 360-degree video, 8K UHD, and much more. You get 100GB free CyberLink Cloud service during subscription (for PowerDVD 365) and 100 GB/year for (PowerDVD 20 Ultra).
The standard version packs the basic features with support to only basic video and audio formats. It doesn't support CyberLink cloud, 360-degree video, and online streaming. 
You can find a complete comparison of the versions here. 
Cyberlink PowerDVD Coupon Codes & Pricing Plans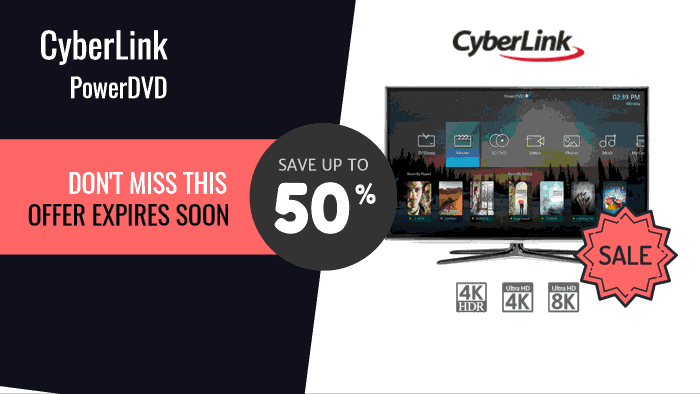 When it comes to the pricing plans, there are three offerings- PowerDVD 20 Standard, PowerDVD 20 Ultra, and PowerDVD 365. You can buy an annual or lifetime license.
Lifetime License:
PowerDVD 20 Standard: USD 59.99

PowerDVD 20 Ultra: USD 99.99
Subscription License (One Year):
You can always get the best discounts and offers by using the Cyberlink PowerDVD coupon codes by Dealarious. Hence, using these coupons, you can buy PowerDVD directly from the Cyberlink website. 
Conclusion
Cyberlink PowerDVD 20 is no doubt the best in class. It bundles everything necessary for a complete multimedia experience. Hence, the question stands, is it really for you? Well, if you have an HD or Ultra HD television at home with a powerful PC, capable enough to process 4K r 8k HD videos and multiple mobile devices. The answer is, YES. PowerDVD 20 becomes the seamless media hub around you.
However, if you are watching videos on your laptop screen, we suggest you stick with free video players such as VLC, KM Player, etc.