100% OFF
Auslogics BoostSpeed 6
Out of stock
Auslogics Boost Speed 6 is one of the best Windows PC maintenance software. Checkout with $0 and receive your order for free to your email address.  License valid for 1 Year.
Customer reviews of Auslogics BoostSpeed 6
Description
Boostspeed 6 is an excellent program to ensure that your computer stays optimized with its amazing features. This program has advanced features but there is also a section where they are simplified for the beginner users. Many people are already using this utility because of the positive results. Recently, Auslogics, the maker of the said program, is offering a 30 percent discount on every purchase. When you checkout, you will be given an annual subscription with a license valid for 3 computers.
Boost Speed 6 Overview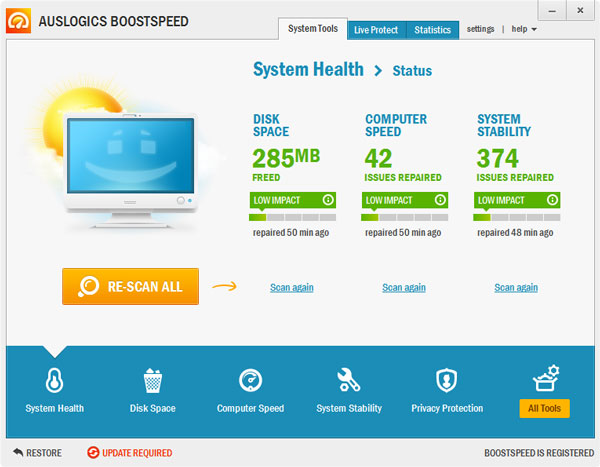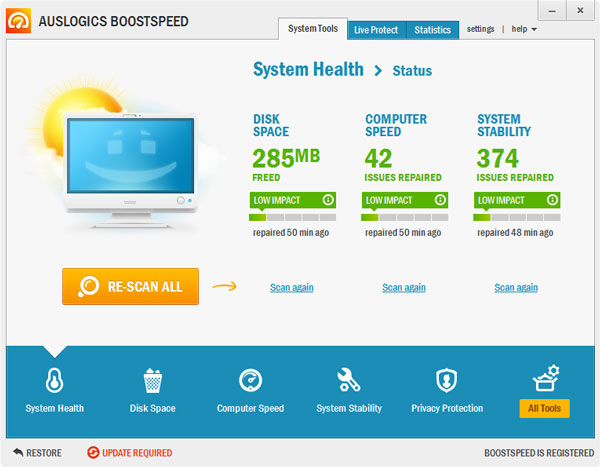 Boostspeed 6 features a range of beneficial and useful functions to manage the resources of your computer. The Disk Explorer can scan the programs in your PC that are consuming large space of your hard disk. With the information given, you have the control to delete the unnecessary programs when you are running out of disk memory.
Boostspeed 6 also offers uninstall manager and startup manager. The uninstall manager is basically a wizard that helps you remove the unessential programs that are consuming huge space of your hard drive. The startup manager will help you to identify the programs that automatically launch during system boot. Startup programs can slow down your boot time, and this is why you need to remove the unnecessary ones.
Boostspeed 6 offers the tools required for repair and recovery to remove registry errors, junk data, and duplicate files. The program has flagged 22 unessential file types that can consume a huge disk space and can cause system slow down. The included registry cleaner cautiously scans the registry for invalid registry entries. The file recovery utility lets you restore deleted files or remove media files permanently.
This utility software stands above the competition when talking about the optimization features. The disk defragmenter scans the entire hard drive for fragmented files. The internet optimizer will automatically adjust the settings of your browser to ensure fast speed and heighten the security measures. The utility also features a Tweak Manager where you can modify some settings of your PC to tweak the performance.
All in all, Boostspeed 6 from Auslogics offers the necessary utilities for protecting and optimizing your computer. Advanced and newbie users will find this program easy to use and accessible.