0% OFF
Avast Premium Security
$74.99
Avast is a well known name in the security industry. With Avast Premium Security, you can protect your devices across all platforms.
It combines advanced Ransomware & webcam protection to shield your devices from unauthorized access. Two way firewall detects and blocks external attacks. You can also secure web browsing using DNS protection.
Global License | Download Only | 30 Days Refund
Customer reviews of Avast Premium Security
Description
Before we begin reviewing the powerful and user-friendly Avast Premium Security, it would be best to state some facts. If you think no one is interested in your personal information, email details, or browsing history, think again. According to statistics:
Here we bring you a detailed review of the new and improved Avast Premium Security. Also, we will provide an overview of its key features, dive deep into its pricing strategy, and evaluate whether it is worth your money.   
In this section, you can get the best security for all your devices with our Avast Premium Security coupon & promo codes.
Avast Premium Security: Overview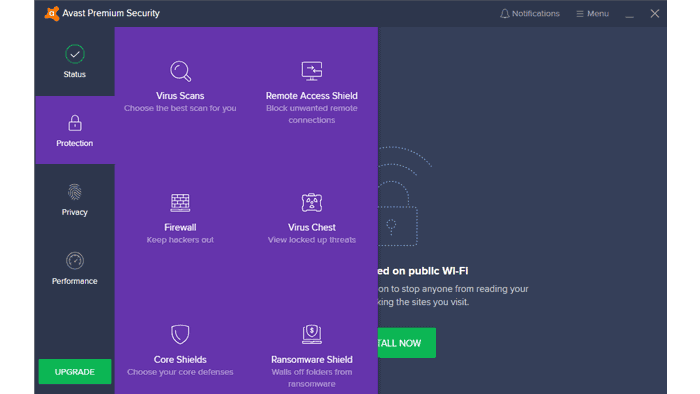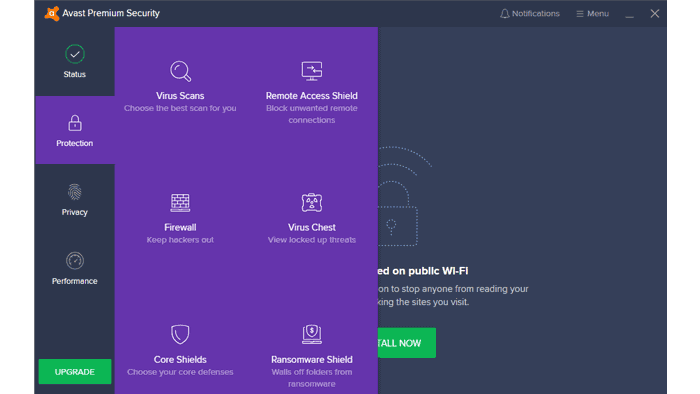 Avast Premium Security is an all-powerful one single protection plan for all online threats. Hence, under this security plan, you can use it on up to 10 devices across all operating systems. 
It is ideal for people who want to safeguard online protection for their entire family. You can attach your desktops (Windows and Mac), mobile phones (android and iOS), and tablets and iPads. 
Avast Premium Security's Primary USP is its ease of usability. You will find the transition to be effortless if you have been using the Avast Free Version. The clean interface, powerful feature suite, and high affordability make it one of the most sought-after antivirus software. 
Key Features:
Avast has three main offerings- Avast Free Antivirus, Avast Premium Security, and Avast Ultimate Bundle. 
In this section, we will look at the significant features of the Premium Security. 
Firewall Protection

Spam Filter

Secure File Deletion Software

Webcam Protection

Ransomware Security

Software Updater for Installing Security Patches

Sandbox

Spoofed Website Protection

Real Site Feature for DNS Security

Password Threat Protection
When you install Avast Antivirus on your device, Avast Online Security automatically adds the extension to your browser. If not helpful, you can uninstall or remove the Secure Browser using Avast's official removal tool.
One of the best things about Avast Premium Security is its high level of customization. If you do not want any of the features, you can switch it off. However, it can take some time for you to get used to the interface.
What's Special
In this section, we will list five essential features that make Avast Premium Security a real benchmark in this industry niche.
Spoofed Website Protection
Getting their hands on your payment details, and financial data is the holy grail of hackers. With Avast' Premium Security, you get complete protection when it comes to shopping online. In other words, you get full security against DNS Spoofing. Also, you get protection from hacked routers.
Full Ransomware Protection
In the last few years, Ransomware has emerged as the top threat. Hackers demand ransom for releasing access to your sensitive files. With Avast's Ransomware Shield, you can set folders that require protection. Any application that does not have permission will not be able to access those folders.
Smart Antivirus Scans
Avast Premium Security Scan is a combination of "Quick Scan " and a complete system check across different verticals.
The Scan checks everything. From settings, passwords, browser extensions, and missing security and software patches. You can complete a Smart Scan in less than 10 seconds!
Blocking Bad Websites
One of Avast Premium Security's strong suit is its protection against malicious websites. Avast's Real Site System helps to protect you from DNS hacking when landed on certain websites. 
It also helps prevent automatic downloads, helps avoid trackers from getting installed, and also offers you safety ratings for websites. Overall, a handy and powerful feature given how much we browse these days.
Firewall and Network Protection
Avast uses multiple layers of security and firewall to enable secure network protection. The system is robust and intuitive enough to detect the background connections made by each app.
Besides, you also get access to the "Wi-Fi Inspector." It quickly scans the available networks, points out all the dangers, and points out all the other connected devices on the network. Hence, a very handy feature especially when using public Wi-Fi access in cafes and airports. 
User Interface
Anyone who is using Avast's Free Antivirus will find Avast Premium Security almost identical. Also, there is no complexity when it comes to the user interface. 
As soon as you start the software, you get system security status. In addition, you can also see the Run Smart Scan button. On the top right-hand familiar corner, you get your Notifications Tab.
The other functions are present on the left-hand side. Click on it, and it expands to show you tasks like:
Virus Scan

Firewall for Network

Sandbox

Wi-Fi Inspector

Ransomware Shield

Virus Chest

Core Shields

Real Site Security
Additional features like SecureLine VPN, Clean Up Premium, and Driver Updater are also available. However, you have to shell out some extra cash to get them. The Ultimate Suite includes all the additional features. Also, you can check our Avast Ultimate Suite promo code section.  
The software is configurable, but the layout is not. If you are not someone who likes to tinker a lot and allows the software to do its thing, it is best to let it be. Avast Premium Security is highly efficient and does much more than the basics.
Avast Premium Security Coupon Codes & Pricing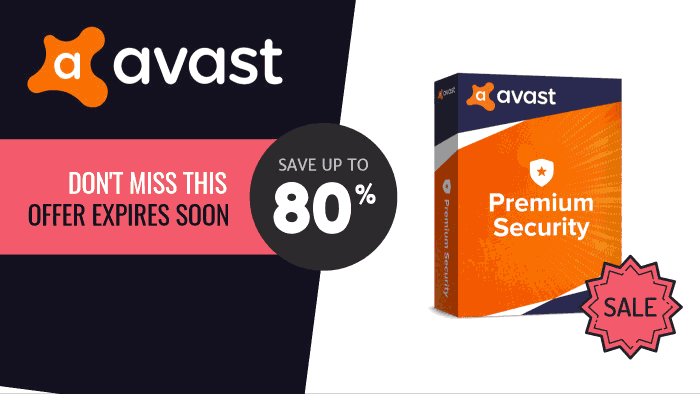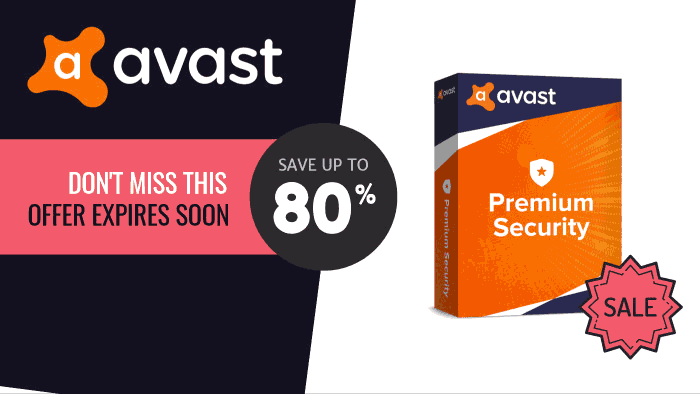 It sits at a price point, which offers excellent value for your money. 
There are two plans:
One Device Plan- USD 69.99 Per Year
If you are someone who would want one of your devices to be protected, you can go for this plan. It works on Windows, Mac, iOS, and Android. You can connect any of your devices with this plan and see the flawless performance of Avast Security Premium. 
Ten (10) Device Plan- USD 89.99 Per Year
The best option or alternative, in my opinion, is going for the ten-device plan for around $90. It helps you connect up to ten devices across operating systems. If you are part of a family, you can get this protection for everyone in your family. 
It would be best if you went for a pricing plan depending upon the need and value that it brings to your use. 
However, if you want your family to be safe at all times, you will find the pricing and the feature set to be value for money. You can use our Avast Premium Security coupon codes and avail the best deal prices.
The Final Verdict on the Avast Premium Security
Avast Premium Security is more than just a capable antivirus. It is competent enough to tackle some of the most dangerous and threatening elements of cyber-crime. If you are looking for cross-platform protection, Avast Premium Security offers the best bang for your buck. 
Most of us like the Avast Free Version just because it is easy to understand and use. You will love Avast Premium Security as it carries forward the same likability when it comes to the user interface, pricing, and performances. 
If you face any problems with our Avast Premium Security coupon codes or promotions, please let us know. We'll try our best to deliver the latest offers with the best discounts to you.