0% OFF
Bitdefender Antivirus for Mac
$59.95
Bitdefender Antivirus for Mac 2021 release is a reliable and powerful Mac OS X Antivirus application specially designed to protect your system against a wide variety of threats, viruses, and malware & Ransomware.
Region: Global | 30 Days Refund | No Auto-Renewal
Customer reviews of Bitdefender Antivirus for Mac
Description
Bitdefender has already accomplished itself as the top Ranked antivirus solution for Mac. For years now it stands to provide users with greater security without compromising performance to noticeable limits. You can now get the best discount with Bitdefender Antivirus for Mac coupon code.
Virus, Malware, and other online threats has been predominantly a matter of concern for the Windows Platform. This has been a relief for Mac users for a long time now but there is a silver lining to every cloud. Recent developments and research clearly indicate that Even Macs can face threats online. Just a simple search on Google shows that the real threat exists.
Mac has surely bundled higher standards of security by only allowing digitally signed applications from Apple Store, hence making it tougher for any malicious software to have a party. Still, Malware writers do figure out vulnerabilities from time to time and do not leave the slightest chance to exploit them. Well, we all have to agree to the point that nothing can stop a thinking mind.
So the final question stands, will you wait for your luck to run out? Or will you keep yourself protected?
Bitdefender Antivirus for Mac 2021 Features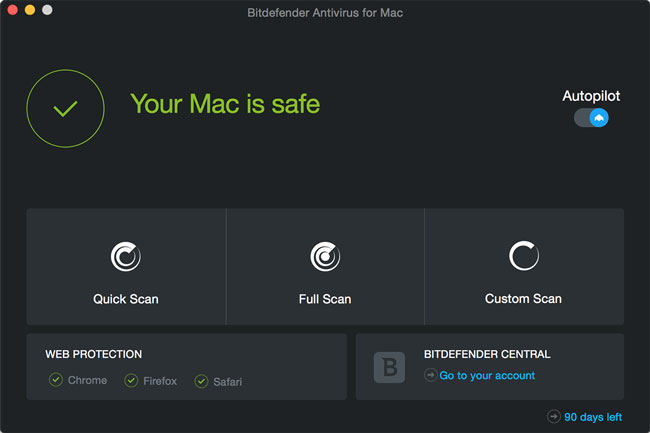 Bitdefender Antivirus for Mac 2020 version has an upgraded interface. Now you will have a cool modern UI just like the ones present for windows. You will have a good idea about it's working, just by going through the interface once. Antivirus scanning options are quick to scan, full scan, custom scan, and real-time continuous scan.
New Inclusions in Bitdefender Antivirus for Mac 2021
You can download it from the Bitdefender Central account. Now all you need to do is, log in to Bitdefender and add your subscription. Once done, you can download the package directly to your device and install it.
Bitdefender Antivirus for Mac now integrates the Adware removal tool. Hence the protection you receive is better and complete.
With Safe Files, you can protect sensitive data from any Malware attack.
Bitdefender Antivirus for Mac now scans with greater speed.
It includes a FREE VPN for everyday use.
Protect your "Time Machine" backups from any ransomware attack.
In addition to the traditional system scan, Bitdefender Antivirus for Mac also protects your browsing with an instant link checker. This module integrates with browsers and shows the status of the Website on the search list. Hence, giving you a clear idea about the trustworthiness and safety of websites you visit.
The scan is faster as compared to other antiviruses available. Regarding performance issues, it is normal to have a 10% decrease in speed after the installation of any active protection system. Bitdefender Antivirus for Mac 2021 does perform well without any noticeable performance issues during general computing or watching movies.
If you have Windows, Android, and iOS devices to protect, it will be best to avail of our Bitdefender Total Security discounts. It is a Multi-Device pack and supports all the platforms at a better price.