0% OFF
Copernic Desktop Search
$14.99
For the web, there is Google at your disposal to bring instant results. However, for Windows PC the default search isn't really up to the mark. Copernic Desktop Search is a one-stop solution for finding any kind of files including applications, multimedia files, documents, or emails.
Choose a subscription according to your needs. You can also have a Copernic version comparison and choose the version that fits your needs.
Download Only | Official Purchase | Limited Time Offer
Customer reviews of Copernic Desktop Search
Description
Copernic Desktop Search is a desktop search tool to organize files. It can also customize the files present on the desktop. File types include documents, PDFs, emails, etc. This desktop search tool is known for its ease of use and user-friendly interface. As a result, it is considered as the topmost desktop search tool.
Generic features include search within desktop applications. Some of these applications are Microsoft Office documents, E-mail content and their attachments, PDF files. In addition, it can also scan documents present deep inside the folders.
Copernic is fast with the job and can easily beat any competitor. The software is compatible with Vista to Windows 10. In addition, Microsoft Office compatibility starts from Office 2003 to the present version.
Copernic Desktop Search Features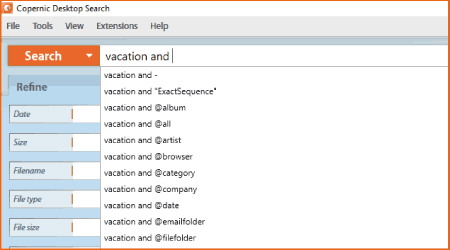 Desktop Search Window- It helps the user to have a hand on experience in navigating between different files and folders which also has a User-friendly interface
Browser Toolbar- It does the job of searching and optimizing the RSS feeds present directly from the Internet Explorer or Mozilla Firefox
Windows Desk Bar- This has a perfect integration with the Windows taskbar. Hence, it allows the user to search through the applications anytime.
Overview
The idea of using this Desktop Search is to keep everything organized. Hence, it helps the user to be sync work easily.
It uses Boolean and proximity searching for users to have maximum access
Installation time is very less
Copernic Desktop Search uses the cloud to store data and is absolutely safe and secure
Search and navigation is easy with a self-explanatory interface.
It helps the user to suspend the indexing while he/she uses the laptop under battery and allows him to save the battery power
Easily search with the help of keywords and search can be refined by data size, name, and other factors
The Copernic Desktop Search helps the user to optimize and have a smooth experience. Also, the software comes with a Free Trial, and users can try the slice of it for 30 days, and then they can upgrade if it fits their own schedule and priorities. It may be costly to upgrade but if he/she wants to have all the features then it's good to upgrade and use the full version of the software.
Copernic Desktop Search Coupon code
On Dealarious, you will always find the latest working offers for Copernic. Never buy it at full price. Hence, you are saving time by not going after non-working Copernic Desktop Search coupon codes. The below table lists the latest working Copernic Desktop Search coupon code.
Let us know if the coupon stops working. We will update it without any delay. Also, note that this Copernic Desktop Search coupon code is added to the purchase link. Hence, all you need to do is click on the "Buy Now" link above. This Copernic Desktop Search coupon code is officially provided by the company.
Conclusion
Copernic is most suitable for a user who wants to be in control. Users can search according to keyword refinement etc. Its unique features are definitely helpful for Students / Researchers to find and organize document files quickly.
We have tested Copernic Desktop search on Windows 10 and everything worked like a charm. Indexing huge data does take some time. However, providing more CPU resources to indexing makes it faster.
Let us know if you find a better Copernic Desktop Search coupon code while comparing it with other websites. We encourage you to use the review section to leave your feedback.