0% OFF
Intego Mac Internet Security X9
$49.99
Looking for solid online protection for your Mac OS? Intego Mac Internet Security X9 provides double-layer protection. It includes an Antivirus as well as a two-way Firewall.
With Mac Internet Security X9 you get:
Virus Barrier X9 – Antivirus
NetBarrier X9 – Firewall
Limited Time Dealarious Offer. Hurry!
Global Licenses | Download Only | Official Purchase
Customer reviews of Intego Mac Internet Security X9
Description
Intego's Mac Internet Security X9 is one of the best-of-breed Mac protection utilities. It includes VirusBarrier X9 and NetBarrier X9, to help you protect your Mac from malware, spyware, and hackers. Mac Internet Security X9 includes VirusBarrier X9, which remains the world's best Mac malware protection software since it debuted in 1997. With powerful realtime protection features, VirusBarrier X9 helps ensure that your Mac is always safe from the latest threats. Get the best Intego Mac Internet Security X9 coupon code only on Dealarious.
Hence, it protects you from all malware applications. For example, some of them are Trojan horses, viruses, worms, and ransomware. Also, VirusBarrier protects you from any potentially unwanted programs. VirusBarrier X9 ranks as the best Mac protection software in independent third-party testing. Hence, there is no risk of running your Mac into any danger. Also, we are providing the best Intego Internet Security coupon codes.
Mac Internet Security X9 Unique Feature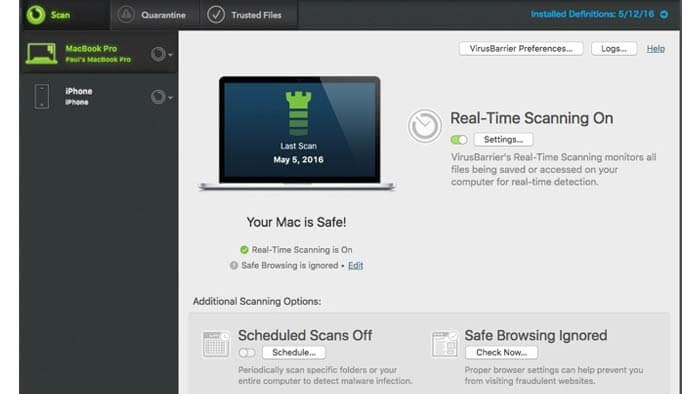 VirusBarrier X9 includes many unique features, including some exclusives you won't find anywhere. For example, VirusBarrier is the only antivirus that can scan and remove any malware that may exist in the document folder. It can be on your iPhone, iPad, or iPod touch. Hence, you have to connect your device to your Mac and start a scan.
The document scan feature is the most important nowadays than ever. Since iOS and iPad OS include a native Files app that allows you to save and share files right on your mobile devices. You certainly wouldn't want to send or receive infected files to or from a friend. Hence, causing severe harm to your computer or theirs.
VirusBarrier X9 Feature list:
Beyond the exclusive iOS device scanning functionality, VirusBarrier X9's long list of features also includes:
High-performance scanning with a light footprint
24/7 realtime protection
On-demand scanning, including full scans and quick scans
Optional scheduled scanning
Detection of Windows and Linux malware, so your Mac won't act as a carrier
Detection of malware inside archives and disk images
Auto-scan of external drives and disk images when you mount them
Optional e-mail notifications when it detects threats
The above features alone should be enough to convince you that you can't go wrong with Intego Mac Internet Security X9.
Intego Internet Security X9: NetBarrier X9 Firewall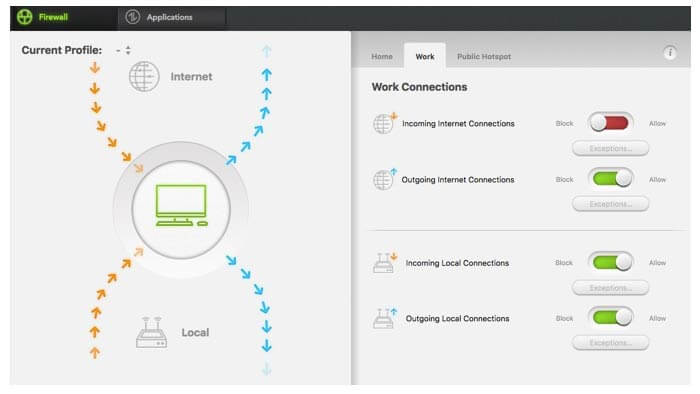 However, unlike most antivirus software, Intego Mac Internet Security X9 includes more. It consists of a second great utility that gives you an essential additional layer of protection: the NetBarrier X9 firewall.
You might think you can trust the Mac apps you've downloaded. However, even apps from the App Store can be deceptive or contain undesirable behavior. Moreover, sometimes, legitimate developer sites are compromised, and their apps become infected to install spyware or other unwanted malware.
From time to time, apps have been caught secretly phoning home to servers in other countries and sharing users' private data. This data includes and is not limited to Web browsing history, all without any user's knowledge or permission.
NetBarrier has a two-way firewall. Hence, it is an improvement over Mac's inbuilt firewall. NetBarrier X9 is also location-aware, offering different protection profiles depending on whether you're at home, work, or connected to a public hotspot. For the best protection on a public WiFi, you should have a VPN. Check our Cyberghost VPN Coupons for the best value for your money.
Conclusion
Both of these best-in-class threat defense utilities, VirusBarrier X9, and NetBarrier X9, are a part of Integos Mac Internet Security X9 suite. The suite works on any modern Mac, offering compatibility with everything from Mac OS X 10.8 to the very latest version of macOS. Also, it natively supports several languages: English, French, German, Japanese, and Spanish.
Hence, don't wait any longer. If you are using a Mac system, you should try Intego Mac Internet Security X9.
If you face any issues with our Intego Mac Internet Security X9 Coupon Codes, let us know in the comment section. We will update the coupons in case they stop working.