0% OFF
IObit Smart Defrag Pro 9
$39.99
Facing a slow application loading speed? Nothing to worry about now. IObit Smart Defrag Pro 9 takes care of file fragmentation. It smartly arranges data in the optimum structure. Hence, the best loading speed and responsiveness are guaranteed.
Check Smart Defrag Pro Official Page to know about all its features. Check all IObit Coupon Codes and discounts. Your purchase includes Free upgrades to the next version if it is released within the validity period of your license.
Limited-time Special Offer!!
1 Year License | Download Only | 60 Days Refund | No Auto-Renew
Customer reviews of IObit Smart Defrag Pro 9
Description
You are playing your favorite game, and suddenly there is too much lag! Suddenly you start experiencing a high delay in general computing. There are many reasons why your system may run slow. However, random fragmented files can cause a delay when you least want it. iObit Smart Defrag Pro is a solution to the fragmentation issue. In the purchase section above, you can avail yourself of this application's features using our iObit Smart Defrag Pro Coupon Codes.
When you install and delete files repeatedly, fragmentation of files happens in the hard drive or any storage media. In this process, the gap is filled in completely on the next installation. This gap between file allocation is fragmentation. Most of the time, disk fragmentation is fatal to your system.
You can get rid of file fragments through the defragmentation process. The easiest way to defrag your system is using the IObit Smart Defrag.
IObit Smart Defrag Pro 9 Key Features
Ultra-fast, highly stable, and efficient defrag and optimization
Monitors disk status on a real-time basis
Higher file access speed
Automatically defrag your system, or you can even schedule a defrag
Single file or folder defragmentation
Defrag registry files or specified files at boot-time
Special-designed game optimization
Automatically update to the latest version
Large files defragmentation
Maintaining the steady speed of your computer for an extended period can be difficult. There can be many reasons behind the lag of your system, but don't let fragmentation break down your Windows System.
IObit Smart Defrag 9 can help you defragment your system to keep it working at an optimum level. Also, you can defragment your pc at the time you like by setting a custom schedule.
You are in luck because, in addition to the defragmentation of your HDD, IObit Smart Defrag 9 can also trim your SSD. Trimming the SSDs will improve PC performance and no lags during your gaming time!
With a few clicks on the buttons, you can choose the hard drive area you wish to defragment. When you start the program, IObit Smart Defrag 9 will scan your computer through and through to find fragmented bits of files to arrange them systematically based on your usage. Hence, it creates a vast amount of continuous disk allocation space for your new data and better computer performance.
How to Download & Install Smart Defrag Pro 9

1. You can download and install the IOBit Smart Defrag 9 directly from the official website of IOBit.
2. Go to your system's download folder and double-click on the .exe file. The installation process will start.
System Requirements
Your system must meet the minimum requirements to use the application and work efficiently. They are:
1. The system must have Windows XP/Vista/7/8/8.1/10/11
2. Your PC must have 200 MB of free space on the hard disk
3. For better performance, your PC must have a 1 GHz or faster processor
IObit Smart Defrag Pro 9 Features in detail
The interface has three main buttons that help you decide what part of your computer you wish to defragment. Also, you will find four primary tabs: Disk Defrag, Boot Time Defrag, Game Optimize, and Action Center. You can also check the disk health from the interface of Smart Defrag 9.
Let's learn all the main features that will help you keep your computer running for a long time.
Disk Defrag
Smart Defrag Pro can deal with different types of disks. It can handle standard Hard drives as well as an SSD. The various actions available for a hard drive are listed below:
Hard Drive Defragmentation functions
When you check out the disk Defrag tab, you will find a smart defrag button along with six other useful
When you check out the disk Defrag tab, you will find a smart defrag button along with six other useful features:
Analyze
Fast Defrag
Defrag & Optimize
Large Files Defrag
Free Space Defrag
Defrag & Prioritize Files (Slow).
Let's go through the various options available under Disk Defrag.
Smart Defrag
When you click on this option, the application will analyze your Pc and intelligently use the most useful and suitable defrag method to fix your system.
Analyze
When the defrag application is running, this feature analyzes the rate at which fragmentation of your disk is working. After the analysis, it will recommend the best defrag method applicable to your system.
Fast Defrag
As the name suggests, this option will speed up the defragmentation of the fragmented files in your system.
Defrag & Optimize
This feature is the primary function of any good defragmentation tool. It defragments all the fragmented files of your system, organizes the data in a continuous band, and gives you contiguous memory space in your disk for a better arrangement of new files and disk performance.
Large Files Defrag
It helps you to defragment files of larger size efficiently. Ultimately, this feature accelerates disk write and read speed and enhances disk durability.
Free Space Defrag
When the fragmented files are in order, this feature will consolidate all the free space to give you a contiguous blank space. Hence, it boosts the write and read performance of the disk.
Defrag & Prioritize Files (Slow)
It is a slow process but a useful one. This feature arranges the disk data based on priority so that the disk gives peak performance and the data continuity is long-lasting. Under each drive, you can find two quick settings: Auto Defrag and Boot Time Defrag.
Auto Defrag: If you want the feature to start the defragmentation process automatically, you can tick this option. It will work according to the specific settings of Auto Defrag. However, this feature is only available to PRO users.
Boot Time Defrag: You can select this option if you want the feature to perform the defragmentation process during boot time. It makes sure to achieve a more precise and efficient result.
There is also a Disk Cleanup option. When enabled, it will clean the Windows temp files and free up more disk space.
SSD Defragmentation functions

For an SSD, you can see the trim button. In addition to the button, you will find two more options: Analyze, and Trim & Intelligent Optimize.
Trim: If you want to remove all the data in SSD that is no longer useful to you, this option is for you. This option will remove all unwanted files and speed them up.
Analyze: This option runs an analysis of the system before optimizing it.
Trim & Intelligent Optimize: This option does both of the above. This option trims and optimizes the SSD. It will surely enhance the performance and extend the life of your SSD.
What is Smart Optimize in IObit Smart Defrag Pro?
When you choose both SSD and HDD, you will get an additional option called Smart Optimize in the form of a button. If you click on this button, the application will analyze your system, execute the most useful defragmentation procedure for your HDD, and trim your SDD with a single click.
If the disk type is not detected correctly, you can always hover the mouse pointer on the disk to click on the arrow icon. This action will switch the disk type manually.
Windows Apps
Smart Defrag 9 will defragment Windows as well! If your system runs on Windows 8/ 8.1/ 10/11, you can choose windows apps to be defragmented and give you better performance.
Add Files & Folders
If you have a particular file or folder you wish to defragment, you can do so with the Add Files & Folders option. You can add the file or folder you want to defragment in this option.
Smart Defrag Pro Defragmenting Screen
Once you choose the trim or defrag feature mentioned earlier, you will get a defragmentation screen that will give you a real-time graphical display of the entire procedure.
You can see the files and fragments that underwent the process. Also, it shows the cleaned junk and the rate at which fragmentation was going on. The best thing is that you can see all this data in real-time.
Once the process starts, there are two options. Let the application what you wish to do once the defragmentation process is underway.
Shut Down to shut the application once the process is over. Also, you can select any one of the options in the drop-down menu – restart, hibernate, or sleep. These options are great if you perform the operations unattended at night.
 You can pause the defragmentation process and resume it as you please. Continuing will start the defragmentation process from where it had left. You can also stop the process if you do not have enough time.
Smart Defrag Pro Result Screen
No matter what defragmentation occurs, the result screen will provide complete details of the optimization result. You will know what happened on the result screen, whether it is an SSD or an HDD. There is an option to analyze details of the defragmented fragments, defragmented files, and Fragmentation rates before and after the defragmentation. Also, you can switch between multiple disks by clicking on the disk tabs on top of the screen.
Under the map, you can view two options:  View Report and Finish.
View Report
By clicking on this option, you will get a detailed report of the defragmentation process.
Finish
You can click on this option to go back to the main screen.
Disk Health
It is another useful tab on the main interface of the Smart Defrag Pro 9. By clicking on this tab, you can view the health of your disk. You can monitor various disk features, such as disk temperature, disk usage, disk self-monitoring analysis report, etc.
Game Optimize
If you are a gamer, this tab on the interface is for you. Smart Defrag Pro 9 will automatically list all the games in this tab. If you wish to optimize your games, click on the plus symbol. You can tick all the games you want to optimize and hit the button to start optimizing your games. Hence, ensuring that you will get a better gaming experience.
Boot Time Defrag
This tab offers you these features – Defragment page files and hibernation files, Defragment MFT, Defragment system files, Defragment registry files, and Defragment specific files. We know page files, hibernation files, MFT, and system files, and you cannot defrag registry files when the system runs. However, you can defragment them during boot time. This method ensures that your Windows system locks no files.
If you cannot defrag any file when the system runs, you can use the Defragment Specific File option to optimize it during Windows startup. You must be a PRO user to use Defragment registry files and Defragment-specific data. You can go to the Boot Time Defrag screen by clicking on the Configure button.
Options
Finally, the icon menu at the top left corner of the interface will take you to Settings. You can customize the Settings window on how Smart Defrag Pro 9 works. You can edit the Settings, view Reports, check Disk Health, change app Skin, get Technical Support, Send Feedback, and Check for updates.
Smart Defrag Pro Coupon Codes and Pricing Plans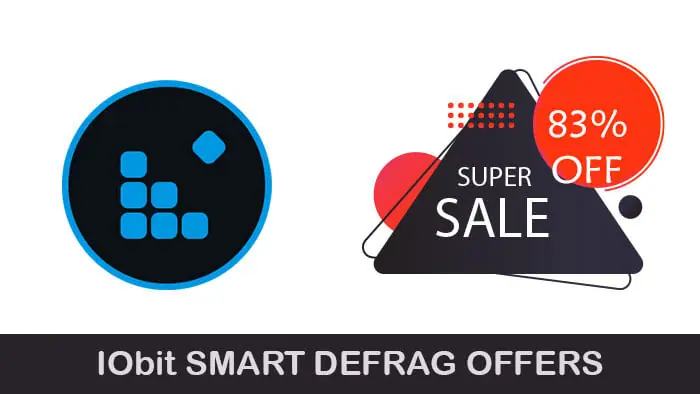 Dealarious Store provides the best deals on Iobit Smart Defrag 9 Pro. You can get the lowest price online with up to 83% on the 3 PC – 1-Year subscription using our IObit Smart Defrag Pro Coupons. If you are using Smart Defrag Pro Coupon Code at Dealarious.com, you get a 60 Days money-back Guarantee. In addition, we also provide complete License validity period protection. When your purchase is complete, you receive the license code via email.
IObit Smart Defrag Pro Verdict:
Keeping your system up and running is not an easy task. With so many fragments, there are bound to be consequences. However, the best defragmenting application can help you defrag such files to keep your system performing well for a long time. Smart Defrag Pro 9 is the best defragmentation tool by IObit. It has various options that you can use to keep the files contiguously and maintain continuity in the system.
If the IObit Smart Defrag Pro coupons provided on Dealarious do not work, let us know in the comment section. We try our best to keep the Smart Defrag pro coupons updated. Hence, you will always get the best discount.
Frequently Asked Questions about IObit Smart Defrag Pro Sale
Q. How to get the IObit Smart Defrag Pro license key?
A. When you buy IObit Smart Defrag Pro from Dealarious Store, you get the license key delivered to your email shortly.
Q. How do I activate Smart Defrag Pro?
A) Launch Smart Defrag Pro and click on the Enter code section found on the program's main interface. Enter the Smart Defrag Pro activation code purchased from Dealarious. Next, click the Register Now button to activate the product.
Q. Where will I get the best discount coupon codes for IObit products?
A) Please check Dealarious.com for exclusive IObit offers on all IObit software.