0% OFF
IObit Software Updater 6 PRO
$29.99
One of the best software downloaders in the market. Software Updater 6 Pro updates all installed applications automatically. There is no need to worry about manual updates for each app. Check all IObit Coupon Codes on Dealarious.
Limited Combo Offer: Buy Software Updater Pro and get a Free bonus:
Region: Global | 60 Days Refund | Download Only
Customer reviews of IObit Software Updater 6 PRO
Description
Anybody who uses a laptop or a desktop has at least a hundred different apps installed on their system. Most major categories- multimedia, remote working tools, performance, social, tool, etc. require us to install and update third-party apps and software. However, can anyone keep a manual check every time with so many software and apps and their important updates? No! Hence, intelligent products like the IObit Software Updater 6 have become very important for our day-to-day functioning. In this section, you can get Iobit Software Updater 6 Pro coupon codes and the best discounts.
IObit Software Updater 6 Pro: Overview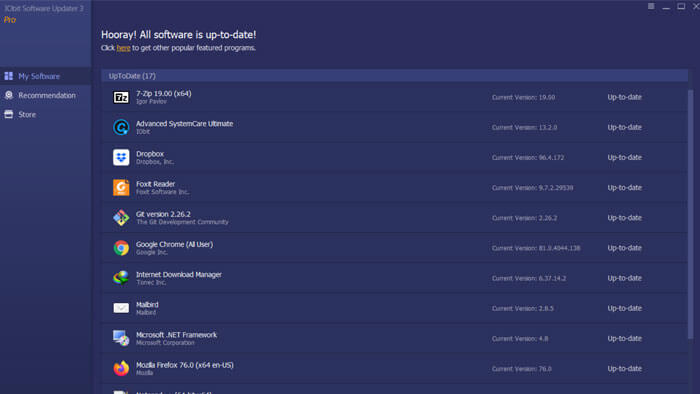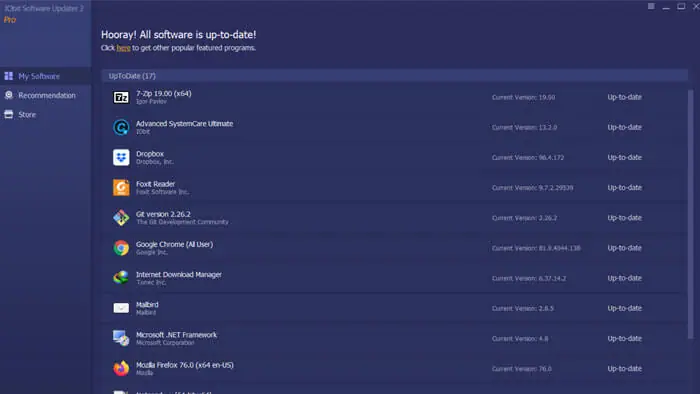 IObit Software Updater 6 is one of the lightest and easiest software on the market. Even though it is light, it is by no means not powerful. IObit Software Updater 6 enables you to update all software and apps which have become outdated. Also, no argument can defend that outdated software is vulnerable to several threats.

The one-click function on this software makes life very easy for people who use their systems for high-performance professional work. In such scenarios, we usually do not have the time or the energy to go for manual update checks and installations.
The latest version, '6', has updated and advanced algorithm sequencing (150% faster, according to IObit). Hence it helps in faster update speeds. Hence, it helps you in saving a lot of time. You must have noticed how some apps and software require you to reboot or restart your system after the update. With the IObit Software Updater 6, you can set up scheduled times and let it take care of the rest. 
Some of the notable improvements in the IObit Software Updater 6 over the last version are-
It has a new and improved extensive database.

Better and updated algorithms help in reducing the download, installation, and update time. 

A new and extensive set of remote working tools to help professionals who are Working From Home. (the previous version also included this feature)

Excellent one-click features to install software applications.
Are you someone who installs a lot of software? Perhaps, you should try IObit Software Updater 6 Pro.
Key Features of IObit Software Updater 6
The IObit Software Updater 6 is a feature-rich product that delivers a strong performance while not taking up much space on your system. The lightness and power-packed features of IObit Software Updater 6 have made it one of the most preferred updater options in the world. 
Let us look at the essential functions of the software in brief detail.
Extensive Database of Software and Apps
One of the first things that most people would want to know is the limitation of the software or the app on IObit Software Updater 6. IObit Software Updater 6 supports updating from Firefox or WinRAR if you are looking for multi-lingual functionalities.
As per the official statement, the latest version 6 has an improved (40% larger) software database.
Performance Rich In-Program Update Features:
Every time there is an update, the IObit Software Updater 6 does not make you open ten new checkboxes or twenty new pop-ups. Instead, you get a simplified version of the manual updating in the IObit Software Updater 6 dashboard. 
You can manage your updates, installations, and downloads from the panel. It also shows you the notifications and the progress of every update. 
Safety and Security at all times
IObit Software Updater 6 points out problems regarding apps and software. One of the primary reasons we should keep updating software is that every new update comes with enhanced security features. It is instrumental in informing you about security updates that need urgent attention. Hence, it helps you to keep your system secure from threats. 
The Cleanest Updater in the market
Most of the competitors of IObit Software Updater 6 suffer from one serious flaw. They bring in their friends as extension bundles. It is annoying and can have disastrous effects on your system. Not to mention more pop-ups, emails, and useless notifications.
IObit Software Updater 6 is not spam software. It is legit, credible, and trusted by some of the major brands in the industry. Also, you do not get any toolbars, bundleware, or hidden installers. You can check Bitdefender Total Security coupons if you are worried about online threats. For a VPN, you can check the Surfshark & Zenmate coupon sections.
Auto Updates according to stipulated Schedules
When was the last time software forced you to restart the system without giving you any warnings? It helps suggest scheduled times to autorun updates when you are not working on the system. However, it might be a small feature, but it saves an individual a lot of time. Your updates happen in the background without asking you for any intervention. Hence, convenience is all yours.
IObit Software Updater User Interface
Let us get one thing out of the way right at the beginning- IObit Software Updater 6 is easy to use! While most software in the market may confuse you, IObit Software Updater 6 is different.
The left-hand tab of the dashboard has just three central components-
My Software

Recommendation

IObit Picks
My Software consists of the software that is already present on your system. The tab divides the same into two main sections:
Outdated Software

Up-to-date Software
As soon as a new update of software on your system is pending, it adds it to this section. The up-to-date section shows you all your apps and software running the latest versions.
Every time an update is in process, and the download takes place, you can see the progress in the top middle section. It shows you the speed of the update. Also, it has an option to reboot the system automatically. 
The Recommendation tab opens to reveal eight options in the dropdown menu:
All Software
Browsers
Remote Work Tools
Security
Social
Multimedia
Runtimes
Utilities & Tools
Every time you click on any of the menu options, the central section of the dashboard opens to show you the corresponding software. It recommends you install them to make your life easy. Also, it monitors the updates of all the apps on your system in the background.
IObit Software Updater 6 Pro Coupon codes & Pricing Plans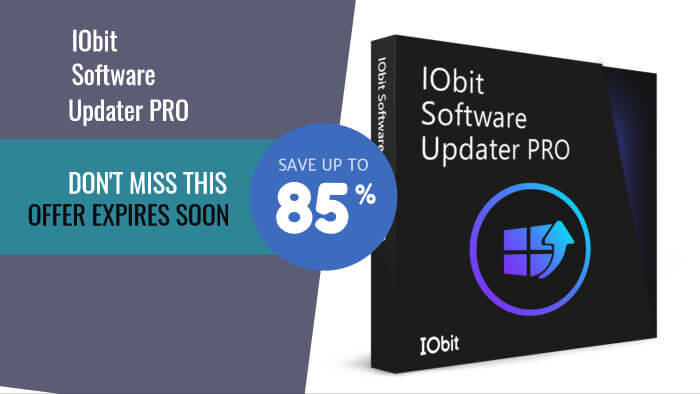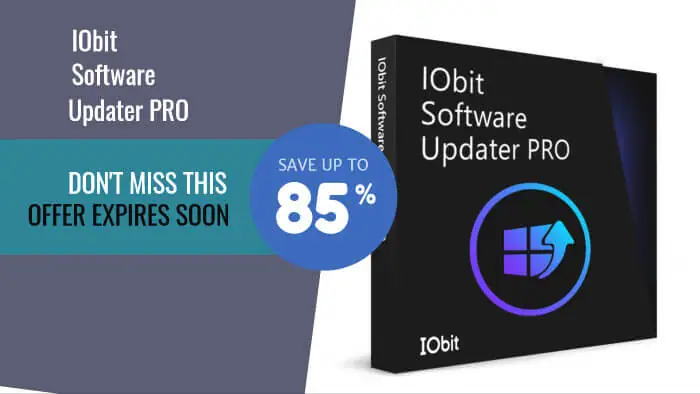 The product comes with two pricing plans:
A Free Version Download

Paid Version Download
The Paid Version of the IObit Software Updater 6 Pro has a regular price of USD 29.99. Hence, great value-for-money product. However, you can use our Software Updater coupon codes and avail of up to an 85% discount. The Free Version of the software is also adept. However, the limitation sits at only two uploads per day. Also, the paid version of the software boasts unlimited automatic updates and a host of other powerful features. Alternatively, if you are looking for other IObit products, check our IObit Discount Coupon Codes page.
Is the IObit Software Updater Pro any Good?
An important aspect of judging software is its success. However, there are some other criteria, as well. For example, it needs to be simple enough for the vast majority of the population to use. Therefore, the majority should be able to use at least 90% of the features and functions related to the software.
Does the IObit Software Updater 6 fulfill these criteria? You bet it does! 
One of the reasons why Software Updater 6 wins the race is because of the very convenient user interface. The software strives to improve the experience of using technology. The auto-update function helps all your updates happen when you are not using the system. Automation means you do not have to scout every developer's website and check for updates. 
On the IObit Software Updater 6, it all happens right there in the dashboard.
You can disable sponsored posts even in the free version of the IObit Software Updater 6. You also get the opportunity of creating an automatic restore point for the software before starting the installation process.
Is IObit Software Updater 6 Pro a Good Investment?
The IObit Software Updater 6 can be a worthy addition to optimizing your system. It is a highly intelligent software that checks all the existing apps on your system and keeps them working at their optimum level.
One thing that might irk some people is that Software Updater is available for Windows only! It does not work on Mac or iOS. It works on most Windows OS like XP, Vista, 8, 9, 10, and 11.
If you are worried that software like this might take up a lot of space on your system, fret not. The file size of the IObit Software Updater 6 is a mere 11.97 MB. Hence, you can consider it an excellent investment with improved new features, a simple UI, and a mission to keep your system performing at its optimum level. You will notice the amount of time spent and the benefits coming from updated apps at all times in a few days of using the IObit Software Updater 6.
Frequently Asked Questions about IObit Software Updater Sale
Q. How to get an iObit Software updater at a discounted price?
A) Using our Software Updater Pro discount coupon codes, you will always get the lowest price on the subscription.
Q. How do I get a Software Updater Pro License Key?
A) We are here for you if you want a license key. When you purchase Software Updater from Dealarious Store, you get the activation key delivered to your email shortly.
Q. How do I activate Software Updater Pro?
A) Launch Software Updater Pro and click on the Enter code section at the program interface's bottom left corner. Enter the Software Updater Pro license code purchased from Dealarious. Next, click on the Activate Now button.
Q. Will I get a free product on purchase of iObit Software Updater?
A) Yes. At Dealarious, you get IObit Smart Defrag Pro (1 PC,1 Year) FREE on purchasing a Software Updater Pro (3 PCs, 1-Year license). These offers are for a limited time only.
Let us know if you face any issues with the IObit Software Updater Pro coupon codes. You can use the review section below and share your experience with our discounts.