0% OFF
Leawo Prof. Media
$119.95
It is a 10-in-one bundle for all your Multimedia needs. You can Edit, Copy, Download, burn Disks, and more. Leawo Prof. Media is easy to use with a simple user interface.
The Prof. Media Ultra version has the Cinavia protection removal feature. In case you need the same, go for the Ultra version. You can change the versions from the dropdown box below.
Global License | Official Purchase | 30 Days Refund
Customer reviews of Leawo Prof. Media
Description
Leawo Prof. Media is a compact and complete bundle of all the features you need when dealing with multimedia files in your daily life. The functionalities may range from burning your video files, converting your data from one format to the other, creating a slideshow and a few others. You can get all the bundle features at a great price using our Leawo Prof. Media coupon codes

System Requirements
To have a smooth experience with Leawo Prof. Media, your system should meet the following requirements:
Supported OS:

 Microsoft® Windows Vista, Windows 7, Windows 8 Windows10

Processor:

 1 GHz or above Intel/AMD Processor

RAM:

 512MB RAM (1024MB or above recommended)

Free Hard Disk:

 5GB+ (DVD) / 25GB+ (Blu-ray Disc) hard disk space

Graphics Card:

 NVIDIA GeForce GTX 260 and above

Others:

 Recordable Blu-ray drive, Internet Connection
How to get Leawo Prof. Media?
Once you purchase Prof. Media or Prof. Media Ultra using the coupon codes, you will receive the download links via email. Also, you can go to the official Leawo site and download the application. Once you hit the download button, your download will start automatically. You can download it for Windows or Mac as per your requirements.
Essential Features 0f Leawo Prof. Media

Leawo Prof. Media is a bundle of applications. Hence, you get the features below:
Copy Blu-ray disks


Blu-ray Ripper

Create Blu-ray disks

Copy DVDs


DVD Ripper

Create DVDs


Video Converter

Online Streaming Videos Downloader

Cinavia protection

removal
Convert your videos with Ease
Convert your media like videos, DVDs, and audio to 180 or more formats. Also, the interface is easy enough to navigate through from the get-go. Upload your media files to the tool by clicking on the appropriate add button, which is usually present at the top of the application, and you are already halfway done. For alternative video converters, you can have a look at Wonderfox HD Video Converter, Wondershare Uniconverter, and Movavi Video Converter Premium Coupon sections.

Editing your videos
If you are converting your videos, and you will come across numerous editing options that you can apply to the videos. Hence, you can trim your videos, add watermarks and effects, or crop videos. You will find them very easy to carry out. If you need a professional Video Editing Tool, you can check our Filmore Video Editor, Movavi Video Suite, or Camtasia coupon sections.

Add & Import Subtitles or Audio Tracks
While converting the video files, you are also given a choice to import external subtitles to add to your converted media. You can also choose audio tracks and subtitles from your source media files, as well. 
Merge your videos
You can upload multiple video files and merge them into a single file as well. This feature is small but handy and comes in use more often than anybody initially thinks.
Wide Range of Output Formats
You will be able to select the output format according to your needs and requirements. You will have the freedom to choose from standard and straightforward formats like .mp4, .mpeg4, .avi, etc. to audio files and HD video files. Also, you can convert videos using H.265 encoder. Hence, you can save a lot of space while getting the best quality conversions. Leawo Prof. media also supports 4K video conversions.

Video/Audio Settings
Leawo Prof. Media allows you to manipulate your media files as you see fit. From controlling the bit rate of your audio files to frame rates of video files, you can customize the settings per your needs. If you have an Nvidia or Intel Graphics Card, make sure that you have enabled the video acceleration. Since it dramatically boosts the output time.

Burn videos to DVD or Blu-rays
Consistency in the interfaces makes Leawo prof. Media is more comfortable to use and also preferable for users. The interface found for burning your videos is almost similar to that when you are converting your videos. Clicking on the big burn icon at the top of the application, you will see the same interface as that of when you wanted to convert your media files.
You can add videos or photos and also set up a built-in or custom template menu for your burned discs. Along with all the features that you can choose from while converting files, you can also set the target disc type, aspect ratio, and quality. If you are looking for a dedicated tool for DVD Menu creation and burning, check our ConvertXtoDVD Coupon section.

Copy Disks Easily
This module in Leawo Prof. Media helps you to make a copy of your DVDs and Blu-rays quickly. Hence, creating backup copies. Just like with previous features, you can either single backup files or do it in chunks. You also get options for 1:1 disc to disc duplication, movie-only backup, high-quality DVD-9 to DVD-5 compression, etc.
Also, you can add files and copy them to a blank, writeable disc, simple as that. 
Download Streaming Videos
Did you ever want to download videos from YouTube or other streaming sites? Leawo Prof. Media comes with the Video Downloader module that allows users to download their desired videos straight to their computer with just a few clicks.
The interface is easy to understand. You go to the site from this built-in mini browser. Once you reach or add the video URL, the application automatically lists out all the downloads that are available from the page you entered. Click on the one you wish to download, and that is about it.
Downloads will show up in the downloaded tab seen on the right-hand top corner of the panel, and the ones you are currently downloading will show up on the downloading section. Once your downloads are complete, you can convert them or burn them by simply right-clicking on them and adding them to the convert list or burn list. Nice!
Make a slideshow
You can make a slideshow with pictures that you clicked on vacation or create one for the weekly company meeting or as a demo for a product that you are trying to sell to investors.
Go to the convert tab and add all the photos that you want. Then select the output format and hit that convert button. Hence, your slideshow is complete. It is that simple. Also, you can burn the slideshow directly to writeable DVDs.
Leawo Prof. Media: Remove Cinavia protection
It is a type of security type feature that is on the audio tracks of movie files. Hence, it prevents all copying through Cinavia compliant players, which can detect the protective lock.
Also, it helps to remove Cinavia protection, which may be preventing you from making copies of your media files. However, please note that Cinavia protection removal is only available in Leawo Prof. Media Ultra. Hence, you have to buy the correct version as per your requirements.
Leawo Prof. Media Coupon Codes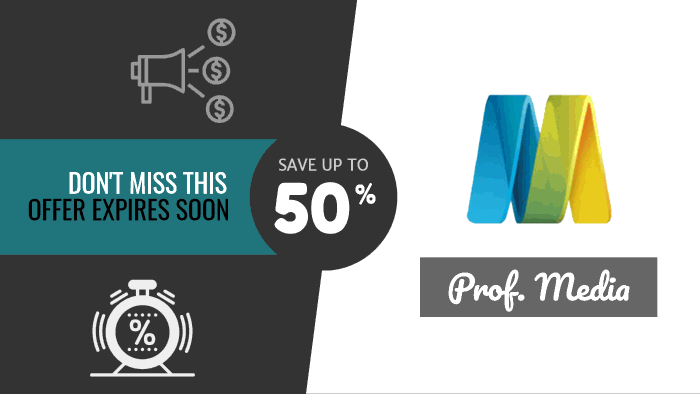 At Dealarious we are constantly working to provide you with the latest Prof. Media coupon codes. We ensure that the coupons work and you get the discounts.

All the coupon codes are present with the purchase link. Hence, you do not have to copy-paste or do anything at your end. Just select the product and click on the Buy Now button and complete the purchase on the Manufacturer website.

Conclusion
The free trial version will help you decide whether this is the right tool for you. The clean and smooth UI makes it easy to learn for all users. Hence, the versatility of the functionalities it provides is worth a try.
We hope that the Leawo Prof. Media coupon codes will help you in saving a good amount. Choose between the Standard version and Ultra Version as per your needs.