0% OFF
Malwarebytes Premium
$39.99
Malwarebytes Premium is one of the best Anti-Malware solutions. It is unbeatable protection that you can get even alongside your Primary antivirus.
Subscription starts from the day of purchase.
The license key does not add to your Malwarebytes account. Use the license key directly on the application to activate it.
Limited-Time Special Offer!
Global License | 30 Days Refund | Download Only | No Auto-Renewal
Customer reviews of Malwarebytes Premium
Description
In the present time, having just a popular antivirus for your system is no guarantee that it is completely protected. That is when an Antimalware software comes into the picture. Malwarebytes work alongside your antivirus to provide you with all-round protection. Get the best protection at the best discount Price with Malwarebytes Premium coupon codes.
Malwarebytes Premium protects you from harmful or malicious software that may harm your system. A Malware's primary objective is to intentionally invade, damage, disable or corrupt system usually done by taking partial control over a device and its operations.
Company History
Marcin Kleczynski, the CEO of Malwarebytes in 2004, picked up a nasty malware infection one day while surfing the Internet in search of video games despite having a big-name paid antivirus. That is where the idea for the entire company sprung up.
He spent three days searching the Internet. Also, he spent time consulting with other people on security forums like spywareinfoforum.com. Many had similar problems like the one he faced. Hence, it leads him to the conclusion that this was, in fact, a problem that lot were facing. The situation needed some actions.
Hence, birth to a handy antimalware tool called Rogue Remover. The tool soon gained popularity and became a beacon for like-minded "malware hunters." Currently, their team has more than 600 malware hunters, software engineers, and security industry veterans have six patents for their innovative technology. Malwarebytes was formally founded Jan. 21, 2008.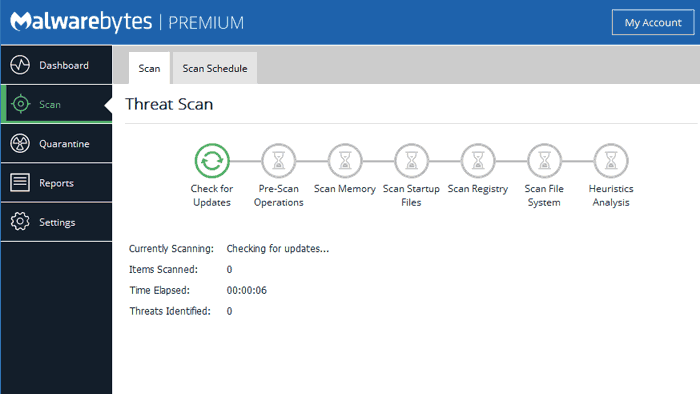 Malwarebytes Premium Installation
Installing Malwarebytes is as easy as eating your favorite pie while you are blind-folded. After clicking the free download from their website, the installer automatically starts downloading for you (this is in the case of Windows download).
1.     Check for the installer in your Download folder, or search your computer for the Malwarebytes setup file.
2.     Open the setup file by double-clicking on it. Next, Windows asks if it's okay to make changes to your device. Click "Yes," then select your language.
3.     When the Setup Wizard opens, click "Agree and Continue" to start installing Malwarebytes, or click "Advanced Options" to choose a different install location.
4.    To close the Setup Wizard after installation is complete, click "Finish."
5.     As easy as that! Malwarebytes should now launch automatically.
Malwarebytes premium Features:
1. 14 days free premium trial
Many people hesitate while spending money on software. As most of the time, they don't understand what they are paying for or the kind of services they are getting. Alternatively, if it is what they need.
Unlike other companies out there, Malwarebytes provides a free 14-day premium services trial right from the bat. You get to know what you are getting once you upgrade to premium. However, even if you decide not to buy the product, you can still use it to clean infected devices.
2. Easy to navigate dashboard
The first screen when you open the application is the dashboard. The interface is very well designed with sleek and elegant designs and is very easy to navigate.
On the left side of the screen, you can see the categories "scan," "quarantine," "reports," and "settings." Each category has its function, which we discuss below.
Malwarebytes Premium displays the premium features on the right side. It is set on by default if you are using the 14-day trial or buy the product. Even if you purchase using the Malwarebytes Premium coupon codes, the features are the same for you. Web protection, exploit protection, malware protection, and ransomware protection are premium features.
3. Rich settings tab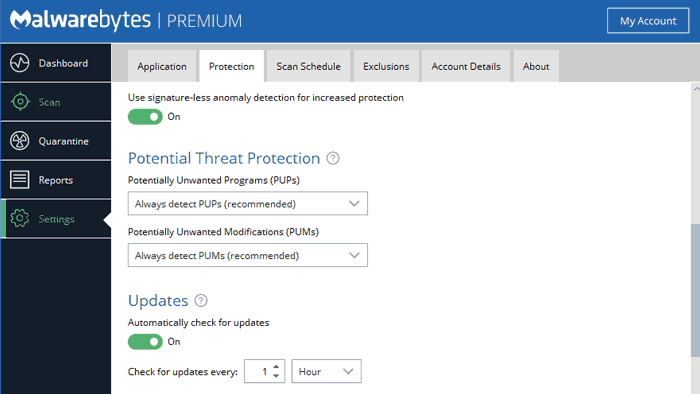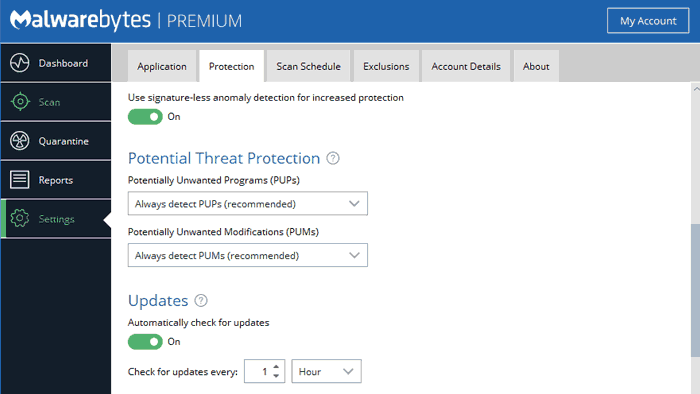 You mostly toggle features on and off in the settings section. Settings have six tabs under them which are:
 Application
Protection
Scan schedule
Exclusions
Account details
Ps: You can also find a button in the upper right corner to restore the default settings in the application and protection tab, which is a handy plus.
We are going to focus on two of the comparatively complex tabs in the setting section.
Malwarebytes Application Tab
The application tab includes sections:
Updated
Notification settings,
Scan priority
Language selection
Proxy server selection (the default is off),
Usage and transmission of threat statistics back to the service (the default is on).
Protection Module
This tab has settings for web protection, a button for managing the protected applications list, and options to add applications to it. An advanced settings button brings up a sub-menu for anti-exploit settings for many applications. For instance, memory protection, application behavior, and Java protection.
When you get on the anti-exploit settings tab, you might be overwhelmed by the sere number of various options that pop up in front of you. Do not be alarmed because even the most experienced users have a hard time answering what each of those options does.
Scan panel
When you enter the scan panel, it greets you with three simple scan options:
Threat scan
Malwarebytes Premium checks the most common infection hotspots like memory, startup programs, Registry, critical files, etc. It is equivalent to a Quick Scan in other software programs.
Custom scan
It offers the ability to scan specific drives or folders, as well as allowing some central control over scan operation. It gives the users to choose what to do and where to do it.
Hyper scan
It is a type of minimalist check that checks only the memory and startup objects, and surprisingly enough takes only around ten seconds for completion.
Quarantine zone
This section is for your potentially dangerous files. Malwarebytes Premium does not delete the suspect files. They stay in quarantine till you give the go-ahead. Hence, it prevents loss of actual files if they were not infected (false positives). So basically this is an alternative to deleting files without thinking.
Report tab
Malwarebytes Premium generates the report after every scan. It is simple and easy to read, as well as understand. There are two tabs present;
Page summary
Advanced tab
The Advanced tab shows how many objects scan happened. It also indicates if the scan was manual or scheduled, elapsed time, and other scan options. There is also an Export button that lets you copy the report to the clipboard or a text file for future reference.
Malwarebytes Premium Coupon Codes
At Dealarious we always update Malwarebytes coupon codes. Hence, you will still get the best Malwarebytes discounts. You do not have to use any coupon code separately. As we integrate the coupons directly into your cart. Hence, please visit the coupon purchase section and make your selection.
You can download the application directly from the official Malwarebytes website. Once the installation is complete, you can use the license provided by us to activate your copy.
Malwarebytes Premium Performance
Malwarebytes is considered as one of the most lightweight antimalware tools in the market as of now and has its name right up there with big names such as Avast, Avg, Avira, and more. It has a 10% negative impact on system performance, and in this regard, it is only second to AVG Antivirus. It takes up 200MB of space on your hard drive.
During a scan, it can consume up to 75-100% of the CPU. However, there is no decrease in the speed and efficiency of the OS.
 Conclusion: Using Malwarebytes Premium
Malwarebytes is an exceptional antimalware tool to have. However, you should not substitute for an antivirus if you are looking for all-around protection. You can try out the trial version and check if it contains all the features that your antivirus was missing.
Are you facing any issues with the Malwarebytes Premium coupon codes? Please let us know, and we will update the same accordingly. Alternatively, you can also check our Zemana Coupon and IObit Malware Fighter coupon sections in case you are looking for an alternative.