0% OFF
Movavi Picverse
$69.95
The Movavi Picverse Photo Editor helps you retouch, edit and reshape your photos in a newer improved and much more engaging way. It is easy to use and works over a wide range of photos.
Select Windows or Mac version from the selection box below. You will activate the latest version of Movavi Picverse.
Global Lifetime License | Download Only | 60 Days Refund
Customer reviews of Movavi Picverse
Description
This article will discuss one of the hottest photo-editing apps – Movavi Picverse Photo Editor. Also, we will review it and tell you why we think you should consider it seriously as your next photo editor. Besides, visit our Movavi Picverse coupon codes section for the best discounts & offers.
Everyone from an aspiring social media influencer to an award-winning wildlife photographer needs a photo-editing app. You can say that most of us, at some point or the other, have used photo editing tools and apps, whether they are on our phones, through social media filters, or on our laptops.
While some photo editing apps can be too simplistic and trivial, others can be too advanced or complicated. Likewise, while some apps may be free, others can demand a subscription premium. All these reasons contribute to alienating a broad cross-section of the population from using photo-editing apps.
Movavi Picverse Photo Editor: Overview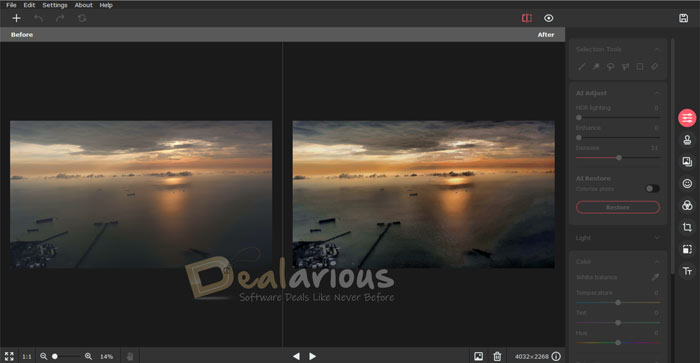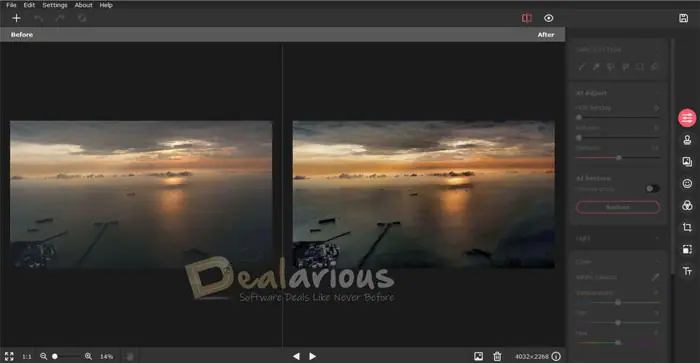 Movavi Picverse Photo Editor is a powerful editing platform that helps users perform a wide range of functionalities on their photos. Picverse is an updated version of Photo Editor that uses artificial intelligence technology to edit images. It includes all the features from the editor. Movavi Picverse takes things to an entirely different level altogether.
Movavi Picverse is a part of Movavi Co. A; a software product company set up in 2004 by Sergei Pavlishin. Sergei is also the CEO of the company. Furthermore, Movavi creates some spectacular and award-winning apps related to visuals. Their Video Editing Apps have won numerous awards at different junctures. 
Movavi Co now operates out of three offices in three countries and counts more than 400 people among its workforce.
Features of Movavi Photo Editor
It would be worthwhile to go over some key features that make the Movavi Picverse Photo Editor one of the best in the market.
Removing Unwanted Objects from your photos
Are there too many people in your perfect Eiffel Tower or Venice's waterways? Likewise, for social media influencers shooting on busy streets or markets, the lure to remove certain unwanted elements from the shot can be a desirable proposition.
With Movavi Picverse Smart Eraser, you can easily remove objects, people, elements, and things that are not liking. The best part about it is that once you delete an original item from your shot, the other features of the editing software are there to make it as natural as possible.
Restoring old and scrubby photos of yesteryears
Have you ever seen that old family photo with four generations together in the same frame? We all know how nostalgic such images can be. We all want to share these old, faded, nearly torn images on our social media channels.
With Movavi Picverse AI Restore feature, you can reconstruct old images that have experienced the burden of wear and tear for many decades. You can restore old photos, remove creases, and even convert black and white photos to colored ones. It will help you keep and share your memories with everyone.
Retouching portraits with 17 different types of tools
Some amazing filters on social media platforms blow us all away. However, Movavi makes all of them look trivial and stupid. With 17 amazing touch-up tools, you can do everything:
Applying makeup

Changing the shape of your body

Enlarging your eyes

Highlighting body features like eyebrows and lips
The best part about the entire retouching process is that it is effortless for everyone to use. You do not have to be an expert to understand the software's settings. The UI of Movavi Photo Editor is probably its most excellent strong suit.
The User Interface
I have already pointed out that what makes Movavi stand out is its very engaging and easy User Interface and User Experience. As you open the software, you will see that the tools and features are on the right-hand side.
Adjust

Retouching

Smart Eraser 

Crop & Rotate

Change Background

Add Text

Remove Noise

Image Restoration

Special Effects

Resizing
When you click on a particular function, you will see the same expansion on the screen's right-hand side. Also, most features come with pop-up tutorials to help you understand how you should use them.
You have your magnifying range at the bottom of your screen, the other pictures in your selection key, the discard or trash button, and the hand controls. You also get the aspect ratio, along with the full-screen option.
Your image sits right in the middle, giving you access to all the tools and filters in a convenient position. The layout is easy to grasp, encouraging to operate, and highly functional. One of the coolest features of Movavi is that you can increase the resolution or compress the file without losing any quality!
Key Features of Movavi Picverse Photo Editor
What makes Picverse unique is its artificial intelligence-based technology.
AI Adjust
The AI Adjust tab allows you to automatically adjust the photo's brightness, contrast, color, shadows, etc. HDR Lighting, Enhance, and Denoise sliders help you to make these adjustments to your images.
AI Restore
When trying to restore old photos, you do not want them to look gimmicky or artificial. The AI Photo Restoration Tool makes the restoration process quicker and significantly improves the restored image quality. The improvement is so marked; you are going to feel it.
Movavi Picverse Coupon Codes & Pricing Plans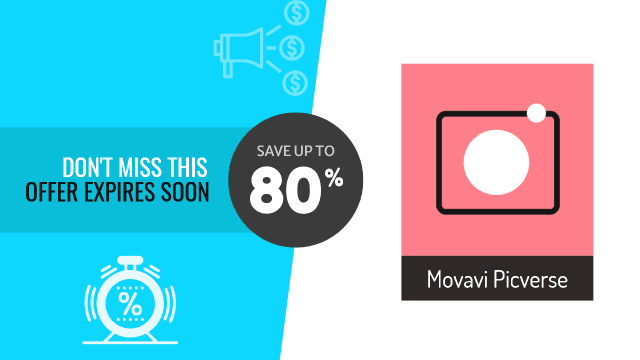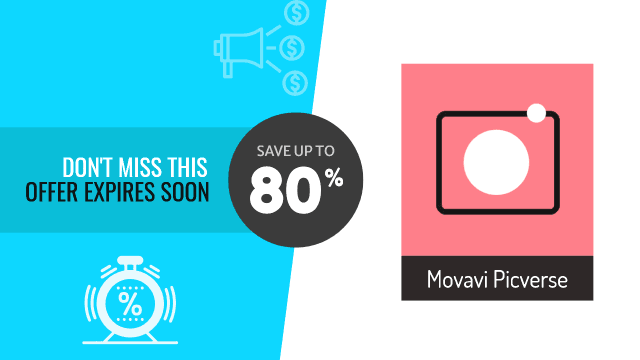 This section will examine Movavi Picverse Photo Editor Pricing Plans and available coupons. Officially, the lifetime license is available at 59.95 USD. Besides, at Dealarious, we always have discounts on Movavi products. We always offer exciting price discounts with the latest Movavi Picverse coupon codes.
However, a time-bound offer usually changes in a few days. Hence, if you see a great offer on the Movavi Picsverse Photo Editor, grab it as soon as possible. Also, you can check our Movavi Video Editor Plus and Movavi Video Suite coupon codes.
What makes the Photo Editor a Stellar editing software?
The more we explore Movavi's excellent photo editing software, the more we understand its strong reputation. For our readers' convenience, we have narrowed down some of the significant points that make the software the best on the market.
Encourages Learning and Ease of Use
Most people who want to use a photo editing app start as amateurs. Movavi's ease of use is so encouraging that no matter how much of a novice, it will be a breeze for you. The interface encourages you to play with the settings, features, and options at your fingertips. Hence, within a few weeks, you will master the entire software.
Affordable and Life-Long Pricing
 If you look at some of Movavi's major competitors, you will notice that they follow a subscription model. Your software usage is limited to six months or a year at best. With Movavi, what your purchase helps you last a lifetime. Hence, you are purchasing software forever, with all the support that comes with it.
A wide variety of Features and Functionalities
From retouching tools to photo restoration and removing unwanted elements to the best filters, Movavi helps you with the industry benchmark in photo editing. At no point will you experience that there is anything that is lacking in the software. Also, the vast plethora of functionalities and features are sure to satisfy even the hardest critic.
Frequent Updates for the product
You can get nearly three updates with improvements every single month. Not to mention, bug fixing is a regular occurrence. Many users have pointed out that they experience a new feature every time they use the software.
24×7 Tech Support
You always have the fantastic and expert tech support of Movavi to bail you out even if you encounter issues or problems. They work in several languages, including German, French, and Chinese. Also, they encourage you to take the tutorial before proceeding with the software. Moreover, Movavi maintains a vibrant resource section to help people every step of the way.
The Final Word
Movavi Picverse Photo Editor is a sum of simple parts which pack in a powerful punch. Hence, it combines features and versatilities, bringing a unique and excellent product. If you are looking to edit portraits, you will never need another editing app other than Movavi. The one-time price and the regular updates make it an attractive proposition.