0% OFF
Movavi Screen Recorder 2023
$57.95
Movavi Screen Recorder is a simple tool that allows you to record your desktop screen, Skype calls, online streaming videos and many more. Quick recording with Keystrokes, Mouse pointer, System & Mic-audio combined with any format output file selection makes it a very handy tool.
Lifetime Subscription for 1 Windows PC / 1 Mac, latest version.
Global Licenses | Download Only | 30 Days Refund
Customer reviews of Movavi Screen Recorder 2023
Description
Movavi Screen recorder is a small application that helps you make your screen recordings perfect. It just takes a few clicks, and that's all. There is no need for advanced knowledge to make screen recordings. Hence all you need to do is, focus on your work.
If you are making a video illustration for your projects or organization, Movavi Screen Recorder is of great help. You can easily highlight the mouse cursor and, as an added benefit, make a visual recording of Keystrokes. Moreover, all these options are available right on the recording panel.
Movavi Screen Recorder 2023 Features
Beginner-friendly interface
Take screenshots, and record the screen, audio, and video with your webcam.
Edit, share, and schedule your recordings.
It lets you record the screen in 4K (Windows & Mac). It also supports recording on Windows 11.
The latest version includes the Scrolling screenshots feature.
Create engaging screencast by drawing on videos. Use the Pencil tool to draw or add shapes and pointers to videos.
Movavi Screen Recorder Usage Overview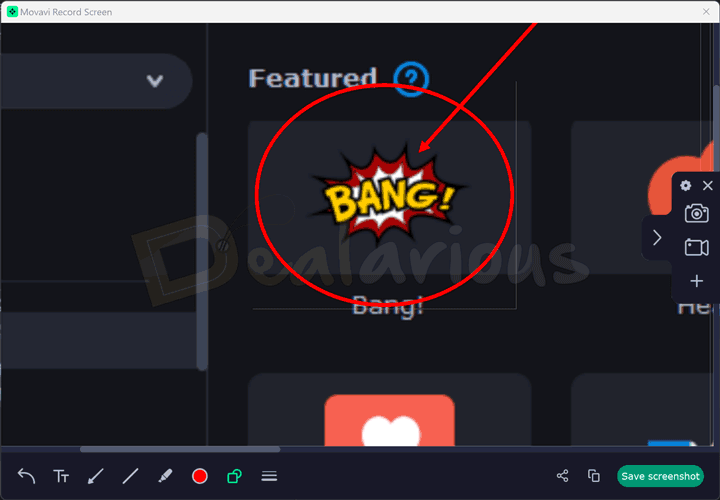 The key feature of this screen recorder is that it is extremely lightweight. Hence a benefit while using it on low-end systems. As discussed above, the simple interface will let you start immediately. All the options you need are in front of you, customizable with a single click.
Recorder Interface
The Movavi Screen Recorder has an easy-to-use interface. Once you open the application, a small widget appears on the screen's left corner. You can quickly take a screenshot or record the screen from this widget.
Apart from taking screenshots and screen recording, you can add anyone tool from these: Webcam Recording or Audio Recording to the widget for quick access.
The whole process is very simple. In a few clicks, you will be able to start recording. You can record screens at 4K resolution with 60 FPS as a plus point.
Recorder Settings
There are a lot of settings you can change to get the recording exactly as you want. Also, you should enable hardware acceleration for the final output conversion if you have Nvidia, Intel, and AMD graphics.
Where can you use Movavi Screen Recorder?

Apart from simple screen recording of your projects, you can also record your skype calls with 2-way audio, record online streaming videos, and many more. You have the option to select a screen area for the scope of recording. It is completely flexible to your needs, be it a section of your desktop screen or a full-screen recording. For audio recordings, the options are to record system audio and audio from Microphone. Also, you can record audio from both sources simultaneously.
Editing Features
In case additional features are required, like editing the captured video, there is no advanced option available in this recorder. All you can do with this application is the basic trimming of the recording. Hence use it for basic recording purposes only.
Recording Outputs
Once the recording is done, you can get the output in any format you like. Since Movavi integrates features from its converter product line, the benefits are unparalleled. Hence, you are not restricted to any media formats, eliminating media compatibility issues with playing devices. It is flexible to the extent of converting videos to MP3 formats too. Check the official website for more supported formats.
Sharing Recorded Videos & Screenshots
Movavi Screen Recorder 2023 lets you share the recorded videos to WhatsApp, Telegram, YouTube, and Google Drive. There is also a Get Link option to get a quick link to your file. Also, you can share the file via Email. You can share the screenshots on WhatsApp, Telegram, Google Drive, and by Email.
Movavi Screen Recorder compatibility
We tested Movavi Screen Recorder on a Windows 10, 64Bit Pc. The overall experience was smooth, and the tasks performed were as expected. Since it provides basic features for recording, as expected, the resource consumption is very less concerning RAM & CPU usage.
However, if you need advanced recording & Editing features, you should consider looking at Tools like Movavi Video Suite, Camtasia, etc.
Movavi Screen Recorder Coupon Codes
At Dealarious, we always have the latest and working Movavi Screen Recorder coupons. You will get the best online discount by using the purchase section above. Also, customers do not need to enter the coupon to avail of discounts. Dealarious applies coupons directly to the cart when you add the product.
Is Movavi Screen Recorder Good?
Movavi Screen Recorder is a very handy screen recording program with good features. It lets you edit your recordings and also share them online. What separates Movavi Screen Recorder from other screen recorder apps is that you can schedule your recordings. A good program worth checking out.
Movavi Screen Recorder Discount Coupon FAQs
1. Is Movavi Screen Recorder safe?
A) Yes, Movavi Screen Recorder is safe to use. It is a widely used screen recording software for Windows and Mac OS.
2. How to get discounts on Movavi Screen Recorder?
A) You will save money on a subscription by purchasing Movavi Screen Recorder from Dealarious Store.
3. How do I get Movavi Screen Recorder License Key?
A) We are here for you if you do not have a license key. When you purchase Movavi Screen Recorder from Dealarious Store, you get the Movavi Screen Capture activation key delivered to your Email shortly.
4. Is Movavi Screen Recorder a lifetime subscription?
A) On Movavi Official Website, you can buy Movavi products as Subscriptions or as Lifetime licenses. However, Dealarious offers lifetime subscriptions at an affordable price using the Movavi Screen Recorder Discount Coupon.
5. Can I get a refund on Movavi Screen Recorder?
A) Yes. It is a 30-Day Money-Back Guarantee. You can claim your refund from Dealarious Store if you face any technical issues.