0% OFF
Movavi Video Editor 2023
$74.95
Movavi Video Editor 2023 is a comprehensive solution that lets you create, edit, and enhance your dream video content. It does not matter the type of output you need in the end, the tool will help you manage both audio and video sectors.
It brings ways to boost the quality of video content, such as sharpness customization and stabilization. In short, it has everything you need for video editing. Check System Requirements: Windows | Mac.
Region: Global | Download Only | 30 Days Money Back
Customer reviews of Movavi Video Editor 2023
Description
Movavi Video Editor 2023 consists of every option you need for the perfect video content. It is suitable for amateur and professional video editing projects. Let that be a simple video slideshow or a full-fledged short film project. In Movavi Video Editor 2023, we find different areas for managing various aspects of the movie. You can now get the best price using our Movavi Video Editor coupon for Windows & Mac.
For instance, you get different sections for controlling the audio and video quality. Overall, customization and ease of use are important factors. We compared it with the Camtasia video editor. Though they are at distinct professional levels, with Movavi, we got close results. That speaks about how good the Movavi Editor is. You can also visit the official Product page at Movavi.
Movavi Video Editor Features
Frame-by-frame preview of the video on Timeline

Slideshow Wizard: Create slideshows in three easy steps, then automatically sync slide duration with the music

Reverse video and audio: Make the action in your video go backward

140 types of Callouts: Arrows, speech bubbles, and other symbols are great for educational videos and presentations

100+ Transition presets: Parallax, Diffuse, Flash, Puzzle, and more

172 Filter presets: Tube TV Retro effects, Distortion, Bokeh Blur, Light Leaks, Lens Flare, and more

15 Overlay effects

10 LUT presets. You can add your own LUT too.

48 Titles presets: Video Series, Trendy Circle, Studio, Quote, and more

19 background images

Synchronization of Audio files

24 audio samples: Applause, Laughter, Gunshot, and more

44 audio tracks for different moods

Audio editing tools: Synchronization, Equalizer, Audio Effects, Noise Removal, Beat Detection

Audio filters: Robot, Radio, Echo, etc

Automatic audio beat detection

Mute entire audio tracks or individual clips

Fix vertical videos shot with your smartphone – remove black bars in one click

Improved Chroma Key and Stabilization tools

Rotate video and images to any angle and crop them at the same time

Control video bitrate, aspect ratio, and codecs

Export video in 4K – support for 3840×2160 and 4096×2160 resolutions

Modified multimedia engine

4K Video support: Please note that to edit 4K videos, you will need a powerful PC &

graphics card

with dedicated memory.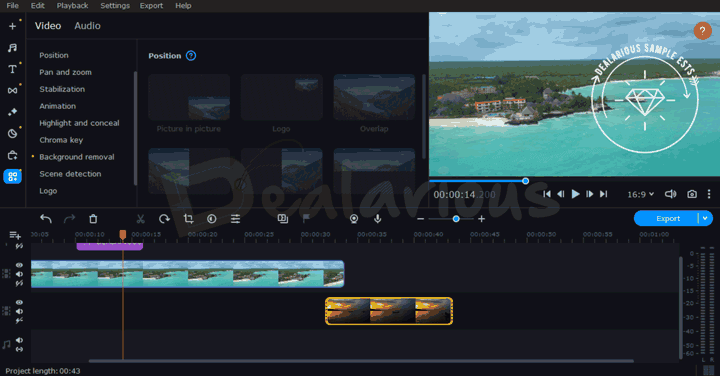 New Features
Project files for quick access to media files

New Video and Audio editing tools: AI Background Removal and AI Noise Removal

Addition of new Frames: Confetti, Grid, Lines, Screen & Squares

Upload videos to Tiktok

Exclusive effects pack for Youtube
You can view the complete official changelog Here.
Input Options
When it comes to input files, it gives you enough freedom! There are five ways in which you can enter content. You can directly transfer the footage from your video camera or choose the files you have stored on your PC. Likewise, it is possible to record webcam footage and digitize the content from VHS tape or TV tuners. If you want to create a simple slideshow or something, you can add the photographs from your device. Regardless of the way you choose, the Editor supports a vast number of media file formats. For instance, AVI, MOV, MP4, WMV, etc.
Movavi Video Editor 2023: Editing Options
In the Editing part, different sets of actions are available. You have basic operations such as slicing, rotating, and cropping to get a video to the desired length. You can then use the Editor's stunning Transitions to unite these fragments. There are a lot of Transitions available. Also, different video effects are possible, including Filters, Overlays effects, and LUTs. You can use these to enhance the creative part of the video output. In short, have the most excellent video content in the shortest time possible.
The Video Editor Interface
Movavi Video Editor 2023 offers some cool features. The interface resembles standard editing apps, making it easy to grasp quickly.
Bottom Panel
It has a dedicated sector to add audio, video, transitions, effects, etc. This section is called your editing workspace and occupies the whole bottom part. You can always zoom in and out while working on your tracks.
Left Panel
The left panel has all the options for adding background, effects, text, stickers, animation, video stabilization, etc. The right panel is your preview window. All the editing you perform on the tracks shows up live in the preview window.
Right Panel
The right panel shows the live preview of edited tracks. You can detach this panel from the editor screen. Separating the preview window helps in case you have multiple monitors.
Video Editor Premium 2022 vs. 2023 Edition
There are a few significant additions between the previous Video Editor Premium and the latest Video Editor 2023 edition.
Movavi introduced AI support for background and noise removal in the new version. Apart from that, you can now directly upload videos to TikTok from the Editor once you are finished editing. Also, you get five new Youtube frames included with the 2023 version.
Movavi Video Editor Coupon codes
At Dealarious, we always have the latest Movavi Video Editor coupon codes. You can use the purchase section above and get the best online discount. There is no need to enter the coupon separately. Dealarious applies coupons directly to your cart. Hence, you only have to add the product to your Cart and Checkout.
Movavi Video Editor Discount Coupon FAQs
1. What is the latest version of Movavi Video Editor?
A) The latest version of Movavi Video Editor is 23, i.e., Movavi Video Editor 2023.
2. How do I get the best discounts on Movavi Video Editor?
A) You will receive special discounts on the lifetime subscription by purchasing Movavi Video Editor from the Dealarious Store. Hence, you get the best value for your hard-earned money.
3. Is Movavi Video Editor a lifetime subscription?
A) You can purchase Movavi Video Editor as a Subscription or as a Lifetime license from the Official Movavi Website. However, at Dealarious, you get lifetime subscriptions at an affordable price using the Movavi Video Editor Coupon.
4. How to get Activation Key for Movavi Video Editor?
A) When you purchase the Video Editor pack from Dealarious Store, you get the Movavi Video Editor activation key delivered to your email shortly.
5. How do I activate Movavi Video Editor?
A) Launch Movavi Video Editor and click on the Activate button. Enter the Movavi Video Editor license keys that you have purchased from Dealarious. The product is activated as soon as you enter a valid activation code.
6. Can I get a refund?
A) Yes. We offer a refund within 60 days of the purchase date. You can claim your refund from Dealarious Store if you face any technical issues.
7. Do I get Customer Service on the purchase?
A) You can contact Dealarious for 24×7 customer support or Movavi at their official support page.
Conclusion
Despite all these features, the User Interface of Movavi Video Editor is way too simple. Regardless of the experience you have in editing; you can start creating breathtaking video output. The video editor offers the best performance due to its multimedia engine and Intel HD Graphics Technology. It is entirely compatible with Windows 11, our test machine.