0% OFF
NordVPN Premium
$430.20
NordVPN is one of the most trusted VPN's in the industry. It serves from the primary home user to the advanced privacy concerned user.
Some of the unique features of NordVPN are:
5100+ servers in 62 locations
Strict No-Logs Policy
Torrent Support
Unblocks Hulu, Netflix, BBC iPlayer, etc.
Supports Double VPN & Onion Over VPN
High-Speed downloads
Works in China
To know more read our latest NordVPN review with speed tests.
Official Purchase |Download Only | 30 Days Refund Policy
Customer reviews of NordVPN Premium
Description
When it comes to VPNs (or Virtual Private Networks), one of the best VPN service you can find in the market is NordVPN. It is a sure way to ensure the privacy of your online activities. NordVPN is a Panama-registered company that provides VPN products and services to more than a million customers. One reason for the company's popularity is its amazing features. You can get all these features at the best price using our NordVPN coupon codes.
With over 5,544 servers in 60 countries, NordVPN is also available on Mac, Windows, Android, iOS, Linux, and other operating software. It also supports six simultaneous connections. Hence, you can use all the six devices at the same time.
NordVPN Feature Overview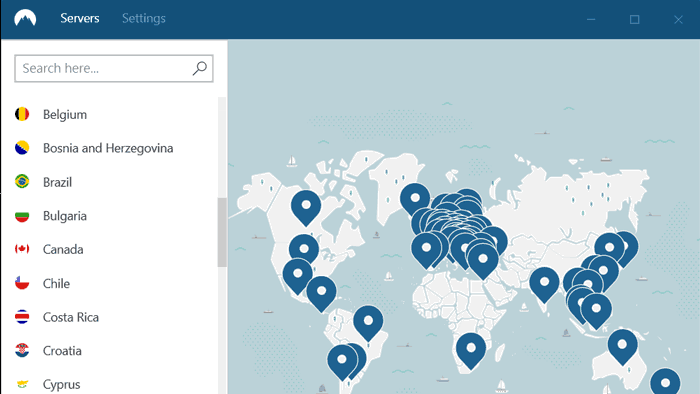 NordVPN has all the technical features you'd expect from a VPN service. These features include:
OpenVPN support for high performance and secure encryption.
DNS leak protection and a kill switch to help protect your identity.
Additional features include Onion support and double data encryption for extra security.
It also has P2P support which is an excellent bonus for a lot of users.
Nord VPN has Zero log policy. Hence, your internet activities aren't visible to anyone.
Kill switch protects privacy leaks by disconnecting the internet as soon as you switch off the VPN.
Double VPN is a rock-solid feature and helps especially when you have a hight privacy concern.
NordVPN is also one of the most intuitive and most straightforward VPNs in the market. It is easy to install, takes very little time to get set up, and is a stable, speedy, and reliable VPN. NordVPN is available on most platforms, so whether you prefer a MAC, PC, tablet, or phone, you should be able to make use of NordVPN.
NordVPN Setup & Connection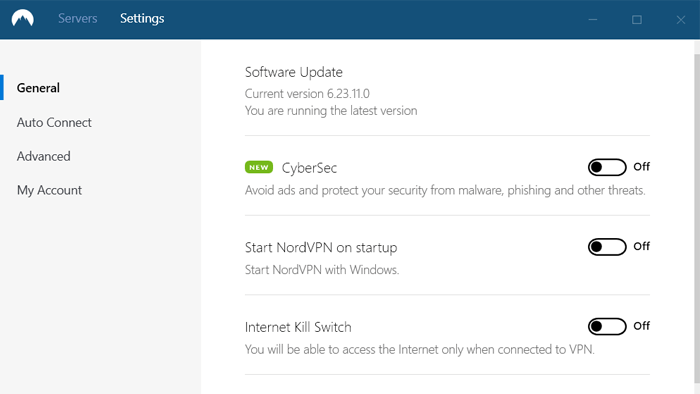 You will need to download the relevant app from the website. Also, to get the full potential, you need a subscription plan. Once you've downloaded and installed the app, all you need to do is flip the switch at the bottom corner. The quick-connect option automatically finds and tells you the most efficient server.
If you want to connect to a specific region, you have to select if from the server list available on the left panel. The server list also allows you to see the server load. Hence, in turn, it tells you how many people are using a particular server. The server usage gives you an idea of the reliability and speed of the connection. The closer to 100 percent the load gets, the less reliable you speed will be. You can add particular servers to your favorites using the heart icon.
You can also select the location by choosing on the integrated map. The map is zoomable with a list of all the available countries. You can choose any country you like depending on your need.
NordVPN Extra Privacy Protection
The different servers are best suited to various activities. For example, if you got NordVPN for its security or anonymity features, then you can use a different server. You have the option to use P2P (peer-to-peer), Onion Over VPN, Double VPN. These servers provide extra protection as they route data through several hops. Hence, here, your privacy protection is maximum at the cost of overall speed. It is also compatible with most popular antiviruses like Kaspersky, Bitdefender Total Security, Nortan, etc. Hence there is no compromise with security.
Why buy NordVPN?
In our tests, it has performed above average. It offers a wide range of features available at a reasonable price. However, the cost depends on your subscription. NordVPN remains one of the few VPN providers to stay undetected by BBC iPlayer and Netflix, which is why it is an excellent option for those who want to enjoy the region-shifted streaming content.
TelFinCom is a Panama-based company. At the time of testing, they have over 5000 active servers in 62 locations. Hence, they are covering most of your favorite server destinations for sure. They also have servers in lesser-known locations like Vietnam, Egypt, Russia, Taiwan, and New Zealand.
NordVPN is also active in strict countries such as Russia by completely configuring the servers it rents from local ISPs itself. Additionally, it has a strict zero log policy, thanks to the lack of data retention legislation in Panama.
Because there are so many features, using this VPN service can sometimes be intimidating. NordVPN's support is always available to lend a hand and point you in the right direction. So whenever you're stuck or are unsure of how to use a particular feature, don't hesitate to contact their support. Also, do not forget that NordVPN always gives good discounts. Hence, do check the NordVPN coupon discounts section below.
NordVPN Coupon Codes & Pricing
NordVPN is very affordable. Compared to market standards, the prices are very competitive, given the long list of features. They also provide a 30-day refund policy, which is very generous and as per the competition. They also have a trial that you can use to make the purchase decision.
NordVPN has one month, 1-year, 2-years & 3-years plans. You can always get the subscriptions cheaper at Dealarious using our NordVPN coupon codes.
NordVPN Speed Performance
We took speed tests with UK & US servers. The US servers, in general, gave us slow speeds up to 13 Mbps. Uk Servers delivered better download speeds rates and went up to 20 Mbps. These speeds are sufficient for streaming 1080 Full HD. However, you can get lags while playing 2K and 4K content.
Final Verdict
While NordVPN isn't the cheapest VPN in the market, it isn't the most expensive and more importantly, you'll get your money worth. NordVPN is an appealing VPN, which is fast and user-friendly. For those who like the options that virtual private networks provide, NordVPN is a powerful option that you'll enjoy. It offers an extensive server range with all-purpose optimizations. It also has top-notch privacy and security; a boasts a 100 percent no-log policy.