0% OFF
True Launch Bar
$19.90
True Launch Bar is a perfect replacement for the default Windows Quick Launch Bar. Increase your productivity by ten folds.
This tool is great for helping you find the files and programs that you need. True Launch Bar Coupon Code has already been applied by us to respective License type purchase link.
You can compare the license types before purchase from the official website.
License: Global | Download Only | 30 Days Refund
Customer reviews of True Launch Bar
Description
True Launch Bar Coupon codes in this section give you a significant discount. For detailed feature analysis, please visit the official website.
True Launch Bar Features
With this tool, your files and applications are just a matter of a click. True Launch Bar is a great alternative or replacement for the standard Windows Quick Launch Bar.
It is perfect for finding the program that you are looking for from the crowd of icons on your desktop. True Launch Bar will make your day easier because it can solve many problems that are related to quick computer content navigation and access.
The Interface
This tool still has the same Windows desktop feel. However, your workspace will become more convenient and easier to use. You can make a customized menu on the taskbar for your favorite application. Drag and drop essential programs there.
With True Launch Bar, you can select menu icons to search for an application easily. If the icons are not enough, the software shows tooltips to search what you are looking for. Having separators and submenus, it is possible to group items by topic and make a custom menu you desire. If you are a fully-fledged touch typist, then the software allows you to configure hotkeys for shortcuts and menus to launch them without touching a button.
Usage Conveniences

True Launch Bar makes it easy to search for computer folders with your preferences. Hence, you can customize a menu from a folder via the program, and all you need will come to life in a matter of a click. Games, Control Panel, My Documents, and everything in between, you can create menus for your folders. For instance, you can make a menu having printers and control them from the context menu. The software shows thumbnails of your images in a menu or shows the list of recent document. Also, you can customize True Launch Bar to only on the files that you want on the menu.
Having a customized menu on the taskbar is fantastic. As a result, you can immediately access what you want without having to search through folders again and again. That is nice!
True Launch Bar Coupon Codes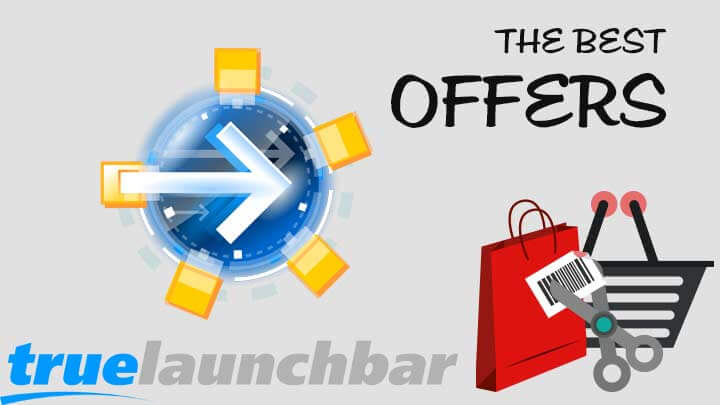 We at Dealarious always try to provide you with the absolute best coupon prices. In case the coupon codes or discount pricing do not work, please let us know.
You Can Put a Personal Touch with the Taskbar Applets
As part of customizing your desktop using the software, you can also add a personal touch using the plugins. Instead of using the default shortcuts, you can add buttons that function like small applets. Imagine you can check incoming email, view weather forecast, get updated with the latest news, manage contact list in a small address book, change system parameters, change the volume of music, and much much more! All these you can use via the applets on the taskbar. Hence, with their library of plugins, you can choose a lot of applets that gives you a massive control.
Aside from the functionality, True Launch Bar applets can give an aura in your desktop and add a personalized feeling to your workspace. You can visit their website to learn more about the software. In case, your system slows down after using the search plugin; you should clear the temporary and junk data of your system. You can automate the system cleaning & maintenance part for smooth experience over time. Please check our Advanced SystemCare Pro Coupon section.
Note that the software is available four License Types. They are the Personal, Home, Business & Corporate. You can choose the one that suits your need.