54.56% OFF
Vipre Advanced Security for Home
Slowing down the speed of computer after installing Internet security program? With Vipre Advanced Security leave this problem at bay. It provides Pro-active protection against malware, viruses, hackers and other threats provides rock solid security.
Two way learning firewall and Social watch modules protects identity theft and malicious infection. It is easy to use and is aggressive about your system's security. So with Vipre, you do not need to worry about anything.
Global License| 1 PC – 1 Year | 30 Days Refund
Customer reviews of Vipre Advanced Security for Home
Description
Vipre Advanced Security is a modern security program for Windows PC. Hence, it is built with sophistication which protects your computer without slowing it down. It keeps malware, viruses, and hackers at the door and keeps your data safe. Vipre Advanced Security coupon codes will allow you to save a good amount of money on a new purchase. Also, We update our discounts regularly, and hence you are always getting the best price.
Vipre Advanced Security 2018 Overview
Vipre has merged all its product variations like Antivirus, Internet Security and Total Security to a Single Product. Hence, the rebranded new version is now called Vipre Advanced Security. It includes all the protection modules at one place. So, you do not have to think about which version to choose.
Protection modules in Vipre Advanced Security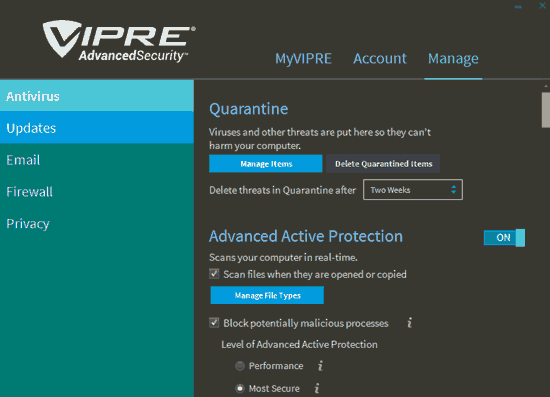 1) Antivirus
The Antivirus module secures PC against virus attacks. It is designed to detect and remove viruses, spyware, rootkits, bots, Trojans and all other types of malware. Using the multi-detection methods, it protects you against the zero-day vulnerability and other web threats in real time.
Another common issue is the infection because of plugging in USB drive. However, Vipre takes care of it automatically. It scans USB flash drives and other removable drives and files for threats automatically when connected to your PC. There are infections which are deep into system files and removal of them is close to impossible. Using the advanced anti-rootkit technology, Vipre finds and disables them.
Vipre Advanced Security also has web filtering which scans search results for you and notifies about malicious websites before accessing them.
Vipre Advanced Security gives you lot of options which you can enable or disable. This feature is beneficial in case you are a power user and do not want to waste unwanted CPU power. In comparison with other antiviruses, this is a unique feature
2) Updates
In this section, you can configure how Vipre will update itself. In addition to update frequency, tweaking these options will help you to control battery saving aspects on portable devices. Update options include cloud updates, vulnerability scan and update to the core application.
3) Email
This module scans and protects your system from infection from Email content. Specifically, if you are using a desktop email client. This section is very elaborate and includes Email app configuration, Anti-Phishing, and email event tracking. Most of the features in this section are turned off by default. Hence, if you are using a desktop email client, make sure to turn these settings on.
4) Firewall
Active Firewall protects against incoming and outgoing Internet traffic quickly. Also, it has easily customizable settings for advanced users. Vipre Advanced Security implements extended network options which can be configured individually. In comparison to other antiviruses like Bitdefender Total Security, these features are pretty standard.
5) Privacy
Along with virus protection, Vipre Advanced Security offers some additional modules like Secure File eraser and History Cleaner. Hence facilitating the cleaning of files and internet browsing cache beyond the scope of recovery. There is a provision using which you can auto deny access to malicious websites. These websites contain computer internet security threats to prevent you from inadvertently browsing to them and compromising your PC.
Also, Vipre Advanced Security offers to scan your Facebook timeline for bad links and malicious apps. In addition, you have the option to set scan frequency.
Vipre Advanced Security Interface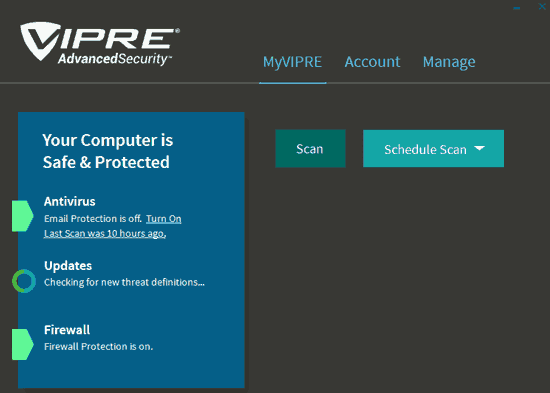 Unlike its competitors Vipre has a minimal and clean interface. There are only two options on the homescreen. Either you can schedule a scan or perform it directly. Scan optionss include, Quick, Custom and Full scan. Vipre also has some changable background colors for its interface. Hence, you have the option to change the theme as per your taste.
Conclusion:
Vipre Advanced Security provides a complete package for your System's Security. The features like double layered scanning for infected areas, Facebook wall protection, and battery savings option play a vital role in performance improvement. It is easy to install and simple to understand. If configured correctly, it will keep your PC safe from all sort of threats, online or offline. However, keep in mind that for the first run, you have to check and turn on many settings.