Sale!-35
Wise Care 365 Pro
$39.99
Out of stock
Keep your Windows PC running smoothly. Wise Care 365 automates PC maintenance tasks like junk registry, privacy, file cleaning and many more. Just install it and forget about it. Provides a better option of optimizing and accelerating your computer!
Customer reviews of Wise Care 365 Pro
Description
Ever felt one day that your PC is slowing down compared to the brand new condition Or a Fresh Windows installation? Well, This phenomena can be explained. Say you have a new work desk. At the beginning you have less files and stuffs on your desk and drawer and hence thing are easy to find/organize. As time passes by with increase in work load, your desk is stuffed with files and day to day usage things.
Now, depending on your capabilities to find out stuffs and manage space, you might feel the heat at some point and fail to cope up. So, the solution is, you can keep things organized on a daily basis. Again this is not a convenient solution as it requires dedicated time. Convenient would be to have someone else arrange and clean up for you regularly. An assistant may be. This logic can now be applied in the same way to how things are with your PC.
With Windows, your system generates day to day garbage, left from program installations, updates, online activities and many more activities. You can manually clean every thing using Windows default features. Doing that is not very convenient as the options are not centralized and you need precise knowledge of what you are doing. Taking wrong steps with system cleaning might leave you with a non functional Windows. So to save you from this situation, there are applications available that automate this task on a regular basis.
Wise Care 365  Overview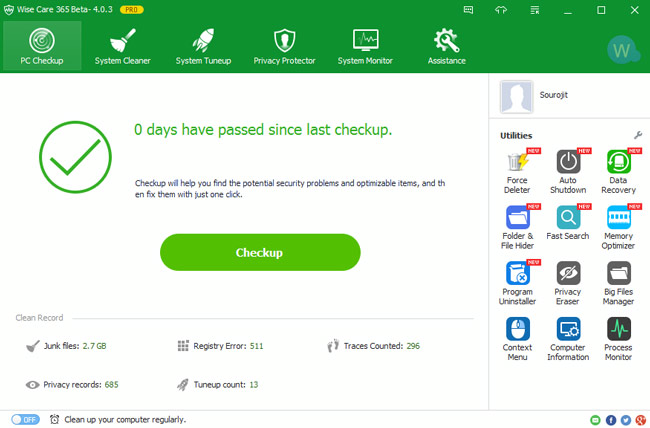 Wise Cleaner 365 is a Windows Maintenance Software pack to take complete care of your system. Below are the primary modules that Wise Cleaner 365 focuses on:
PC Checkup
System Cleaner
System Tuneup
System Monitor
Privacy Protector
System Cleaner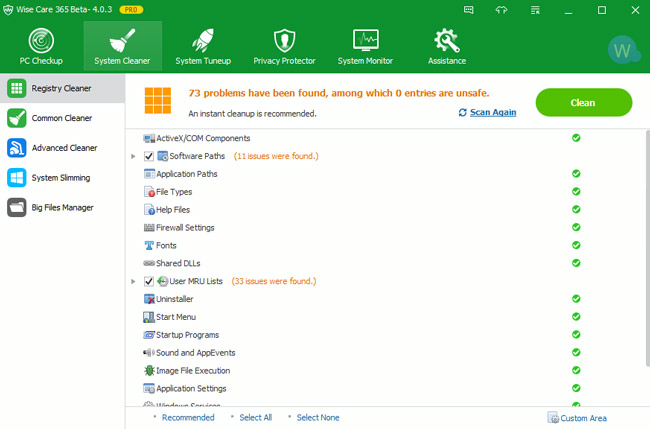 This Section consists of options to clean your system from junk registries, temporary files, finding big files on your disks and removing Windows additional features. All you have to do is select your desired functionality for scan and delete them.
As far as cleaning is concerned, no system files appear and files in delete suggestion are completely safe. Wise Care back-ups registry files. In case of any issues, they can be restored easily.
System Tuneup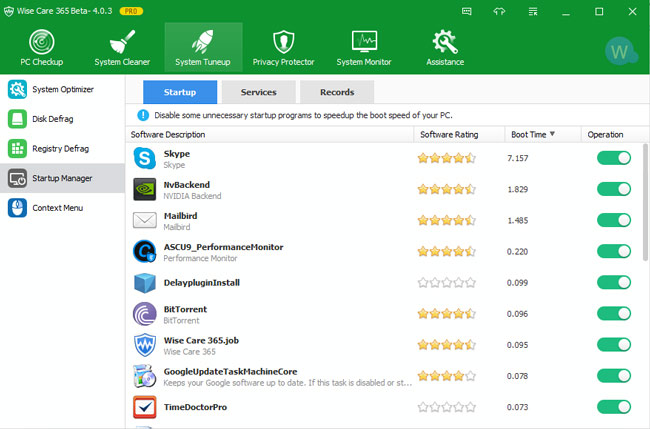 This section allows you to defragment registry files and Hard disk. Keeping system speed boosting in mind the functionality is extended to Context menu Cleaner and Startup Manager.  You can also select from a detailed list of system and network related tasks to optimize.
System Monitor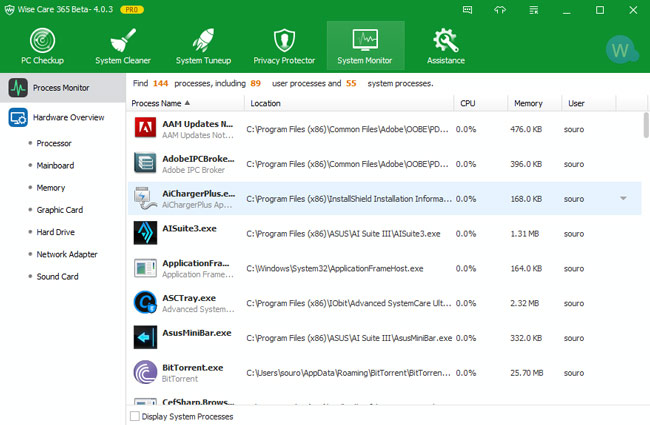 This section shows all the hardware details of the System. In addition you can also view system processes that are consuming CPU power and RAM. You can manually end unwanted processes. It is similar to one shown in Windows Task Manager just with added details.
Privacy Protector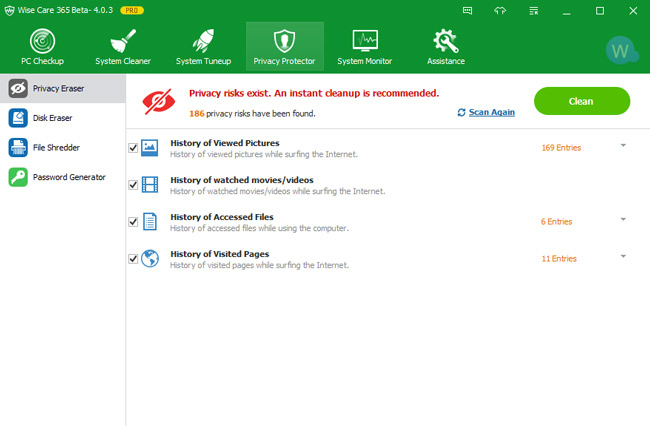 This is an extremely useful module and while testing we found that it is better than any other application's privacy protection module. You can erase history trails on your system as well as on web. Background pages accessed by applications are also detected and listed.
You can scan hard disks present on your system for recoverable deleted files. This option can be found as Disk wiping on other System Maintenance applications. To our surprise this section has a Secure Password Generator.
PC Checkup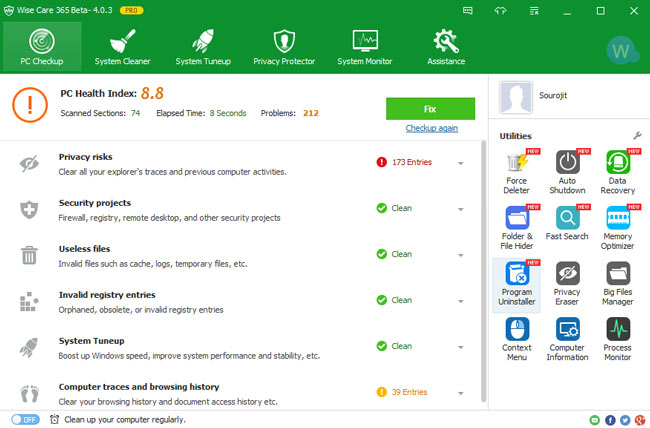 Here you get one single button to perform all the tasks listed in modules above. Once the scan is performed Wise Care 365 gives you a detailed report of all the issues found and several sections. The solution is a "Fix" button that automatically fixes all the errors. Usually you don't have to use this option. The auto care feature takes care of every issue. So PC Checkup helps you to manually perform cleanup tasks if you choose not to enable auto care.
Wise Care 365 verdict
Wise Cleaner 365 can be trusted as a Windows Maintenance software. It has all the features required to be a complete and dependable application. We tested Wise Cleaner on a Windows 10 64 Bit machine and it was 100% compatible. Speed of operation in Wise Care is commendable. In our test we found Wise Care 365 to be faster than Advanced System Care in performing cleanup jobs. Also the detection of junk files are faster and Wise Care seems to aggressively delete them as they are created.
In overall Wise Care 365 works as it is supposed to. No hidden surprises or additional applications with it. However always be careful when operating any System Maintenance software and make sure to use only the trusted ones by majority.
35 People Viewing this Deal