0% OFF
Wondershare TunesGo
$59.95
TunesGo from Wondershare is one of the best companions you can have for your official iTunes client, which you've on your PC or Mac. When official iTunes is too limited to let you manage your library in a productive manner, you can get Wondershare TunesGo.
You can manage, modify the iTunes library, transfer music tracks to iOS & Android and more.
1 Device – Lifetime | Global License | 30 Days Refund
Customer reviews of Wondershare TunesGo
Description
Wondershare TunesGo is a multipurpose, feature-rich and quite-helpful utility software. It helps you to organize, clean and easily transfer iTunes library. Regardless whether you want to transfer your favorite tracks to an Android Smartphone or to get the favorite music on the list, TunesGo has several options ready for you.
Key Features of Wondershare TunesGo:
Music Transfer from and to iTunes.
Backup Phone Photo's to PC.
Organize and backup Music collection on PC. You can also create ringtones directly from your favorite songs.
You can add or export videos on phone and also create GIF's from existing videos.
Access and Manage Phone contacts from your System.
Read text messages from your system with the ability to delete and backup them. In addition, you can also send new messages.
Manage Apps from your Device.
File Explorer.
Full Device Backup and Restore.
Take screenshot of active screen.
For more details on features you can check TunesGo Official product page.
Wondershare TunesGo Media Transfer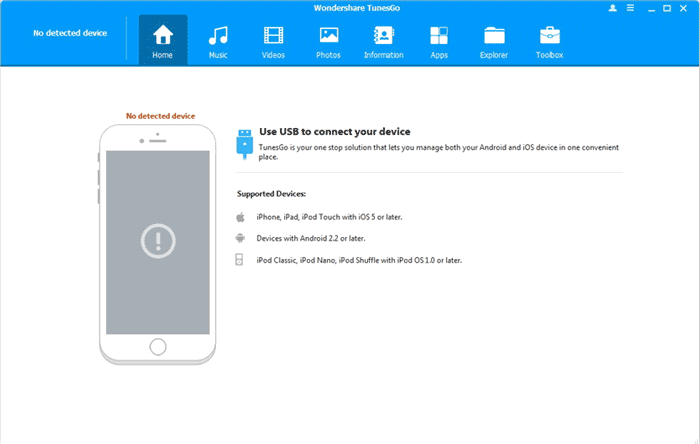 One of the main features of Wondershare TunesGo is the option for transferring your iTunes library into devices that run on different platforms. It isn't possible with official iTunes client. Not only your music tracks, but other contents such as podcasts, movies, playlists etc. can be transferred. You can do the transfer in-between Android, PC and your iOS-based devices such as iPhone, iPod and iPad. This saves you a lot of time and worries.
TunesGo does not have the option to convert video files at the time of transfer. However, if you wish to convert video files you should consider Wondershare Video Converter Ultimate, a great video conversion tool.
Bonus Points:
TunesGo allows you to simultaneously transfer data between devices. In our tests we connected three smart phones. iPhone 7x Plus, Samsung Galaxy s7 Edge and a Oneplus 5T. We found that all the devices were available for media transfer at the same time. We were able to transfer music files and videos from any device to any device without any issues.
Wondershare TunesGo Library Management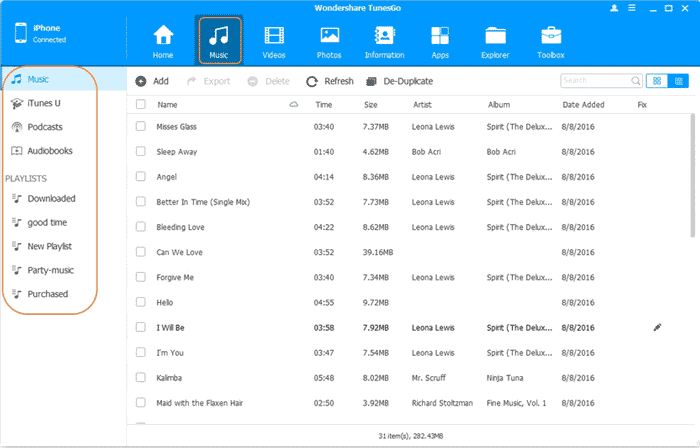 The next sector of Wondershare TunesGo deals with organizing your iTunes library. For instance, your library or playlists may have songs with no cover art or sufficient tags. Instead of manually editing them all, you can give the job to TunesGo. With it's help, you can repair the incomplete tracks, and thus have a perfect collection of music. It is a matter of single click.
Wondershare TunesGo lets you discover and Download the tracks of your choice. There are three methods available for getting the music tracks. First, you can use the Discover feature, where you will find a ready-made collection of superb content. Second, you can use YouTube as your content source and download the music files instantly. Final option, if there is not a download option, you can record the playing file via internal audio recording feature.
Wondershare TunesGo Backup & Restore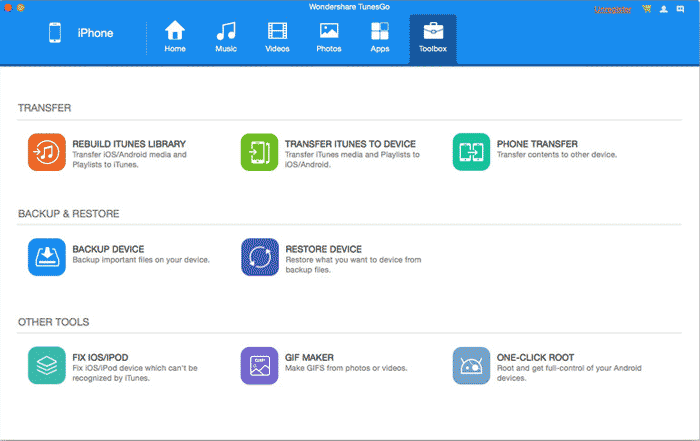 You can backup your iTunes library so that it stays safe from the accidental deletion. You can back up the entire collection of content — including movies, music, playlists, TV Shows etc. — to a safe place. This too is an awesome feature. Moreover you can access this collection anytime from your Laptop.
With TunesGo you can also backup complete Device to your local storage. You can restore this backup can be later in case you chose to reset your device.
TunesGo Mobile App Management
TunesGo can list all apps installed on your Android and iOS devices. From your Desktop or Mac you can install or remove any application you want. This option proves to be helpful in app management and local backup for apps if you require it.
Wondershare TunesGo Coupon Codes
TunesGo is a great application and worth every penny spent. However, there is no reason as to why you shouldn't grab the opportunity to save a great deal on it. At Dealarious, we are offering Wondershare TunesGo Coupon codes to give you the best discount possible. We integrate the TunesGo coupon codes with the official Purchase link. Hence, you will get the discount directly in your Cart.
Our Wondershare TunesGo Coupon codes apply on both Windows & Mac Versions. The products covered under the coupons are:
Suite (iOS & Android)
Only iOS devices
Only Android Devices.
You can choose the variation according to your needs. In addition. all the above coupon are for lifetime licenses.
Wondershare TunesGo Bottomline
Wondershare TunesGo is a good-enough and must-have companion for people using iTunes frequently. Content organization and transfer is super simple. Moreover, it works fine with iTunes official client interface, which is a prominent factor. Especially for iOS users with Windows PC, Wondershare TunesGo makes transfers very easy.