0% OFF
Zemana AntiLogger Pro
$29.99
Zemana AntiLogger protects your PC and Data from almost all kinds of Online Identity Theft and Financial Deception. It is packed with many features such as Secure SSL, Ransomware Protection, Browser Cleanup, Protection from Keystroke Logging, Sandboxing, and Real Time Protection. It lets you stay confident about privacy and security while transacting online.
This Antilogger is compatible with almost all Popular Antivirus Applications. However, please check System requirements & Compatibility before purchase. If you are new to Zemana Antilogger, signup for the FREE Trial to know your system Compatibility. Global License | Download Only | 30 Days Refund
Customer reviews of Zemana AntiLogger Pro
Description
Online Identity Theft and Financial Frauds are very common today. Many people are losing their data and money due to such fraud schemes. Zemana AntiLogger Pro is a comprehensive solution for protecting your PC from Keyloggers. The suite monitors your computer applications. So it can recognize any malicious tracking software. Also, It's available for PCs running Windows XP SP2 and later, and has minimal system requirements. View complete Feature list on Zemana Official Website.
Key Features of Zemana AntiLogger Pro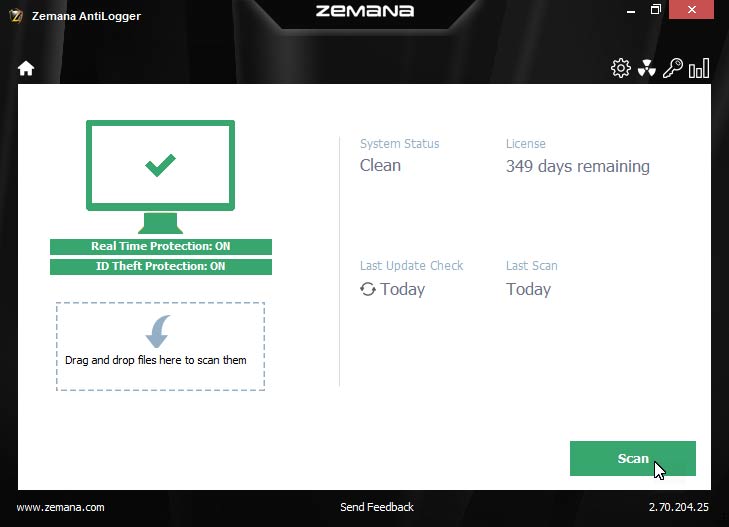 Secure SSL: This check makes sure that financial information is safe. It's essential for the protection of Credit Card, SSN, and other login data safety.
Ransomware Protection: It is effective in the AntiLogger. Zemana has the known best protection engine in the market. Therefore, no threats go unnoticed.
Keystroke Logging Protection: It makes sure that no one is recording your keystrokes. However, Zemana AntiLogger can not only identify but also remove keyloggers instantly.
Browser Cleanup: This cleanup utility removes harmful add-ons and apps from modern browsers like Chrome, Firefox or Safari.
Pandora Sandbox: Zemana makes use of cloud-based Pandora Technology. Hence, it isolates and removes zero-day malware.
Real Time Protection: Analyse your Windows PC every single second. Hence, eliminating possible infections and threats.
Cloud Scanning: This feature is useful for active scanning of all your files. Also, it makes scans faster on your PC.
24*7 Technical Support
Using Zemana AntiLogger Pro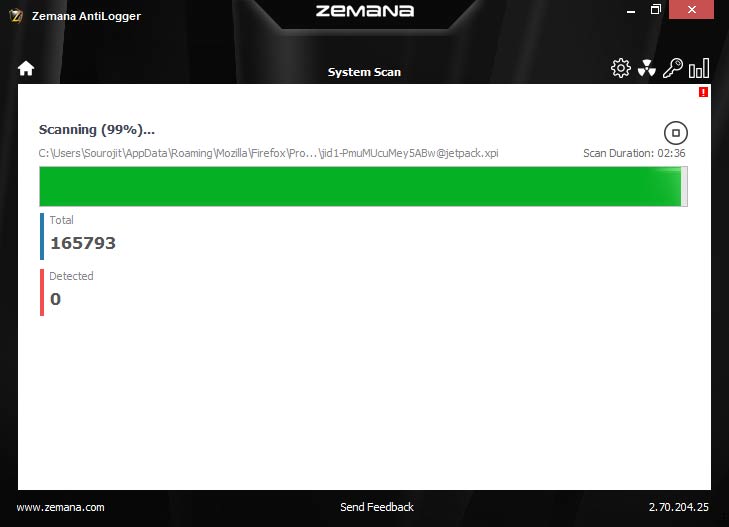 Like the Zemana AntiMalware, the AntiLogger also has a simple User Interface. The main dashboard has provisions for Scanning and other actions. Navigation isn't a problem either. You can even drag and drop a particular file. Doing so will make Zemana AntiLogger scan it. In short, the usability aspect of this privacy protection suite is up to the mark.
Security features of Zemana AntiLogger are complete. Hence, not leaving any loopholes. There is no trouble in using Ransomware Protection or the Browser Cleanup. The best thing is that we don't have to worry about the protection aspect. Zemana AntiLogger is running all the background tasks. These include Secure SSL and Real Time Protection. Due to this active watch, we are safe from digital threats. Even the optional features like Pandora Sandbox and Cloud Scanning are useful to prevent latest Malware.
Zemana AntiLogger works along with almost all other antivirus programs. This list includes Bitdefender, Kaspersky Norton, Avira, etc. However, Please test you antivirus program compatibility by installing Trial Version of Zemana Antilogger.
Conclusion
Considering all these, Zemana AntiLogger is a must-have solution for protecting you from online identity theft and financial deceptions. In comparison with other Anti-Malware apps using this tool is the simplest. Also, it uses Cloud-based technologies for advanced scanning and monitoring. For those who spend a lot of time online, Zemana AntiLogger can provide the extra layer of privacy and safety.
The most noteworthy point is that it supports any Windows version from XP onwards. Hence, no matter on which OS you are on protection is with you.