83.78% OFF
Advanced SystemCare Ultimate 13
$69.99
Advanced SystemCare Ultimate 13 is an all-in-one security software and PC Maintenance software. This program integrates antivirus protection powered by Bitdefender. Top rated by CNET. It automates Windows System maintenance and keeps it running at peak performance.
Now you never have to worry about your slowing down PC. 100% Compatible with Windows 10. Check System Requirements.
Free Bonus Offer:
Protected Folder 1 PC – 1 Year
Windows Tweak Guide
Validity: 3 PCs – 1 Year| Download Only | 60 Days Money Back
Customer reviews of Advanced SystemCare Ultimate 13
Description
Advanced SystemCare Ultimate is the top of the line maintenance tool from iObit. In the section below, we will cover how Advanced SystemCare Ultimate makes a difference. Also, you can avail of the latest Advanced SystemCare Ultimate Coupons and but it at the lowest price.
Note: This application is for Windows PC only. If you are looking for Mac maintenance too, then, you should head over to MacBooster by iObit.
Advanced SystemCare Ultimate 13 Vs. Pro
Advanced SystemCare Ultimate 13 integrates an Antivirus engine. In comparison with the Advanced SystemCare PRO version, that's the only addition. So, If you were planning to buy a basic antivirus, you can go for Advanced SystemCare Ultimate 13. People with an antivirus already installed should go for the Pro version.
Remember, the antivirus module in the Ultimate 13 version is very basic. Also, it integrates the Bitdefender Engine for a virus scan. Hence, it may not meet all your online security needs. Yes, it is very useful and keeps your system clean. However, if you need a complete Antivirus package, then Bitdefender Total Security and ASC Pro Version is the best combination.
Malware Protection
Advanced SystemCare Ultimate 13 includes IObit anti-malware engine too. Also, it offers protection from all types of threats, freeze, system slow down and crash without taking much system resources. This Advanced SystemCare Ultimate 12 Coupon Code helps people who want to spend less on PC maintenance and security software.
Hence, the conclusion here is that the Ultimate 13 version is superior to the PRO 13 version.
Advanced SystemCare Ultimate 13 Features
Let us take a look at the new features of Advanced SystemCare 13 Ultimate: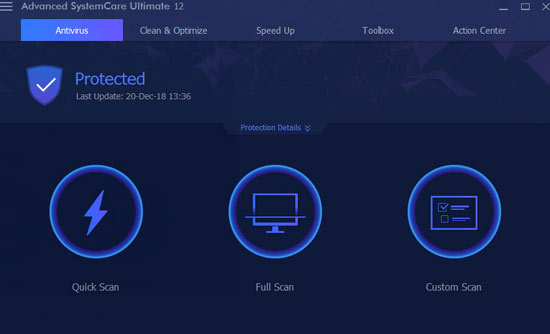 Basic Protection from Security Threats

It is very important to have the basic protection from an antivirus. Sometimes, we just ought to have the best features and functions, but we ignore the basic things.  Advanced SystemCare Ultimate 13 starts with the basic security feature to keep your system safe and secure. However, we will never suggest to use it as your Primary Antivirus. It goes well with your primary Antivirus in a supportive role.
Enhanced Malware Protection

The Advanced Malware protection module catches modern threats. It deploys a strong Malware protection engine that auto-updates every day with the latest security definitions. Version 13 includes an Anti-ransomware engine for extra protection.
Surf and Search the Web Safely

You can surf confidently with Advanced SystemCare Ultimate 13. an addition, it has a filtering mechanism to avoid phishing and fraud websites. Hence, you are safe online. To achieve this, a small plugin is installed on your browser. Each website URL that appears on search results are marked as safe or unsafe. Hence, you already aware of the safety risks before opening unknown websites.
300% Internet Speedup with Internet Booster

Advanced SystemCare Ultimate tweaks your browser to speed up your browsing experience. By taking input about your connection speed, it optimizes your web browsers to use the parallel connection to fetch data. More the parallel connections, the faster your pages load. Hence, it optimizes the use of your internet bandwidth.

Deep Windows Registry Clean

One of the reasons for the system slow down is bad Windows Registry entries. With Advanced SystemCare Ultimate 13, you can scan for invalid registry entries, help files, DLLs, and more. Ensure that your computer runs in its optimum performance by reducing the size and optimizing the registry file.

Over 20 Smart Tools for Daily PC Maintenance

The Registry Cleaner is just one of the modules for system maintenance. Advanced SystemCare Ultimate 13 also provides 20 other utility to maintain the performance of your computer. You do not have to purchase individual programs as this software offers them all in one. Head over to the "Toolbox" tab and use any tool you wish. This is on-demand tools. Hence the download happens internally when you click to use them.
Block Malicious Attempts to Access Your Personal Data

This is probably one of the features that users should not ignore. It ensures the complete safety of your Data.

Face Recognization with Face ID

Face ID gives you an extra layer of protection from unauthorized system access. With this system, you can set your face as authorized while any other face is captured and logged.

DNS Protection

Advanced Systemcare Ultimate 13 Provides DNS protection. Once enabled, it will not allow any application to change your DNS settings. Hence, preventing the fear of DNS attacks. Optionally, you can also select among popular public DNS services from within the application interface.
Windows 10 & Antivirus Compatibility
Advanced SystemCare Ultimate is compatible with Windows 10. We are using a 64 Bit, Windows 10 system for our tests and have found no issues till now. Moreover, we have clubbed it with Bitdefender Total Security, and it worked without any issues or warnings.
In recent updates, we receive a lot of user queries stating that Advanced SystemCare is not compatible with Malwarebytes. It is falsely detected as a PUP and is removed by Malwarebytes. Hence, you will need to exclude ASC from the Malwarebytes exclusion list. In this way, only you can use both the applications.
Also, if you wish to save more money, you can use our Malwarebytes coupon codes for the latest discounts.
We have performed complete cleaning operations of registry files and find concerns with the way ASC Ultimate works. Hence, to conclude here, it is completely safe with Windows registry files.
Advanced SystemCare Ultimate 13 Coupons

At Dealarious, we give you the latest coupon codes and best prices. Hence, you do not have to waste any time searching for Advanced SystemCare Ultimate 13 Coupons.
In Addition to the rest, your Purchase has a 60 Days money-back guarantee. However, we recommend you to install the trial version of the application. Doing so helps you to figure out compatibility issues if any. Download the FREE Trial.
Is Advanced SystemCare Ultimate Worth the money?
ASCU 13 stands out with a stunning interface. It is easy to use and a single click tool for all your needs. ASC Ultimate can work in fully automated mode. Hence, once you set it up, you can forget about it. It seems to be completely compatible with Windows 10 and light on system resources. In comparison to other applications, ASC is the most superior in this category. It has ranked as CNET's top choice for PC maintenance.
Find our Advanced SystemCare 13 Ultimate coupon codes helpful? Let us know about your experience in the review section below.