0% OFF
Advanced SystemCare 14 PRO
$49.99
Advanced SystemCare 14 Pro is the most used and best Windows PC maintenance Software as Rated by CNET.
It automatically keeps your system clean, fast, and responsive to junk content in just one click. Check our IObit Coupon Codes and get the best price on all IObit products. Purchase includes a free upgrade to the next version if available within the validity period.
Limited-Time Offer: Smart Defrag Pro + Protected Folder Pro – 1 Year Free
3 PC-1 Year | Download Only | 60 Days Money Back
Customer reviews of Advanced SystemCare 14 PRO
Description
Advanced SystemCare 14 Pro takes total care of your system. Once you have done the basic settings after installation, forget about it. Cleaning and Tuning Windows PC is the primary function. Once set, Advanced SystemCare 14 Pro will take care of everything. You can also read a full Advanced SystemCare Pro 14 Review if you want information in greater detail. In this section, you can get a great discount using our Advanced SystemCare pro coupon codes.
Advanced SystemCare 14 Pro Key Features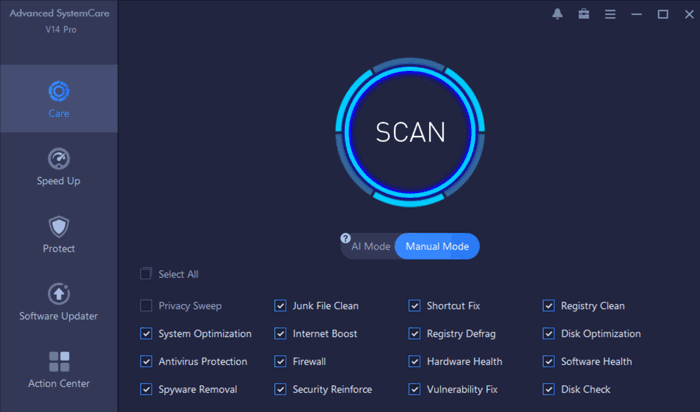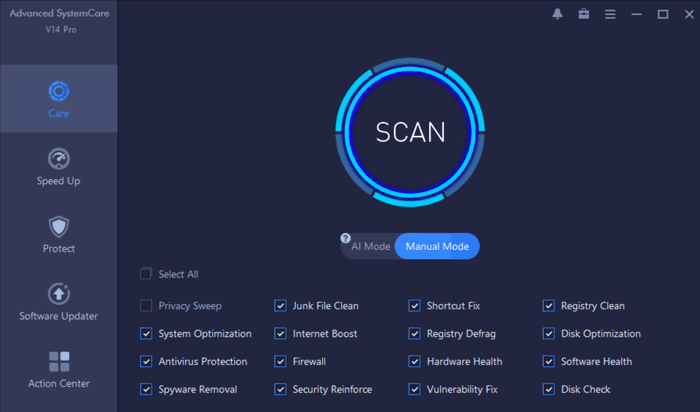 Auto catch intruders who are secretly accessing your PC.
Removes many online ads and blocks more bad websites. Supports Google Chrome, Mozilla Firefox, and Internet Explorer.
Optimizes startup items to shorten boot time. Auto Care also has Startup Optimization.
New Resource Manager checks the processes taking high RAM/CPU/disk usage in real-time.
It shields the homepage and search engine against malicious changes. Hence, if your homepage changes, you will get a notification. Also, you have the option to reverse any unwanted changes to the system.
Privacy Sweep supports cleaning more programs and Windows apps.
Added cleaning for installed driver packages to free up more disk space.
Enhanced Software Updater supports to update more popular programs.
It Removes active programs & browser toolbars. Also, it removes more malicious & ad-based plug-ins with the new IObit Uninstaller.
Expanded database of Spyware Removal, Real-time Protector, and Registry Fix for a more secure PC.
It has a brand new interface. For new users, the interface is intuitive, as well as simple UI.
Advanced SystemCare New Features
New AI Mode
Based on the status of your PC, AI Mode will clean and speed up your PC.
Startup Optimizer
With a single click, Startup Optimizer will boot your PC faster by optimizing system startup items. Besides, you can also manage your scheduled tasks and browser startups.
Real-time TuneUp
Monitor and optimize your system resources in real-time with Performance Monitor and Auto RAM Clean features. Auto RAM Clean is available for PRO version users only. With real-time monitoring, Advanced SystemCare Pro keeps your system responsive.

System Protection
Includes Antivirus Protection, Firewall Protection, and Anti-spyware. Anti-Spyware is available for PRO users only.
Browser Protection
Includes Email Protection, Ads Removal, Surfing Protection, Anti-Tracking, and Homepage Advisor. Only PRO users can access the Anti-Tracking feature.
Sensitive Data Protection
It includes Access Detector and Access Blocker. Access Blocker feature is only available for PRO users.
Software Health
Scans and updates outdated software on your system
Hardware Health
Scans and updates outdated drivers 
New UI
The new version has a new interface for a much better user experience.
Advanced SystemCare 14 Pro Overview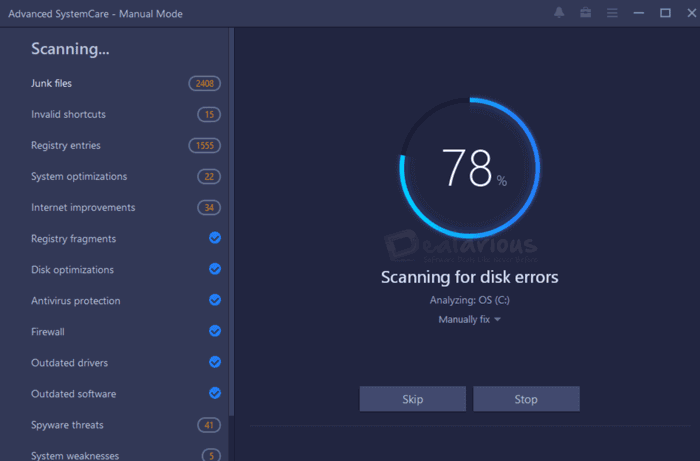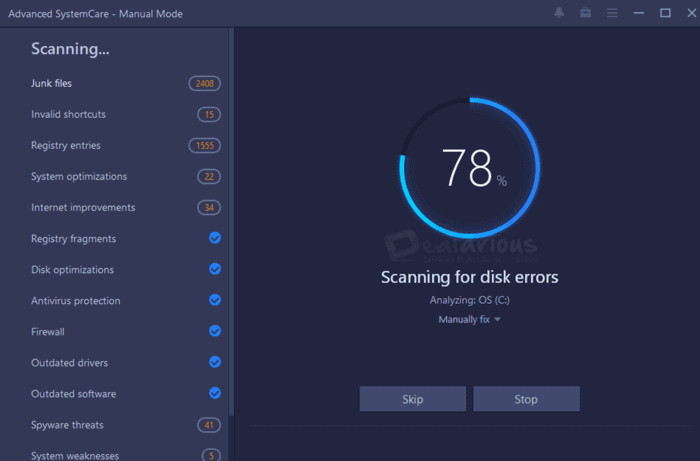 Look wise; it is excellent. You will find it easy to use. Advanced System Care 14 Pro has five tabs – Care, Speed Up, Protect, Software Updater, and Action Center.
Care
The Care tab is for cleanup. This tab will allow you to perform the selected operation with a single click. There are two modes available: AI Mode and Manual Mode. AI Mode will clean and boost your PC, depending on the status of your PC.
Like in the previous version, all you need to do in the Manual mode is to select between the 16 fields to scan and click on the "Scan" button.
Speed Up
This tab includes various tools that are required to boost or speed up your system performance. It includes Turbo Boost, Startup Optimizer, Hardware Accelerator, Real-time TuneUp, and App/Toolbar Cleaner. The More Optimization Tools include PRO features like Smart RAM, Internet Booster & Register Cleaner.
Turbo boost
This tab allows you to configure the mode in which you want to work. If you wish, you can modify Windows services accordingly. It switches off all additional Windows functions that you do not use. Hence, it gives maximum power to the applications you are running. Comparing with similar tools, it is the lightest weight system maintenance tool. The interface is appealing with Modern UI themes suiting Windows 10 design.
Protect
The Protect tab has significant improvements in the latest version. There are three new layers of protection: System Protection, Browser Protection, and Sensitive Data Protection. The Protect tab also includes Security & Repair Tools.
Software Updater
In this section, you can update the 3rd-party software. ASC automatically detects and finds updates. Hence, you have to select and update the applications.
Toolbox

The Toolbox is located at the main screen's upper right corner, next to the Options tab. This tab has all the options for manual care.
It has modules like Registry Cleaner, Disk Cleaner, Smart-RAM boost, Windows fix, etc. You can also find Driver Booster and IObit Uninstaller, which helps you keep your Windows device drivers updated.
Advanced System Care 14 PRO VS Ultimate Version
Advanced System Care Ultimate has one additional feature, i.e., it integrates Bitdefender powered antivirus. Buy ASC Ultimate Only if you have basic antivirus requirements. However, we always recommend a dedicated Antivirus software. Advanced SystemCare Pro & Ultimate both versions are compatible with Bitdefender Antivirus. You can have a look at the Bitdefender Total Security Discounts if you want to club ASC with an Antivirus.
Please visit the Official page for detailed information on Advanced SystemCare 14 Pro.
Extra Features
With ASC Pro 14, you will also be able to get Start Menu back on Windows 8. In Windows 10, you can get better customization on Start Menu. In Windows 10, you already have the Start Menu, so bringing it back is not helpful. Malware and Spyware application scanning is a regular task.
With ASC Pro 14, you get a new and user-friendly interface. This version provides new protection features and Anti-spyware. Besides, it also detects Antivirus and Firewall's status on your PC and helps you enable the protection. 
Advanced SystemCare Pro 14 Coupon Code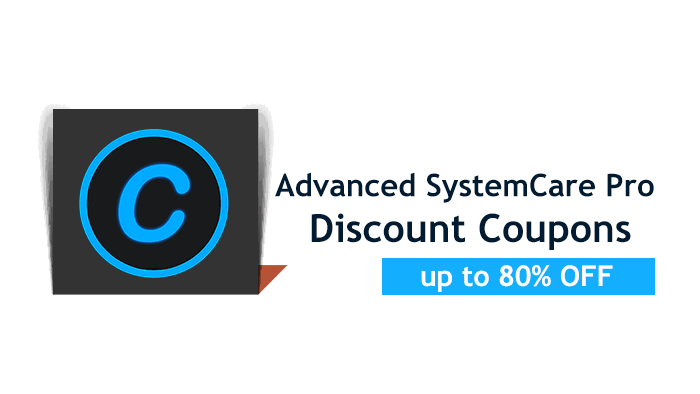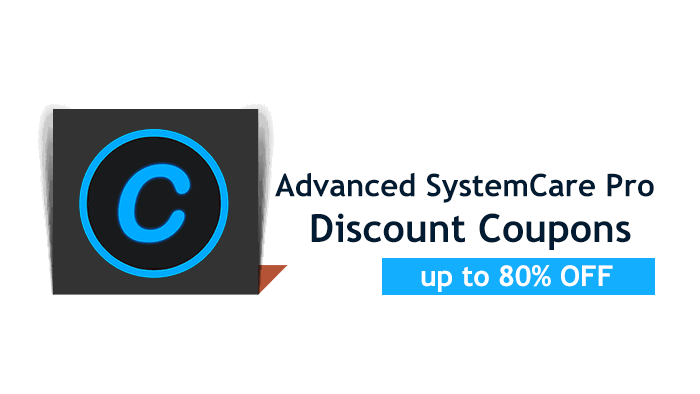 At Dealarious, we always have the best Advanced SystemCare coupon codes. You do not have to waste time searching for coupon codes to find out that they do not work. We also provide coupon codes for Seasonal discounts like Black Friday, Cyber Monday, Christmas sale, and New Year Offers.
Advanced SystemCare Pro coupons on Combo Offers:
Do you wish to look at combo offers with Advanced SystemCare Pro? Below are all the coupon & combo offers:
Using the above Dealarious Exclusive combo packs, you can save more than just using Advanced SystemCare Pro coupons. Hence, do check them.
Advanced SystemCare Pro 14: Conclusion
Advanced SystemCare Pro 14 is 100% working on Windows 10. Also, we did not find any bugs while testing the product.
Upon installation, you can set all the fields you want to auto protection. Advanced SystemCare 14 Pro will automatically take care of everything at your specified times or at system idle time. Hence, you are always running with maximum speed and response.
Therefore, Advanced SystemCare 14 Pro surely keeps you safe. Surely you will save a lot of money using the latest Advanced SystemCare Pro 14 coupon codes.
Let us know if our Advanced SystemCare Pro coupon codes are not working in the comments section. We will update them as soon as possible.