0% OFF
WPS Office Business Edition
$129.99
WPS Office is a multi-platform Office Suite, available for Windows, Linux, Android and iOS. The suite consists of three programs — WPS Writer, WPS Presentations and WPS Spreadsheets. The whole package has been optimized to bring a seamless document creation experience, with the best features in it.
When compared to other Office suites such as Microsoft Office, WPS Office is very lightweight and does not consume much space or resources. It also has intuitive User Interface, which is similar to that of MS Office. Apart from its simple UI and 100% compatibility with file formats like DOCS, XLSX and PPTX, WPS Office offers some cool features too.
All in all, WPS Office is a must-have Office Suite for every professional. Check System Requirements before purchase.
1 PC+Unlimited Mobiles | Download Only | 30 Days Money Back
Customer reviews of WPS Office Business Edition
Description
Kingsoft WPS Office Business Edition is an impressive office suite, which is also a strong alternative to Microsoft Office. This suite consists of 3 document creation tools, which are WPS Writer, WPS Presentations, and WPS Spreadsheets. The best feature of Kingsoft WPS Office is that its applications are available for different platforms like Android, iOS, and Linux. So, it provides a unified, seamless document creation experience throughout the devices. In addition to these, Kingsoft Office also offers a few features for document collaboration, customization, etc.
Use our WPS Office coupon code to get up to 45% discount on 2019 Business Edition subscriptions.
Kingsoft WPS Office Business Overview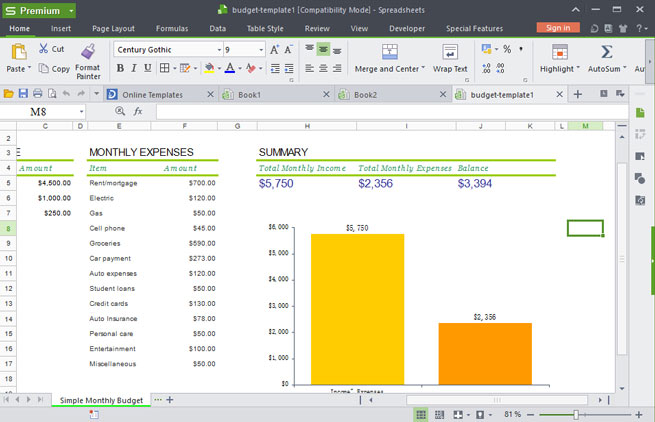 Kingsoft WPS Writer is the word processor in the WPS Office bundle. It is compatible with DOCX files, created by MS Office 2019. And, its UI also resembles that of Microsoft Word. There are some additional features when compared to MS Office. For instance, there is a collection of 100+ free templates to choose from. Let that be about Resumes or Memos; you can pick the right template from the list. In the end, you can even export your doc file into PDF, directly — without the help of any third-party plugin.
For creating slideshows and presentations, there are WPS Presentations, which are easy to use. Here too, you can pick a template from the huge collection offered. This tool gives you all the features you're familiar with in MS PowerPoint, such as Previewing, Speaker Notes, Slide Styles, Tables, Comments, Slide Art, etc. In addition to these, you get a few more such as Multi-Document Tabbing and an option to Insert Flash. Altogether, due to the clean UI used, it is quite easy to create and present Presentations using WPS Presentations.
Next, there are WPS Spreadsheets, which is for creating worksheets, as you're familiar within Microsoft Excel. Sheets you create using WPS Spreadsheets are 100% compatible with Microsoft Excel and associated format. It comes with a bunch of built-in charts and a huge collection of formulas and functions. WPS has also added some cool keyboard shortcuts in this utility. As it is said, the User Interface is similar to Microsoft Excel, and it's good for those who shift from MS to WPS.
WPS Office Misc Features
Other noticeable features are in the Kingsoft WPS Office Bundle. File Roaming is an option that makes a file accessible from a variety of devices. Similarly, you can export any WPS document to PDF in a single click — thanks to its inbuilt option for that. You can also encrypt your documents using passwords, for better safety. Altogether, considering all these sections, WPS Office is a strong rival to Microsoft Office. And, the pricing plans are quite affordable when compared to those of MS Office.
Most of all you can get Kingsoft WPS Office Business Edition installed in English, French, German, Spanish, Portuguese, Russian and Polish.
Conclusion
Kingsoft WPS Office Business Edition is a great application to have. We tested it on Windows 10 64Bit system, and every application worked perfectly fine. Go for it if you are regularly working with Microsoft applications but do not want to pay high subscriptions for it. Kingsoft WPS Office Business edition has Annual and Lifetime subscriptions. Hence, depending on your choice, it is a one time purchase application. No recurring expenses.