0% OFF
IObit Uninstaller 10 Pro
$49.90
Do you have some unwanted programs installed on your PC? IObit Uninstaller 10 Pro is the complete solution that allows you to uninstall programs with full effect. Based on usage and size, you can easily remove applications. 
Also, read our Iobit Uninstaller 10 pro full review. For discounts on all products check our IObit Coupon Code page.
Free Upgrade to version 11 if it is released within the validity of your subscription.
Region: Global | Download Only | 60 Days Refund | No Auto-Renewal
Customer reviews of IObit Uninstaller 10 Pro
Description
IObit Uninstaller 10 Pro is an all-in-one Uninstaller and Removal solution for your Windows PCs. Using this tool, you can get rid of any software you have on your PC. It has support for removing programs, built-in apps, plugins, add-ons, and extensions. Moreover, this tool allows you to have a PC that is free from adware and junk stuff. You get more features at the best price using our IObit Uninstaller 10 Pro coupon codes.
Note: Using our IObit Uninstaller 10 Pro coupon codes, you get a superb discount. Additionally, there is a bonus of two months extra validity with a 1-year validity package.
Visit the IObit Uninstaller 10 Official Website to see the full feature list.
IObit Uninstaller 10 Pro: Feature Overview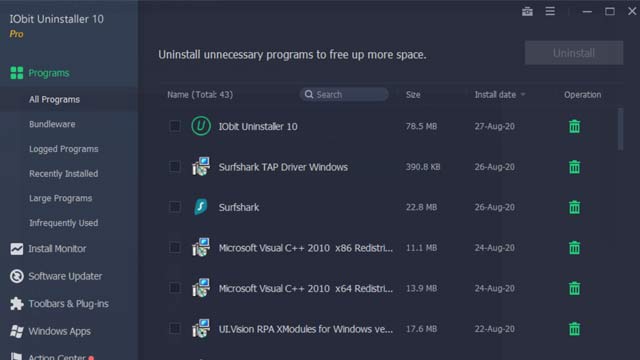 The most critical aspect of IObit Uninstaller 10 Pro is its auto removal feature. There can be stubborn programs that you cannot remove using the default Windows Uninstall feature.
Similarly, some programs leave a lot of leftover files after removal. These files are not in use anymore, and they consume unnecessary space.
Uninstaller 10 Pro automatically removes leftover files. It means you can have a clean uninstallation process. Hence, a safer environment. In Windows 10 & Windows 8, you can remove inbuilt modern apps too. A handy option if you are not using them.
Key Features of IObit Uninstaller 10 Pro
In this section, we will look at the significant features of IObit Uninstaller 10 Pro.
Uninstall Unwanted Programs & Browser Extensions
It includes in-depth scan support. It is helpful for Windows Updates and Web Browsers. Talking about Web Browsers, you will be able to remove extensions. In Extras, add-ons from popular browsers like Google Chrome, Mozilla Firefox, and Microsoft Edge. It removes all kinds of stubborn extensions with full effect. Also, it has dedicated options for removing dangerous adware too. The best part is that the tool can remove even the toughest adware threats. Hence, eliminating threats disguised as a useful browser toolbar or an extension.
For complete protection, apps can club it with Advanced SystemCare Pro.
Efficient Browsing Experience
Removing all kinds of stubborn extensions with the full effect is possible. IObit has dedicated options for removing dangerous adware too. The best part is that the tool removes even those adware threats disguised as useful toolbars and all. In short, with IObit Uninstaller 10 Pro, you can have a clean, seamless, and efficient browsing experience on your device.
Additional Features of IObit Uninstaller 10 Pro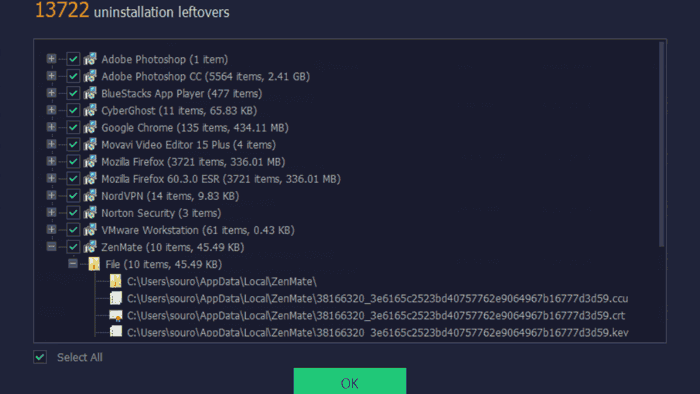 Problematic Windows Updates
In addition to Program Uninstalling and Browser Extension removal tool, Uninstaller 10 Pro also has some other features. For instance, you can deal with those problematic Windows Updates, which isn't usually possible. As mentioned, no tool will leave any remaining files when uninstalled using IObit Uninstaller 10 Pro. The remaining  File cleaning happens with removal. You don't have to worry about junk files.
Bulk Removal of Applications
The best part is here. Uninstaller 10 Pro also lets you bulk remove applications. Now, you can select them and remove them at one go. Isn't it time-saving? Also, it allows you to find apps depending on their criteria quickly. This method of placement helps you to quickly find large, recent installs, and less used programs.
System Restore
Before uninstalling a program, IObit Uninstaller creates a system restore point. It supports creating a system restore point to restore your PC to the previous state it was, just if there is a system failure.
IObit Uninstaller 10 Pro User Interface
IObit Uninstaller 10 Pro has a very user-friendly interface. As soon as you launch the program, you will see the interface which is set to Dark mode by default. You can change the interface to Light mode from the Settings. You will find Settings under the Options icon at the top right of the main screen.
Main Options
The main screen of IObit Uninstaller displays six options: Programs, Install Monitor, Software Updater, Toolbars & Plug-ins, Windows Apps, and Action Center. 
Programs
Programs option shows you a list of All Programs, Bundleware, Logged Programs, Recently installed programs, logged programs, and Infrequently used programs installed on your PC.
Install Monitor
It detects and logs system changes in installation, which helps you see what changes the monitored programs did during installation. Install Monitor offers two ways to monitor program installations through Auto Monitor and Manual Monitor.
Software Updater
IObit Uninstaller includes the Software Updater feature that helps you keep all your important applications up to date. It informs us of the outdated apps and lets you update all of them at once.
Toolbars & Plug-ins
Toolbars & Plugins section protects your browser by uninstalling unwanted add-ons in browsers that also includes malicious plugins. IObit Uninstaller supports these browsers: Internet Explorer, Google Chrome, Mozilla Firefox, and Microsoft Edge (on Windows 10 only). 
Windows Apps
It lists all the built-in Windows apps and apps downloaded from Windows Store. You can also check the user ratings of these Windows apps and determine whether to remove them.
Action Center
Here you will find some well known IObit products that you can install for better protection and system performance.
Tools
The Tools and Options icon is at the top right corner of the main screen. IObit Uninstaller includes six powerful tools: Software Health, Easy Uninstall, Force Uninstall, Uninstall History, File Shredder, and Windows Updates. The Options section contains Settings, System Restore, Export program list, Feedback, Check for updates, User Manual, Technical support, IObit online, Like, What's New, and About.
IObit Uninstaller 10 Pro Coupon Codes & Pricing Plans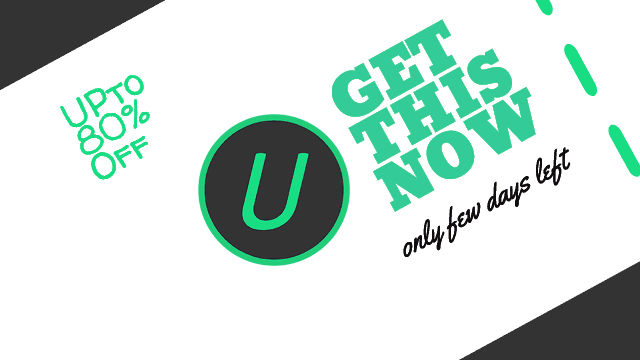 Dealarious Store provides the latest deals on Iobit Uninstaller 10 Pro. These discounted Iobit uninstaller prices may change without notice and depends on the availability of our stock. Hence, it is a better idea to avail of the ongoing offer.
You can get up a 3 PC subscription of Uninstaller 10 Pro for USD 10.95 from the Dealarious Store. So, all you need to do is, choose the best running offer and proceed to Checkout. To avoid any issues, we provide integrated coupons and SSL secure payments. PayPal option is also present for your convenience.
If you are using Iobit Uninstaller 10 Pro Coupon Code at Dealarious.com, you get a 60 Days money back Guarantee. Applies to technical errors that are not solvable by our team. Other than that, we also provide complete License validity period protection.
Conclusion
For the price you pay with the coupon code, Uninstaller 10 Pro is worthy. At the least, you can have a clean PC without any unwanted software. It is worth noting that IObit has kept an intuitive UI throughout the tool. It does not matter whether you are a professional or a primary user. Uninstaller 10 Pro is just right for the purpose.
If you face any issues while using our IObit Uninstaller coupons, please let us know. Also, we cover the entire validity period of the license. Hence, we are always available whenever you need us.