0% OFF
Avast Cleanup Premium
$77.99
Revive Your PC's optimal health with Avast Cleanup Premium. Clean unnecessary loads of old junk files and apps, bloatware, and registry items, automatically fix annoying problems, and kill unwanted tasks.
It is a Multi-Device subscription supporting Windows, Android, and Mac.
Region: Global | Download Only | 30 Days Refund
Customer reviews of Avast Cleanup Premium
Description
Avast Cleanup Premium is one of the most effective optimization utilities for Windows, Mac, and Android. It can efficiently scan and remove all junk files to optimize the health of your PC.
This optimization tool is extremely useful for clearing old files and apps on your hard drive without manual effort, removing old shortcuts, and clearing browser caches from your computer.
Avast's cleanup process detects performance drains and stops them for you without making you uninstall programs or interfering with your PC. The more programs you put to sleep, the fewer running in the background, and the faster your computer will be.
If you have budget limitations, you can also take advantage of the Avast Cleanup Premium discounts and get the best value for your money.
Avast Cleanup Premium: Key Features
Below are the features that will help you optimize your device quickly.
Sleep Mode
Avast Cleanup Premium's Sleep mode helps you safely kill the programs that run during boot-up and restrict them from consuming system resources.
Registry Cleaner
With Avast Cleanup, you can easily delete broken registry items that pile up your system with unnecessary junk and restore your system's performance.
Browser Cleaner
Avast Cleanup Premium successfully removes online traces and temporary data from all popular web browsers. It also helps eliminate leftover files that web browsers don't delete by themselves, like Adobe Flash cookies. Also, it prevents websites from tracking your daily browsing patterns.
Junk Cleaner
Avast Cleanup Premium scans all types of system junk files from your PC and removes them to revive system storage.
Uninstallation of Unnecessary Programs
Avast Cleanup Premium effectively lists unwanted and poorly rated apps that haven't been used for a while.
Automatic Maintenance
You can schedule a time for the maintenance, and Avast Cleanup will automatically carry out a health check and clean your PC according to your preferences.
Software Updater
With this feature, you can easily update outdated applications present in your system to minimize security risks.
Disk Defragmentation
This feature rearranges your disk files, optimizes your HDD for improved storage efficiency, and enhances performance.
Avast Cleanup Premium: Interface
Avast Cleanup Premium follows standard installation procedures and has a simple and intuitive user interface. The interface is visually appealing, and the dashboard is suitably organized, making it easy for non-technical people to use.
There are four quick optimization functions available on the dashboard through which you can:
Run a Maintenance scan
Speed up your device
Free up space
Fix problems regarding any errors
On top of the dashboard is a meter indicating the system's tuning escalation.
Avast Cleanup Premium: Functionalities
Below are the functionalities that make Avast Cleanup Premium one of the most efficient optimization tools.
Effective Optimization Tools
Avast Cleanup Premium has robust optimization tools that remove all the junk files from your device and take active measurements to enhance your device's performance.
Tools such as Startup optimizer, Automatic Maintenance, and Software updater perform extensively to maintain the health and security of your system.
Quick Optimization
Optimization tools are frequently highly intensive and require high CPU utilization, preventing users from doing anything else on their PCs.
However, Avast Cleanup Premium is the polar opposite in this regard. The procedure is mild and quickly scans for probable performance issues without any discernible influence on the machine.
Controls Power Usage
Tools such as Startup optimizer help you make the most of your system's power usage by killing the unnecessary tasks that run during startup.
Avast Cleanup Premium: Coupon Codes & Pricing Plans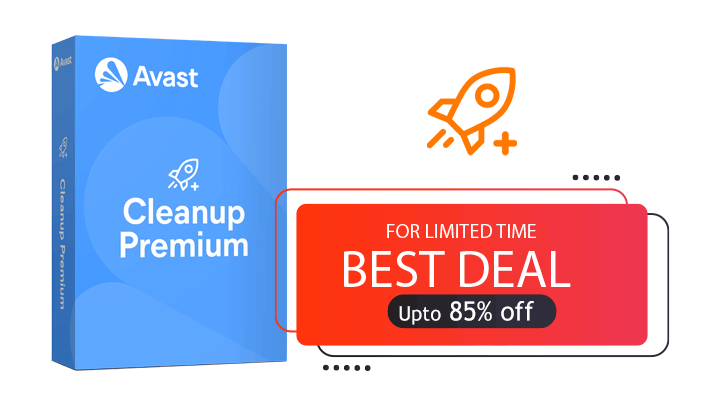 Below are the official pricing plans of Avast Cleanup Premium based on the devices and the operating systems it supports.
10 Devices – 77.99 USD/ Year (Windows, Mac & Android devices)
Avast offers a fully functional 30-day free trial to try the software before paying for the subscription. Further, if you plan to subscribe, you can use our Avast Cleanup Premium coupon codes and avail of up to 85% discount.
Please note that Avast Cleanup Premium is part of Avast Ultimate Suite and Avast One. Also, purchasing the Suite would be beneficial if you use other Avast Products like Avast SecureLine VPN and Avast Premium Security.
Conclusion: Is Avast Cleanup Premium Worth Your Money?
To sum up, Avast Cleanup Premium is worth it for anyone with or without expert knowledge to conduct each cleaning process themselves.
Computers tend to slow down with time and usage as they gather tons of junk files, bloatware, registry items, and forgotten programs. The breakthrough technology from Avast will boost your computer by clearing out old junk files and help you revive the optimal health of your PC.
Avast Cleanup Premium is backed by exemplary user support. It comes with a 30-day trial to test it before going premium. You can use it risk-free and experience its benefits before committing to a paid plan.